What does any band deserve? A fair review. If the band is good, it should be said so, to what degree. If it just sucks, it also needs to be said. And that's why we're here with the latest edition of Sadistic Metal Reviews.
If their stupid name didn't already clue you in, the atrocity that is Weekend Nachos represents a lesser acknowledged evil in the underground music scene: nu-grind, or powerviolence played by MTV2 jockcore fans. Similar to other Relapse bands like Benümb, except all the fast strummed "anger" is a holdover for later day "tough guy" or straight-edge 90s hardcore "everyone mosh on the dancefloor" gimmickry that preys on low IQs who don't listen to music beyond "breakdowns."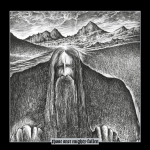 Hate Forest / Ildjarn – Those Once Mighty Fallen
The title on this may be ironic because it can apply only to Ildjarn, and only if the band ships something bad. This isn't bad, but it's an entirely different form of music. Where older Ildjarn was an idiosyncratic expression in equal parts ambient black metal, drone hardcore and forest Oi/Rac-influenced metal like Absurd, this new material is clearly designed to sound like black metal. Its songs use typical black metal intervals, develop according to the pattern, and even use vocals in the same rhythms as early Dimmu Borgir or other first-and-a-half wave bands. If you're tuning in to Ildjarn, you expect something at least as lawless and feral as his later work on keyboards; this will be a problem for many listeners. As far as quality, it's not bad at all and in fact is very natural-sounding, sort of like the first Dimmu Borgir or Graveland albums. Some have hypothesized that Ildjarn did not write the material, and the production changes and incorporation of additional instrumentation, in addition to the stylistic changes, suggest either a casual interest in this as a project to "stay in the game" or delegation of many musical tasks to a new team. Production sounds more recent than the early 1990s Ildjarn material. Use of background keyboards, faster bass riffing, textural discontinuities and other distinguishing effects show an interesting set of musical tools emerging, but the band may need to rediscover its voice. Hate Forest never struck me as being all that significant, but they make a very credible effort here, with production that matches the Ildjarn but is very carefully adjusted to sound as distinctive as possible. Their songs are fairly regulation black metal with an attempt to insert complex fills and transitions, and then to balance that, simplify the chorus riffs. The result is not atmospheric per se but achieves a relaxed atmosphere in which the focal point becomes the interruption, like a sunny sky with an intriguing cloud cluster. None of it is particularly distinctive but it's not bad either. Songs maintain atmosphere well but there's not a huge amount of development here, so the band sensibly rely on circularity to keep from appearing jagged. A rumored Ildjarn interview claims that this release was an early 1990s project between himself and Ihsahn of Emperor, which could explain the resemblance to post-Reverence Emperor material.
Entropy embodied, this is the band that provided inspiration for Southern Lord's entire catalogue of musical abortions. Deconstructive, linear riffs that seek to express nothing except ennui, combined with faux-crooning self-pitying lyrics ensure that this will continue to be a favorite band of mentally vacant children for decades to come. This is the mentality of grunge in a different form.
For a brief while, power metal (speed metal w/death metal drums) looked like it would save True Metal. The problem is, however, anytime you walk back up the metal family tree, you get back toward the stuff metal was formed to run away from. As I listened to the first tracks on this, I thought, they've got some interesting riff ideas — let's see how long it last — however, they sound like they want to be a rock band that's primarily about vocal performance and personal identification with the vocalist. About half-way through the album, they shifted to tap-dance rhythm riffs and soaring vocals, the combination meaning no ideas but how to rip through some 1960s material. Eventually it got so bad it sounded like Queensryche on a bad day as a disco combo covering old CCR B-sides. If you don't have an idea, by definition, you are an imitator recycling the old in a new form, and we have a word for that: stagnation.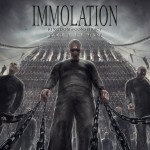 Immolation – Kingdom of Conspiracy
Continuing their decline, Immolation return to the bouncy simplicity of Harnessing Ruin, only this time they downplay the "nu" sounds and try to make it sound more aesthetically in line with their old sound. This doesn't change it from being a predictable verse-chorus version of NYDM and shows Immolation in their most neutered form yet, trying to pander to a metalcore audience whilst retaining their trademark sound. After the last album, I reckon the only reason people see these guys tour anymore is to get a Failures for Gods longsleeve. Linear, predictable, and disappointing considering this group's potential.
Izegrim – Congress of the Insane
After a few brave people direction-find their way to a new genre, in come the people who want to partake. They often bring superior skills but they don't understand what they're doing. Izegrim is a fine example. It's chanty metal. When metal gets chanty, which is the nerdy equivalent of rapping, you know that a central narrative has been replaced by adherence to appearance and where that doesn't work, filling in the gaps with the same old stuff. While this band is instrumentally superior to your average metal band, they don't know what to do with the odd bits and ends they've assembled as songs, so they tie it all together with the simplest elements possible. That meants chants, crowd-pleaser but repetitive riffs, and lots of bombast to cover up for the big void within.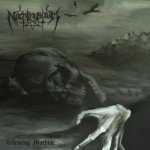 Nachtmystium – Silencing Machine
When a band wishes to play black metal without embodying any of its spirit, this is what's produced. Lethargic, tremolo-strummed droning with ANGRY MAN vocals and uninspired drumming produces an album of tracks that are indistinguishable. Albums like these would be better off as hard rock, because at their heart that is what these musicians are aiming to create…though at least it's not as bad as the the latest Satyricon abortion.
After failing to become "Oppressor meets Deeds of Flesh" with their last couple albums, Broken Hope return after a long hiatus and have churned out what can best be described as a Unique Leader band covering mainstream hip hop tracks in double speed. Considering their "beefs" with death metal bands and Source Awards concert turn outs, it should be no surprise that this has more in common with Tupac than it does Suffocation, approaching death metal from the same "gangster" outlook that Six Feet Under did in the 90s.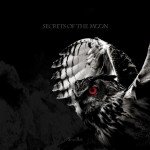 Secrets of the Moon – Seven Bells
"Artistic" black metal, otherwise known as black metal watered down with fruity "post-rock" produces a product that is post-art. Designed for a generation that believes interrupting narration with pointless deviations is artistically viable, in form this shares for more in common with modern metal than with relevant black metal bands. Listen to this only if you enjoy consuming pumpkin spice lo-fat frappuccinos.
These three tracks — "Eurovision," "No History" and "Resistance is Futile" — comprise 2/3 of the EP S (which can be streamed here) released in advance of the new Laibach album to show where the band is at this point. Some might think it odd to review industrial music on a metal blog, but Laibach has been supportive of metal in the past, including the notorious Morbid Angel remixes and positive statements made in public. Further, industrial and metal share a root, which is that we deny the happy vision that came about in the 1960s of love, peace and uniformity that would save us from the horrors of the modern time. Our vision is to point out that the beast is within, and as long as humans refuse to discipline their minds, they will end up re-inventing the horror, futility and self-destruction of the near past and the ancient past, before civilization evolved. Both genres also point to a path outside of what is acknowledged as "higher values" or "the right thing to do," seeing morality as confining and misinterpreted. That being said, it seems that industrial hasn't changed much since the EBM days of the 1980s. In fact, much as Nine Inch Nails basically made a more pop form of that genre with added guitars, Laibach have simply made a more stern form, albeit a self-mocking one. What you will find: compelling beats, blasts of static, sampled voices, a surly European-accented voice almost chewing out the lyrics in a conversational growl, and even bits of other musics woven through the material. Ultimately, what makes industrial different than metal is that it knows how to pull off a good pop song and make it sound good, even with machine-ish touches, where metal tries to make something beyond what people consider music. As a result, these songs have heavy dead-beat grooves and build up to a compelling motion. There isn't as much internal development as metal so there's some question of whether a metal fan would enjoy hearing these repeatedly, but it's hard to ignore the sheer pop power and terrifying view of the world brought up by this assault of music and (if you go to the site) imagery.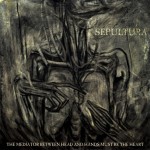 Sepultura – The Mediator Between Head and Hands Must Be the Heart
Claiming to be inspired by the old science-fiction movie Metropolis, Sepultura collaborate with tone deaf AIDS guru Ross Robinson to create an album that, much like recent Sepultura, is high in pretension and low in musical payoff. Death metal sounds are utilized here but only serve as what sounds like Pantera or later Sacred Reich occasionally lapsing into a parody of Slowly We Rot at its simplest than anything from their 80s output. A guest appearance by Dave Lombardo doing a "tribal" drumming outro feels more like a marketing gimmick, lacking any of the imagination found in his instrumental track for Grip Inc. (incidentally, their only good song). Most of the songs devolve into effects laden meandering, which is to be expected considering the producer. Even then, nothing is gained or lost on this album. Sepultura is still like a fish out of water, churning out another vapid reiteration of their 1998 album that will piss off old fans and make no new ones.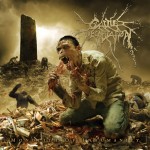 Cattle Decapitation – Your Disposal
The first riff sounds like screamo, then clean vocals played over what sounds like a "post-black" abomination, then the breakdown with "eerie arpeggios"… this is metalcore. Looking past the "shocking" image stolen from early Carcass made to appeal to self-loathing Starbucks regulars, Cattle Decapitation now seem to be in direct contact with the same focus group Gojira employ when coming up with their gimmick ridden, indie rock friendly vapidity, eschewing the F-grade death/grind of their past for metalcore acceptance. Beyond the aesthetic drape of underground metal, this is nothing more than a random collage of parts "EXTREME" bands play for mainstream appeal under the pretense of having "matured" as "artists."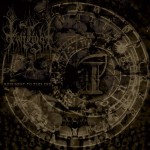 Twilight – Monument to Time End
The "supergroup" of a bunch of hipsters that convinced Thurston Moore of Sonic Youth to ruin the genre alongside them, Twilight perverts black metal by using the treble guitar tone and anguished vocal styling to dress up what is middle of the road "post-sludge". Members pool their collective inability to write metal into one product that comes off like a brain washing tool Scion would use to convince Gojira fans to purchase SUVs, all the while looking "edgy."
This imaginative release explores the world of Iron Maiden-tinged power metal with an epic metal mindset, preferring extensive clean vocals, lengthy melodic parts and high-speed pickup riffs of the Maiden style. However, it also works in a fair amount of newer technique, sounding sometimes at the edge of later At the Gates. This is interesting material and an ambitious offering. However, this band has a few things it needs to work on. First, the vocalist is too present both in the composition and the approach to songwriting, and needs to go back to being one of the instruments. Second, this CD weighs in at 1:10 and is a B- album at that length, where if they boiled it down to 35 minutes would be closer to an A. (Note to bands: if you can't listen to your own CD, while doing nothing else, on repeat for several times in a row, make changes). It has genre confusion problems that need to be resolved by getting more comfortable with its own style. Finally, Cromlech should learn from Iron Maiden and focus on making song structures clear: one intro, a theme, a countertheme, and some kind of developmental area where the melody grows before returning to the more predictable parts of songs. This is about their approach anyway, but it's muddled by uneven application of technique. In addition, it wouldn't kill them to look through for repetitive themes and excise or consolidate them. All in all, a great first effort, and I tack on all these suggestions because starting bands often need a push to fully develop.
The biggest sham in metal to this day. Being a propaganda tool used by hippies to turn metal into rock music, Gojira continue what they've done since the beginning: making "heavy" parts out of rhythmic chugging with pick scraping sounds before playing "soft" parts that sound lifted from A Perfect Circle. Rock made for angry menstruating Deepak Chopra reading faux-guru hippies. Add the cringe worthy "deep" lyrics and it's no wonder people thought the world was going to end in 2012 when both this album came out and a new record was set the world over in dolphins beaching themselves.
12 Comments
Tags: alternative metal, Black Metal, broken hope, cattle decapitation, code, cromlech, death metal, extreme metal, gojira, hate forest, Heavy Metal, ildjarn, immolation, indie metal, izegrim, laibach, melvins, nachtmystium, sadistic metal reviews, secrets of the moon, sepultura, sludge, the melvins, twilight, underground metal, weekend nachos