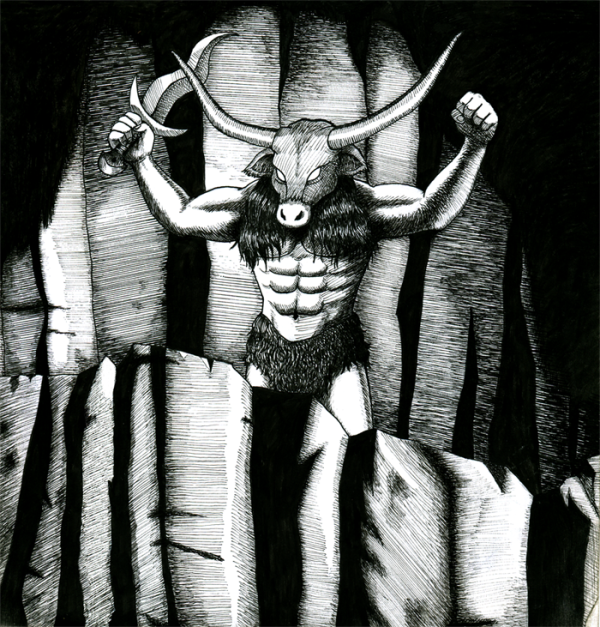 As the internet dies a slow death from both information overload and undue concentration (and thus agenda enforced) in sites like Wikipedia and Metal-Archives, many metalheads are returning to zines. Zine editors choose what to focus on and tend to specialize in certain levels of quality and types of metal, so if you find one you like, it becomes a combination learning experience and shopping guide.
Noticing a void of information on Texas specifically, JH (his lawyers insist that no identifying details are used) has started the process of bringing Under the Sign of the Lone Star to print. As part of the new wave of underground metal zines, this Texas-centric zine will focus on that which the mainstream media and internet chatter alike ignore.
We were lucky enough to get a few minutes with JH as he was loading suspiciously heavy blue barrels into a panel truck outside Lubbock…
When did this idea hit you, and what was your intent? What sorts of zines do you admire?
I've written on-and-off for years, and about two years ago I had the idea to put my thoughts to print instead of in a digital medium. Life got in the way and since I didn't have any real focus other than "bands I liked", the idea fell by the wayside. Fast-forward to the tail-end of 2014 and I found myself staring at a magazine rack full of "metal" magazines with, surprise surprise, no actual metal (or at least, with the actual metal de-emphasized in favor of flavor-of-the-month trash). I found myself compelled to write again as a reaction against those publications and began writing the zine as soon as I realized the concept.
I like my zines the way I like my metal demo covers: black-and-white, fairly minimal layout/presentation, and without pulling any punches if that makes sense. Some of my favorite (and most influential) metal releases are underground demos and I feel as the final result of UtSotLS is a printed equivalent of a tape demo (not that I'm comparing it to something as good as "Evil Metal", of course). Also I'm not a talented writer in the technical sense, but I do feel a passion for putting thoughts to pen. I see it as similar to older releases that lacked by-the-book musicianship but had a near-tangible fire in their recordings.
Zines that get my support: Codex Obscurum, Slaves (#2 has killer interviews from Lust, Amputator, and more), Trident Nation, Chips & Beer, Zombie Danz, and Serpentscope which gets an A+ for original concept. And Slayer was killer, obviously.
What is the topic of the zine, and what will it cover, and will there be enough material?
The topic of the zine is bands from Texas that people should know about. Lots of reviews (including a few live ones), some interviews, and additional content that will hopefully open a few eyes to the metal that rules in this state.
As for whether there will be enough material; that will be for the readers to decide. Personally I prefer to keep things short and to-the-point rather than drag things out longer than necessary. I'd rather read a 20-page zine with interesting content than an 80-page behemoth with maybe four good articles. I'm finalizing the layout at the moment but it will be over thirty pages which works for me.
What is the Texas scene like? What are its strengths and weaknesses?
The Texas metal scene could probably be summed up in three adjectives: loud, aggressive, and hot. Admittedly I would say that it is fairer to split each city into its own scene rather than Texas as a whole for reasons elaborated on below, but just about every city has killer bands in their own right.
Strengths: The bands. That should speak for itself, but also the abundance of shows. There's always something going on in at least one city (although you may have to drive for a while, see below). Also a lot of awesome bands from other states or countries play here often. Destroying Texas Fest XI with Blood Storm, Nocturnus A.D., Hades Archer, and Force of Darkness is an example of one that will crush.
Weaknesses: The state itself is gigantic. It's pretty common to find yourself driving for hours to see a show in another city that would be the distance between states up North, or even countries in Europe. Also the summers are pretty brutal. Any time you're in a venue and the AC is busted it's borderline unbearable. But it's always worth it in the end. Live for metal, get heat stroke for metal.
Can you tell us a bit about yourself and how you came to get involved with metal? Are there other staff?
I'm a mid-twenties bassist who drinks black coffee and plays faster than he should. I am also a native Texan, if anyone cared. I started with Metallica at age 14 and the first "gaze into the abyss" was Slayer. Progressed through classic metal (Sabbath, Motorhead), then thrash (Sepultura, Exhorder, Hirax), then death/thrash (Voor, Slaughter (Can.)), then death (Obituary, Morbid Angel), then black (Averse Sefira, Emperor), and so on and so forth (this is a rough timeline and far from in-depth). Started consistently going to local underground shows in 2010 with a Hexlust/Birth A.D. show and haven't stopped since, tinnitus and neckaches be damned.
No staff other than my girlfriend who drew the cover, provided some layout assistance, and took the photo of myself for the author section. UtSotLS is a personal project at the end of the day and I prefer there to be a consistent voice throughout the whole issue.
Why do you advertise as "anti-clickbait"? What does this mean in your own lexicon?
I wouldn't necessarily call the above an advertisement since it was just a personal statement on my own Facebook page, but I do see it as a relevant approach. "Clickbait" refers to online publications that post eye-grabbing headlines or articles (often misleading) with the intention of bringing a lot of traffic to their site to make money off advertisement revenue (this doesn't refer to the DMU obviously, haha). I write out of passion for writing and for the music that means more to me than any worldly possessions, not out of the need to fill my bank account. As a reflection of this, no band solicited a single review and there is not one advertisement in "Under the Sign of the Lone Star": the content is there because I wanted to write about it, 100%.
The full statement "ANTI-CLICKBAIT RAG" was a tribute to Rok from Sadistik Exekution writing "ANTI-NORWAY SHIT" on his chest ages ago and I always love to cite SadEx (and Bathory, for that matter).
If someone wanted to know what bands/zines from Texas that they MUST know, who would you list?
Bands:
– Older: Necrovore, Hellpreacher, Blood Spill, Divine Eve, Dolmen, Absu, Averse Sefira, Rigor Mortis, Imprecation, Obeisance, dead horse, D.R.I, Devastation
– Newer: Hod, Hexlust, Birth A.D., Blaspherian, Morbus 666, Spectral Manifest, War Master, The Blood Royale, Church of Disgust (They're split between TX and Florida, but that's good enough for me), Funeral Ash, Whore of Bethlehem, Maiestas, Oath of Cruelty (who have members that are now in Morbosidad who get 666% support), Nexul/Hellvetron/Nyogthaeblisz, Termination Force, Skan, Id, Cleric, and Sigil. I'm just going to stop here since I can't possibly list everyone – read issue #1 for plenty of examples!
– Zines:
Feral Noise was a killer one, as is Underworld Zine which I believe is based out of Houston if I'm not mistaken.
I understand you're involved with the Metal Enema radio show. What's that like? Do you consider yourself a 'metal activist'?
Metalenema is no-holds barred insanity. I'm somewhat amazed that I haven't been driven mad over my three-year tenure on the show, but I'm sure it's only a matter of time. In all seriousness it's a blast and one of the key ways that I myself find out about newer music from Undertaker's contributions to our mixes (otherwise I would probably hole up in my cave listening to nothing but the same four Celtic Frost songs over and over again). We are proud to wave the flag of extreme metal over the airwaves and hopefully enlighten listeners to the way of death/black/thrash.
In all honesty I wouldn't use the term "activist" to describe the way I live since it makes me think of stereotypical naïve teenagers with well-meaning-but-misguided political affiliations, but I do live for this music that burns inside of my soul. I enjoy plenty of other music, but metal is what set me free. Ad Majorem Metallum Gloriam : To the Death.
Many thanks to DMU for the interview! For the interested, a preview of the zine with a few interview scans is available at the link below:
No Comments
Tags: Black Metal, death metal, texas metal, under the sign of the lone star, zines