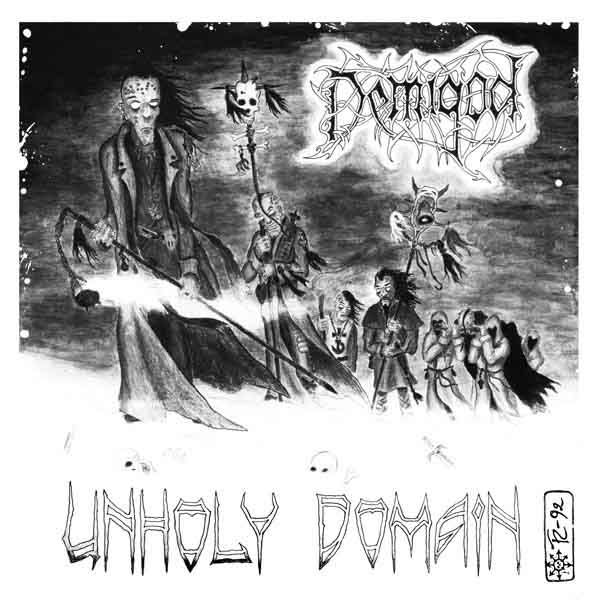 This collection of Scandinavian metal shows these bands migrating beyond their speed/death roots into death metal and struggling to implement their most ambitious ideas. Demigod launches the split with its "Unholy Domain" demo which displays songs that later made it onto Slumber of Sullen Eyes but with more muted-strum riffing, divided syncopation in placement within tempo, and over-active drumming. Like the early works of Possessed, these twin seven-inch recordings show bands emerging from the older paradigm but not yet able to grasp the full implications of the new. Demigod does so on a structural level, where Necropsy assesses the riffing style more accurately. Together these form a historical document of much interest to those who find the separation of death metal from heavy metal as a pivotal moment in the history of the genre.
Demigod leads off the split with its "Unholy Domain" demo which shows later songs in a more downstroke, muted-strum heavy form that consequently has less fluid tempo changes and as a result, misses somewhat on the dark atmosphere which Slumber of Sullen Eyes created. However, the formation of the songs reveals itself through how these riffs interplay, with the strummed riffs occupying space so that others can take the fore, showing which themes are dominant and which are merely supporting. This reveals Demigod without the pervasive atmosphere of enigmatic doom that defined the later album, but instead shows them as a band striving to place interesting riffs into combinations which brought them together as more than the sum of their parts.
Necropsy, on the other hand, unleash what may be the best recording of the band because it lacks the self-consciousness of later releases. It does not attempt to be hard, but resembles a three-way cross between Morgoth, Powermad and Asphyx, plodding through doomy passages and picking up the rhythm with speed metal riffing before building to a classic death metal melodic confrontation between internal themes. Much of this carries the same murky atmosphere as Darkthrone Goatlord, but with more internally-reflective syncopated riffing in the style of the first Deicide album, albeit slower to fit a mid-paced approach much like early Kreator. This recording shows the creativity of this band achieving a result that is not completely formed, yet shows direction more clearly than the more artificed later versions. Together these two recordings make a compelling view into early death metal.
No Comments
Tags: 1992, death metal, demigod, Unholy Domain