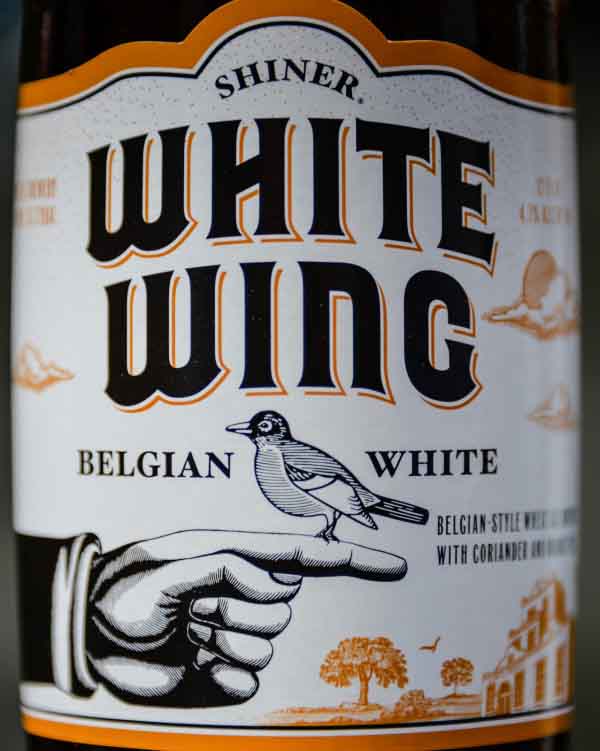 If I had to identify a problem with beer in America, I would say it is that the audience is generally teenage in outlook, even if three decades removed from that age group. People are afraid to buck a trend and to admit that something which their favorite journalist writes up is in fact, odious, and instead they sit around, drinking hipster beers that turn the hops or yeast up to 11 and expect you to like it or be labeled an idiot who can't appreciate good beer and thus a philistine who belongs in the lower classes, afraid to admit that they are in fact drinking swill.
Shiner White Wing is one such example of swill. Bilgy, decomposition-scented, sweet and yet acidic swill. Joining the trend of Belgian white ales it embarks upon a course of taste that is disgusting, but because it is disgusting allows hipsters and salarymen alike to claim profundity for liking it, White Wing is septic pond water of a beer. It has all that a hipster needs: ironic taste, oddity and quirkiness, and of course it comes from Shiner — who make their fortune selling domestic beers at import prices simply because the average American beers are so horribly bad — so it has automatic hipster cred, which is a holdover from the 1980s when Shiner was cheap beer for desolately poor artists, instead of weekly trust fund credit card swipe party favors for useless hipsters. If you enjoy the thought of fermenting grass and leeks together in a giant vat of sugar and coriander, you may enjoy the appeal of Shiner White Wing, but no one gets to that state honestly; it's pure Stockholm Syndrome. In all fairness, this review is overwritten. It should merely say: "Yuck." By doing that, I have stood up in a room of utter sheep disguised as anti-sheep and pointed out that they drink this crap because it is "different" and "ironic" but not because it is good. And good it is not. You'd do better with a brandy and pipe and avoiding this disgusting swill.
Witbier in general has zero appeal to me. The basic idea is this: use lots of cheap wheat in the beer, add coriander to make it "unique," and then keep the fermentation going until just before the point of consumption. The result is a cloudy, sickeningly sweet, foamy beer that tastes about like huffing the results of a bag of scallions decomposing in the summer heat. If you fed a horse coriander and political promises, its flatulence would taste like this. The white beers I have had from more reputable breweries did better than the Shiner treatment, which consists of making every beer as grainy and yet dehydrating as possible, but the entire style is disgusting and appeals to those who crave novelty more than balanced or even quality flavor. Yuck, ten thousand times yuck. I am sure that the hipsters now are primly poised on their bar stools as they smugly prepare to excoriate me as a beer-illiterate who merely likes his simple ales like a good peasant, but the real peasantry here is people pretending to like this for being "unique," when in fact it is disgusting. The emperor has no clothes! Witbier is vomit! And Shiner White Wing is low-quality clothes optional vomit sold at top tier prices. Avoid at all costs.
Quality rating: 1/5
Purchase rating: 1/5
15 Comments
Tags: beer, belgian ale, hipsters, shiner, white wing