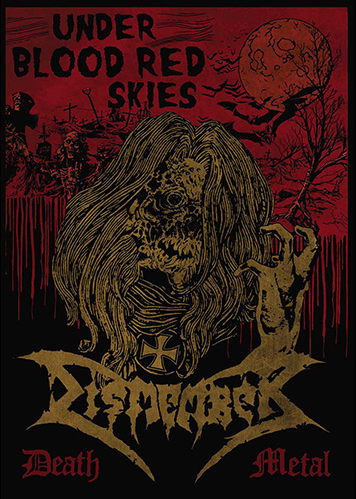 Review by Daniel Maarat
This DVD set of two filmed concerts and a documentary was the final release from "death metal legends and fucking idiots" Dismember. The sound quality and performances of the concerts are adequate, but fans will be disappointed that they aren't from the prime period of the band in the early nineties; both were filmed after the departure of drummer, primary songwriter, and producer Fred Estby before the final, lukewarm album. Not entirely filling in his shoes was Thomas Daun of Repugnant and Ghost. Shitting in his shoes. I only made it all the way through both concerts and resisted the temptation to play Dark Recollections with the help of a six pack of Coors Banquet. More interesting is the included documentary, Death Metal and More Mental Illness. This also lacks contribution from Estby except for some footage from the 2006 Masters of Death tour with Grave, Entombed, and Unleashed. The performance of "Pieces" is better than the two included shows. The interviews with the Best Voice in Death Metal* Matti Karki and lead guitarist Dave Blomqvist provide good information for die hard fans.
Blomqvist says that Dismember never cheated with quantization, cut and paste digital trickery, or drum triggers while playing live. Live, they constantly had to stomp on the dimed Boss Heavy Metal 2 pedals at the end of guitar parts to prevent their ridiculous tone from frequency masking everything else. The only time they turned down the distortion was on their Nuclear Blast mandated sellout as death metal "was not in anymore" album, Massive Killing Capacity, which they admitted "sounds like shit." Otherwise, Dismember never followed trends and kept true to their Autopsy, Sepultura, Repulsion, Morbid Angel, and Iron Maiden influences; Mental Funeral was their "riff bible."
Karki reveals that most of his lyrics were written at the last minute; his vocals are from higher in the vocal registry than traditional Cookie Monster death growl, almost a harsher hardcore punk bark. Performing them in the studio "killed and devastated" him. We feel his pain through the presented footage of an overweight Swedish man in his underwear.
The drunken goofiness that satiated Dismember's touring bleeds: A dozen minutes of the band headbanging, set lists written on bare backs, Swedish imitations American, and British accents. The film climaxes with a hen on the side of the road. Recommended for boredom.
*https://www.deathmetal.org/news/new-york-times-on-the-best-voices-in-heavy-metal/
Tags: 2009, death metal, Dismember, documentary, dvd, live shows, Sweden, Swedish Death Metal, under blood red skies