Although Chris Reifert's work on the now legendary, but perhaps over hyped Scream Bloody Gore was compelling, it is hardly worth mourning the fact that this death metal genius would leave Death and form the mighty Autopsy. On the contrary it remains a blessing, and while Death would continue to churn out a few more solid death metal records, Autopsy would themselves create a few classics whose extreme visions of death would underlie much of the philosophical vision of countless metal bands. Undoubtedly, Autopsy would also influence the worldview of many fans who would learn to eschew the illusion and flight and fantasy of modernity, in favour of a sober glimpse into the workings of reality in all its horrifying and powerful glory.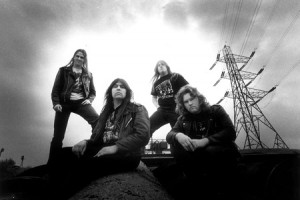 Autopsy's barbaric and seminal album Severed Survival offered the listener what would by 1989 arguably represent the nihilistic and amoral apex of the burgeoning death metal genre and thereby cement their place in death metal history. Primitive and raw, the power with which Autopsy frantically bash out these energetic incisions into the human psyche, indicates a desire to transcend and break down the perceived but illusory moral world order and come to terms with the cold harsh realities of existence. On Severed Survival, Autopsy unabashedly presents the listener with a sometimes shocking but nonetheless candid and unmitigated reality, smashing to pieces any presupposition of a cosmic moral world order. As listeners we are forced to come face to face with death, desperation and the unspeakably twisted and cursed elements inherent in the mechanisms of reality and in the collective human consciousness, which Autopsy, like a skilled pathologist expertly dissect and examine. Exhumed are the intense, destructive and "degenerate" elements that are not spoken of in civilized society but which nonetheless drive reality and remain active as motive within the omnipresent but subterranean catacombs of the human mind. Unquestioningly suppressed out fear or an inability to place these depraved realities within the context of our currently constructed, illusory but ubiquitously advocated a priori moral world-view, it is Autopsy who courageously revel in exploring the obscene and who seem bent on destroying illusion in favor of discovering, conforming to and coming to grips with the power of reality.
"A bloody pile of discharge flesh
Is what you see as you face death
 On the ground is the lifeless meat
Stillborn child lays at your feet"
Musically, Severed Survival is a conceptually flawless album that offers insight, contrast, and dynamic through its expert use of eclectic influences and moreover, succeeds in synthesizing musical and lyrical expression to form a complete experience also made possible through the phrasal composition inherent in the songwriting of all good death metal. Drawing on Celtic Frost and the simple power chord progression that made the latter's work so completely unified and clear, synthesizing it with heavy metal's tendency to express impending doom through the use of slower meditative riffs, and drawing on the frantic and schizophrenic lead guitar work of proto-death metal or speed metal giants, such as Slayer, Autopsy on Severed Survival  executed an effectively simple, dynamic and epic work whose elements united  to create a gripping journey that remains to this day, compelling, interesting and perspective altering. Highly recommended!
-TheWaters-
Tags: autopsy, death metal, Gore, review, Severed Survival