One of the most well known of the close-knit and virile New Zealand death/black scene, Kiwi act Diocletian's full length falls and fits clearly within the war metal sound as was pioneered by Blasphemy, and taken to a more nihilist, apocalyptic climax by fellow Canadians, Conqueror and their suceeding act, Revenge.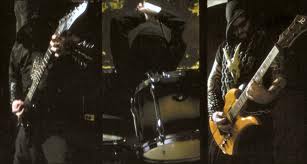 Structurally, the songs of Diocletian adhere to the musical formulas that define Canadian death/black metal hybrids, but the production whilst still raw, is not as lo-fi and has more streamlined engineering on the guitars and drums, with the bass guitar playing, an unlikely rarity in such high intensity music, thankfully audible. Barked, roaring vocals commonplace within this niche of metal predominate Doom Cult. The tonal quality of the guitars whilst not trebly are less bass-heavy than what you would expect from an Revenge or Sacramentary Abolishment record, is of enough clarity to possess a harmonic distinction that has a similar quality to a less Norse-influenced Demoncy, and even draws a parallel to the first full length by Profanatica. To add to this, a similarity that vaguely resembles the Cut Your Flesh And Worship Satan album by Antaeus is present, in that nuances of distortion and feedback, samples of a warlike nature are used to build and intensity the framework of the album.
Along with a savage execution and great understanding of the pattern language that informs this style of music, Diocletian put forth an excellent full length.
-Pearson-
Tags: Black Metal, death metal, diocletian, Doom Cult, new zealand, War Metal