In what was what I would call a 'mixed bag' of a gig, Entombed were the disappointment, and Amon Amarth the pleasant surprise. The Academy was a packed venue, nearly full and with a decent enough set-up, good acoustics and an intimate setting, the stage not being isolated from the proximity of the audience.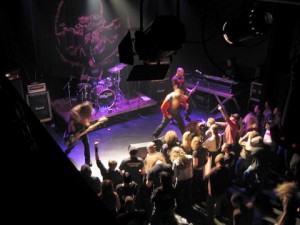 Entombed played a set that disappointed, and this was partially due a lack of their better material being played. Much of the setlist consisted of numbers that were lifted from their third full-length, Wolverine Blues and then onwards, with a lack of attention given to their more pioneering work that was put out on their first two albums, Left Hand Path and Clandestine. Songs were less death metal than they were an aggressive take on stoner rock, songs being much more inclined to the verse/chorus school of rock songwriting, the rhythms more inclined to provoke the shaking of hips and the tapping of feet than they were to bang heads. Whilst this was all good and competent, certainly the great soundtrack of an alcohol fueled evening in the capital of Eire, none of these works, as far as the reviewers opinion is concerned had the violent charge nor the momentum that characterized their legendary debut. Some credit will be given to the vocalist, whose onstage presence and frantic onstage manners gave more depth and urgency to songs that otherwise were devoid of it, and the guitarists tone was brilliant, the same buzzing, 'chainsaw' like tone that they helped pioneer back in the early nineties through maximum amplification. Entombed concluded their set with a brilliant rendition of Left Hand Path the staple and title track of their debut album, and it put a redeeming conclusion to what was an expertly performed, yet borderline mediocre set on occasions. It would be wonderful to hear what paths could be treaded if they realise the urgency that made their earlier music essential.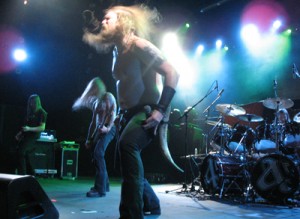 Amon Amarth played an excellent and intense set, mostly consisting of the melodic, fluid and anthemic traditional metal that they have come to be easily associated with. Infectious melodies and precise, double-bass lead drum rhythms bring to mind a hybrid of Blind Guardian and late period Immortal, whilst the muscle and simplicity of their music brings to mind fellow countrymen Unleashed in both the subject matter and the simplicity of the song structures. Musically Amon Amarth have an obvious strong commercial potential, sound highly accessible by the subgenre's standards, and whilst they are not exactly breaking any new artistic ground, they are still workmanlike and this shows in what was a very well received and well performed set. Johan Hegg is a good front man and throughout the set uses the opportunity to incite the audience to terrace chant amidst his bellowing, whilst taking turns to consume from the mead horn that is his custom to bring on stage with him. Admittedly I would not consider these to be an act of the highest caliber, though they are unique in that they have one foot stood in the primitive and barbaric, with one firmly in the ability to reach out to a large audience. It was a privilege to be involved among the audience that night.
-Pearson-
Tags: amon amarth, death metal, entombed, Swedish Death Metal, Thrash, Viking Metal