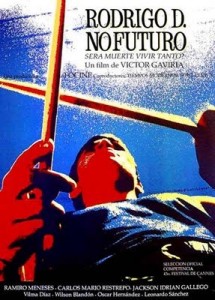 Metal audiences and listeners, aficionados of a genre that is well known for it's enthusiasm towards the macabre will always have the generalization of being attached to the horror genre. A very recent review of Cannibal Holocaust on here is testament to the leanings that many metallers and Hessians would have towards gore, science fiction and the supernatural, occult side of cinema. Seeing as Cannibal Holocaust did 'realism' to a certain extent,  reviewing Rodrigo D: No Futuro intends to further this. This drama film, about an aspiring drummer is a brilliant narrative about survival amidst the harshest and roughest of environments captures a realism not present in most forms of dramatic cinema, but also possesses the same punk nihilism that would easily appeal to anybody who enjoyed Alex Cox's brilliant 'Repo Man' and Tim Hunter's 'Rivers Edge', stripped towards a far more coherent realism that is totally at odds with commercial  'glossy' film-making.
The fact that the film was shot in the same neighborhood where many of the main actors lived, within a city known to have the world's highest murder rate at the time, only gives light to the fact as to how these young people would have gone about their daily lives, for which reason the writer feels rather little need to offer intricate details towards the plot of the film. It's backdrop revolves around a day to day existence under the constant plethora of violence, crime, strife and nothingness for it's young protagonists, amidst a musical backdrop that is a myriad of punk hardcore, thrash and early death/black metal, an indicator that if Europe were home to romanticism and North America a hotbed for nihilism, then surely in it's earlier days the South American metal scene was the land where a brutal realism, born from poverty and societal decay, made itself clear.
Musically the soundtrack is one of the most compatible, suitable and cohesive to be heard in any underground flick. The fact that the bands featured on here are so distinctly similar to one another yet retaining their own character is perhaps indicative of a thriving yet incestuous underground scene in Medellin at the time, the savage and raw tonal quality having much in common, but perhaps a much more chaotic, ambient, stripped down take on what the Brazilian underground acts (Sepultura, Sarcofago, Mutilator, Vulcano, Sextrash) had done in a similar era. The remaining soundtrack is permeated with punk rock and hardcore that although not on the same level of corrosive aggression still oozes the same depravity and oblivion that makes the film all the more worthwhile and excellent.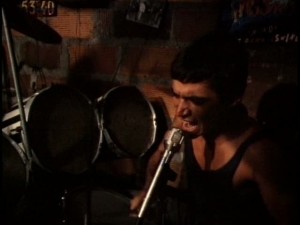 An additional bonus to this is the presence of members of seminal Columbian act Parabellum in the film, the scene in which they are featured being poignant and insightful enough to merit that parts of the film were as good as being documentary footage. The scene featuring another local act, Blasfemia is excellent and iconic, with the band playing a rooftop gig/rehearsal, in the backdrop of idyllic mountains in the distance of decrepit, violent shanties.This is a highly recommended film for anyone fond of exploring realism within cinema, and also for those who want insight into South American underground music of the 80′s, getting hold of the soundtrack would be highly recommended. A gripping film, and both watcher or listener is entitled to take that opinion in either direction.
Written by Pearson
Tags: zine-video