(Audrey Ewell and Aaron Aites, 2008, 93 min, $16)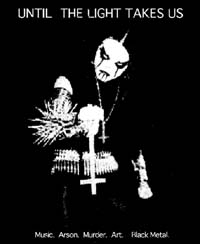 If we ask why instead of how an event happened, we find out what made the humans behind it do as they did. "Until the Light Takes Us" explores the why of early 1990s Norwegian black metal. Designed for people with no knowledge of that subculture, the film explains the black metal movement while making its actors emotionally accessible so we feel an urge to understand it. In a time of a sudden interest in metal documentaries, this film stands out by exploring the personalities and ideals that made people invent the music; other films look at the facts of how the music was invented but never the why. We don't need another documentary telling us millions of people worldwide go crazy for heavy metal so it's OK if we want to as well. We need to figure out what makes people pick this genre over every other. "Until the Light Takes Us" gets into the why of black metal and the church arsons, murder and media circus that followed. Through fragments of media footage, interviews, and footage of black metal musician Fenriz as he prepares to visit an art exhibit about black metal, this film explores the clash between fantasy and utilitarian modernity that sparked the radicalization of heavy metal. At its culmination, the documentary shows past colliding with present, and a fervent ideal of being against the modern world and believing in a mythic life full of fantasy, adventurous violence and conflict. It is both poignant and literal, like black metal a collision of alienated punk gumption and epic dreams. Like black metal, this film is a study of moods, overlapping in translucent layers, which as they are pulled away show us a simple shape of truth. Although some have bemoaned the inclusion of too much Varg or Fenriz, it became clear from other interviews that musicians are not an articulate bunch and the two who get the most screen time do so in part because they can explain themselves coherently. In the case of Varg, he's easy to watch: he's funny, sharp, friendly and his logic is lucid. Fenriz is moodier but his dark sense of absurdist humor commands the film. At the core of this genre, Ewell and Aites find a revolution against consumerism, equality, uniformity, utilitarianism and all other modern concepts by 35-year-old teenagers who never gave up on the idea that life should have adventure, constant discovery and a sense of meaning that unites the entire experience. Unlike most people, these individuals are fully aware of what death means, and when contrasted with the robotic plastic surroundings of the modern world, a parallax shift occurs: we go from seeing them as out of place to seeing their surroundings as out of place or perhaps, irrelevant. This film is a cipher, in that it gives us many entry points to a questioning of modern society and exploration of the ideas of black metal. Among other things, it is obsessed with the erasure of memory and culture, an inspection of the culture of convenience and the isolation it brings, and a hint that we should explore what Joseph Campbell calls "mythic imagination" and Varg calls "fantasy." Without being socially critical, it is an exploration through the eyes of those who made black metal, and then saw it erased as it became a product with the passage of time.
Metal has been crying out for a movie like this for decades. "Until the Light Takes Us" does what even metalheads cannot do most of the time: it takes the genre seriously as an art form, and peers behind the outlandish behavior and image to try to understand what motivates people to cast aside society for evil metal. For this alone this film should be praised, but it very quietly exposes metal like a blueprint, all while showing us the emotions of the people involved. It is compelling. Clearly these filmmakers knew how to ask the right questions and patiently wait for their subjects to articulate their points of view, then snatch the moments of greatest clarity and present them with impact. Scenes of industrial desolation follow the impact of strident words, and fires of ancient churches melt into shots of the memorabilia and essential moments of a developing genre. Each fan will probably have a wishlist for changing this film, but that only shows how much it seizes the imagination. I would enjoy seeing a comparison between black metal and the European Romantic literature, theatre and music of two centuries ago. Others have commented that less Frost (of Satyricon) might accelerate the latter half, but this reviewer was not troubled by either detail. While much of the material in the movie is well-known in the form that leaked out through the media, rediscovering it through this artfully told history is a dream come true. The documentarians hide themselves and let the characters tell their own side of it. What makes it a dream to which we'd like to return is that it explores the why of this music, and in doing so shows us the fans why we found so much hope and possibility in black metal.
2 Comments