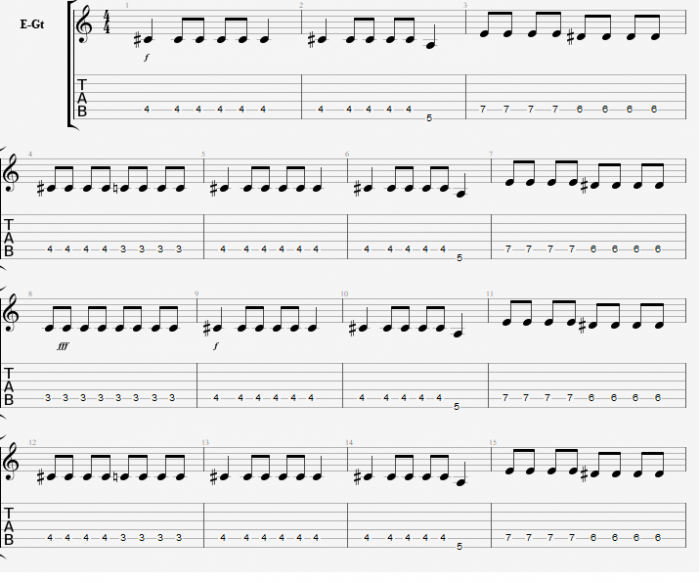 Unleashed had at this point released two good records that saw the band create Heavy metal songs with limited Death metal stylings and were known for possessing a particularly small set of tools which almost made their previous very repetitive. On Across the Open Sea, the band's Magnum Opus, the band re-contextualized their previous influences to create rousing and anthemic works while seeking to expand further into Death metal technique and arrangement. "To Asgaard we fly" shows this subtle marriage between the two and how the band were able to combine such styles without to saturate the listener with stolen Iron Maiden leads.
A Heavy metal rhythmic gallop played at high speeds is combined with two tremolo picked endings and the whole is then concluded by a held note. The galloping motif is central to this piece as it occurs on almost every riff and it instills the root note into the listener's mind and then allows the band to attach it freely to a number of tails.
Both guitarists play the same riff except for one important difference. The first note is harmonized to form a diatonic fourth chord with the bass note present to add weight and to provide an anchor to the tails. The riff in itself is completely contained within the harmonic minor scale uses the raised seventh degree as it leads to the root note in a much smoother manner. The end of the gallop finishes on a minor sixth an octave lower which adds identity and allows the listener to remember the gallop.
The tails are simple variations on a harmonic minor descent. The first one starts on the third degree and then races down to the raised seventh while passing through the root note. The second variation bypasses the root note to build more tension on the raised seventh degree. The final variation consists of the raised seventh held down before the song's main melody is introduced.
The riff does a perfect job of conjuring up the beginning of a long journey full of battles. Though the melody contains no chromaticism it is deeply entrenched in Death metal as it is not isolated in its self and it seeks to introduce the basic ideas that this composition will then use to transport the listener to Asgaard. A great moment for a band that was always a step behind their peers.
Tags: across the open sea, death metal, riff analysis, to asgaard we fly, Unleashed