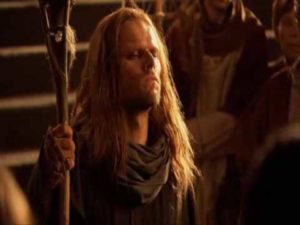 2017 was a year of total war and, culturally, a year of victory.  What it lacked in quality metal it made up for in illuminating many of the harsh truths about metal's business side, the narcissism of metal musicians, disloyalty of metal fans, and the desperation of metal journalists to fit in with flavor-of-the-weak liberal hysteria.  Outside of metal, conservatism has won almost every battle and leftism continues to be on the defensive.  With the death of Antifa in America, the complete meltdown of liberal journalists in and outside of metal, and endless infighting and cannibalization within the left, 2017 has been perhaps the most amusing and fulfilling year in recent memory.
Yet as great as this last year was, we must keep our eyes on the future with maximum alertness as the war continues.  Therefore let's leave the crystal ball reading to the crazy cat lady witches running Cvlt Nation and instead make some logical predictions on where the world of metal may be headed in the next year:
 A wave of sexual assault accusations will hit metal musicians, journalists, and label owners.  All of them have lived in a liberal world while clinging to the dream of fulfilling the "rock and roll lifestyle" fantasy.  In reality, they are mentally unstable people who have done questionable things to and with other mentally unstable people.  It's a ticking time bomb waiting to explode and the metal culture of the past few decades has not exactly promoted the most chivalrous of values.
Liberal metal journalists will prioritize covering trans-gender musicians over covering good music.  Continuing their quest to out virtue signal each other, any metal musician that dismembers his member will be considered a hero of the metal scene and will receive praise from a metal media desperate to grasp at the last dollars of "career journalism" before such a thing ceases to exist (especially for a music genre that makes up 7% of today's record sales).  Similarly, the bloodsucking corporate record labels will try to exploit trans musicians the same way they exploited male rape victims who were co-incidentally the singers of every popular nu metal band.
We will see a sudden and sharp decline of interest in post metal.  It will happen abruptly and nosedive massively.  People will see the word "post" in the genre description and immediately flee.  Post-hardcore in metal will especially become taboo and hated by even the mainstream of metalheads- far too long after it should have been.
Today's popular metal sites will continue obliterating their credibility.  This has happened so bad to MetalSucks that they actually published an insanely triggered defense full of fright, hurt, and desperation in an obvious response to our articles exposing their fradulence over the last year.  Speaking of MetalSucks
Metalsucks will have to answer to their praising of pedophilia.  At some point, it's going to come to light that Matt Goldberg ("Alex Rosenberg") is an admitted pedophile. At that moment the knives will be out, and the virtue signaling liberal site that burns them will be elevated significantly.  Speaking of corporate fake news metal sites:
"Career journalists" in metal will resort to desperate TMZ style journalism to chase $$$.  If you're writing for a metal site, and don't have a real job, you'll be finding yourself in a dark, dark place next year.  The money in journalism is being squeezed out with both hands.  If you're doing this to make a living, get ready to start increasing your room mate totals.  The other alternative will be for sites to merge with rock music, the coverage of which will far overshadow the coverage of actual metal.  Either way- look for less reviews and actual musical coverage and more tabloid journalism.
Satanic Lyrics will Die Out Completely.  Already, bands not formed in the 90's have shifted to occult themes in their place.  Satanism in metal has been outted as fake and embarrassing and remains to be perceived as a circus act fit for carnival bands like Watain.
Grindcore will Return in a Boring Incarnation.  You'll see grind bands skyrocketing- filled with hipster metal aesthetics, progressive liberal content, but the qualitity will be even more horrid than what we saw in the 90's.  Songs will be even shorter (probably the 20 second range) and yet people will by the music in droves to virtue signal to the other neckbeards on their Bandcamp friends list.  Great way to make a quick buck if you're a musician and have no self standards or regard for your legacy.
Toilet of Hell will continue making DMU themed podcasts, memes, and YouTube videos.  The Toilet Wars brought them the most traffic the site has ever seen, and thus they will seek to re-ignite them.  I'm flattered guys, really, but as much as I'd like to see this feud climax at Wrestlemania 34 I will instead advise you to instead use that energy to out MetalSucks as pedophiles and misogynists.  It will give you a very real chance of taking their place as the top socialist hipster metal website and I'm sure the readers will cool it on the anti-semetic remarks that drove you away from them.
A Death Metal Underground fan site will emerge, complete with non-cannon DMU Articles.  There are are rumors that this has already begun.
Lastly, and by far the most important prediction:
Generation Z will begin their Rise, with their impact being felt.  Generation Z has the power to right the course of metal's future, or doom it for years to come.  Right now every website in metal is pandering to millennials and gen X.  But gen-Z will soon make their presence felt in the form of sales, buzz, and ultimately in influence.  They are more conservative than any other generation their age, and will not find a home with the liberal hysteric sites that are currently dominating the metal niche.  We can expect from them as musicians and music fans a metal that is very different from what we currently know, and my expectation is that they will be much better.  We should indeed look forward to this unfolding….
Tags: 2018, conservatives, death metal, hipsters, liberals, metal, MetalSucks, pedophile, rape, toilet ov hell, transgender, triggered