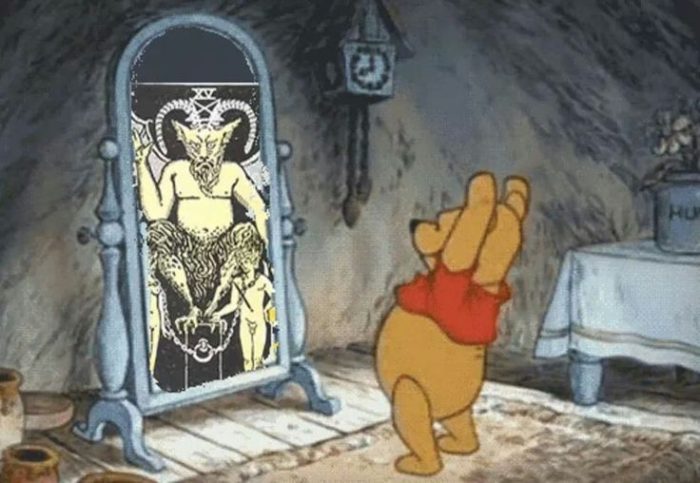 Article by David Rosales.
Recent publications on Death Metal Underground have triggered yet another group of self-entitled Dark Gurus and Awoken Entities of the Left Hand Path™, when the unholy names of some of the popular idols of the Satanic™ niche market group were apparently besmirched by people who simply do not think that the music in question is very good.
The grounds for this opinion rested on the simple perception of music as a form of communication and the knowledge and experience of the way black metal (and underground metal in general) aesthetics work; these are open to any with a sense of logic and understanding and in no moment alludes to ad hominem authority per se, but rather the sense of balanced, sensible consideration of the material at hand, which is always debatable.
I. Music is Pattern
As with anything that can communicate any sense of meaning, music displays pattern and a code of sorts; such a code must abide, first of all, by natural laws and the physical limitations of human perception and structure of mind. That means that the balances between organization/form and chaos/energy must be such that enough comes through and in a consistent and coherent manner so that discernible decodification may take place; claims as to being above such natural law is a claim to being unbound by them — a claim that is usually made by the fanatically faithful in devotional religions.
All music, furthermore, can be seen as tone patterns that produce different effects depending on their arrangement in particular instances. No matter what the original intention was, the complex relationships that the practically infinite variations communicate particular sets of sensations that are translated into not only emotions, but concepts and symbols depending on the brain that finds them.
There is also a distinction to be made by what the organized sound itself contains in and of itself, and what the reader relates it to by virtue of extra musical knowledge. The idea of concept-based listener freedom is something that arises from post-modernist thought, and which disregards the power of music to communicate completely on its own.
It is paramount, furthermore, to try and distinguish between emotional predilection and discernible musical quality; which quality must of necessity lie beyond musicianship/technicality. A semblance of the humanist-democratic notion that any with the 'right opinion' and enough effort may attain illumination, rank or anything else shows itself in the idea that a competent musical performer's compositions are to be considered as imbued with transcendent worth because we respect his expressive talents; the same goes for awarding a writer respect of a thinker because he can compose elegantly or using concepts that make majorities within certain populations feel good about themselves.
Finally, and most importantly to those who are prone to try and actually apply esoteric maxims, the phrase 'as above, so below' should say something of the relation between concrete communication through the complex evocative power of music and its logical arrangement of patterns. The idea that the understanding of art lies beyond logic and reason is not justified but gains traction because it is easier to say so than to simply admit that it is a very hard problem (which some have no taken to mean 'unsolvable').
II. Devotional Religions, Aphrodistic Civilizations, and Nazarenic Satanism™
Evola defined in his Revolt Against the Modern World what he termed Aphrodistic Civilizations, which were a second-degree degeneration of the Demetrian Civilizations: those that had divided priestly and reigning castes, and a sign of division between male and female faculties. Where the Demetrian gave a place of higher and truly divine faculty to the sacred feminine, the Aphrodistic degenerated into a cult of the sensual, of forgetfulness and of further emasculation of the lucid and action-based masculous.
Christianity specifically and as opposed to Judaism and Islam, falls squarely into the definition of a degenerate Aphrodistic religion; this true nature is hidden behind pretenses and veils that make it appear as if it were other things: Catholic religion appears patriarcal where it truly is a celibate (emasculated) priestly (thus channeling the divine but not divine in themselves) caste that worships a generative Mother(Latin Mater figure, Mary, (MARia) as the fertile matter (Latin Materia), the waters of the seas (Latin MARe) of the universe.
While LaVeyan CoS was, in essence, an extremely cynical type of self-indulging and hedonistic atheism; its most famous offspring, the Temple of Set resembled a combination of scholarly Perennial Philosophy and the Nazarene fervor, faith and ranking style. All religion that appeals to a sense of ecstasis and the prerequisite of faith and unearned respect falls into the trap of the Aphrodistic mentality; such ways usually offer an enhancement of the ego in one way or another, even while claiming to do the opposite.
Satanism™ fails in its attempts to be more and better than its big brother Christianity because it appeals to the same weaknesses while adding to it all the hubris of the Man of Modernity. Where Christianity at its core hides the seeds for the most pernicious of spiritual Sado-Masochism, displaying the most decadent of what human nature has to offer in their most sacred convents and outside when allowed to dictate law, Satanism™ is little more than an angsty teenager's cry for independence in an era when he is allowed to throw tantrums with little consequence.
III. Satanic Character, or Lack Thereof
The Satanic is often equated to the Promethean, and wherever there is validity to this equation, this should signify strength of character, endurance, a willingness to go beyond oneself and limits imposed from outside and within rather than indulge within them. In this, then, there is a clear distinction between the Promethean and Satanism™. The first marker is a lack of self-honesty, a seemingly impassable obstacle consisting in an utter incapacity for introspection and self-criticism; which qualities are necessary for improvement.
The individual attainment of fire through great opposition, and its carrying away after long struggle and suffering, should be seen as much more than a mere metaphor; but while the figure and the symbol is often paraded, very few ever seem to place into action anything remotely Titanic, let alone Heroic: where the Titanic rebels and perhaps even achieves, the Heroic transforms and elevates. Whatever the case, one must first transgress with purpose, and go beyond actual limits personally. This is seen in character, a completely different faculty from intelligence or knowledge, it should be said.
Satanic™ Music, Satanic™ Novels, Satanic™ Lore in general, all seem to lack this character, and instead share one thing in common apart from the uniqueness from whatever Satanic™ discrepancies in between them they may wish to parade as a symbol of freedom of thought; this is an almost unfailing display of incapacity to receive criticism of any kind, an unmistakable lack of patience that would come from insight and empathy, and a constant stream of validations for their shortcomings by virtue of being either touched by Satan or feeling empowered as a god. Satanism™ here is only another flavor of modern bourgeois "special snowflake" syndrome.
Do you claim to be Promethean or are you just another Satanist™ playing at Black Wizards? Will you show insight beyond the impulse to insult and destroy whatever gives your emotional state trouble, or will another tantrum will be in order? Will you distinguish who this article is talking to beyond the confusion of words used or will you get caught up because particular words and names were used?
UNTANGLE UNTANGLE UNTANGLE
WHAT IS TRUTH?
Tags: Black Metal, christianity, evola, gevurahel, idiots, music analysis, musical analysis, pattern recognition, Philosophy, Religion, Satanism, winnie the pooh