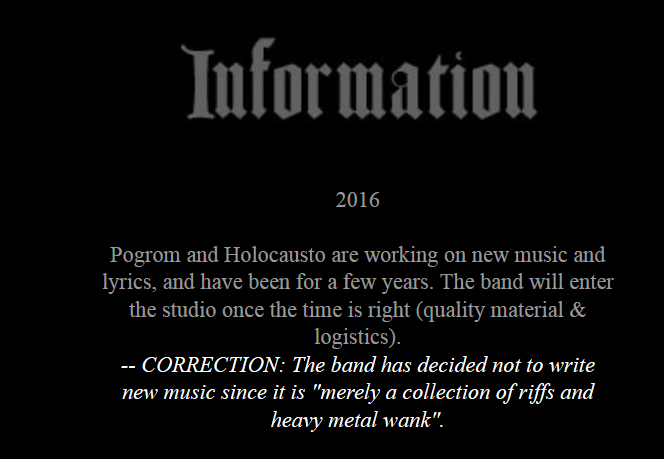 Arghoslent, a speed metal/black metal hybrid famous for their politically provocative lyrics, have taken notice of criticism of their songs as disconnected bundles of riffs and heavy metal conventions which go nowhere despite having promising beginnings. Those who read the subtext of their statement, "CORRECTION: The band has decided not to write new music since it is 'merely a collection of riffs and heavy metal wank'," can infer that the band is re-focusing on their songwriting as a result of those quoted incendiary statements made here at Death Metal Underground.
Industry insiders know that this site is content-agnostic, or not swayed one way or another by what a band advocates or writes about. We support flagrantly Communist bands like Napalm Death and ignore bands sympathetic to the varied viewpoints of our authors unless these bands are also musically powerful. This agnosticism means that we write about the music, not the ideology, unlike the rest of the metal press, which seems to fawn over novelty (BabyMetal) and political orientation (Castrator) more than musical content; in other words, ideological content outweighs musical content.
For this reason, we have no criticism for Arghoslent except what we can hear in the music. There is much potential in this band: creative riff-writing, a good but somewhat repetitive sense of melody, tactical integration of percussion and a good sense of dynamics. Songs — however — make good beginnings, and lead up to something promising, then trail off or repeat. This means that the artistic conflict set up by the song is never taken to a conclusion, creating a sense of incompleteness… and possibly boredom.
Our hope for Arghoslent, whether they go full feminist and multicultural or not, is that they may improve their musical content by tackling the unfinished potential of their songs. This is their only weakness as a band, and while a burly one, would allow them to rise a level of quality and reach the level of influence they clearly desire. Whether or not they realize it, we are cheering them on, in part by not relaxing our standards for anyone simply because of ideological content.
Tags: Arghoslent, Black Metal, nationalism, Speed Metal, un-PC