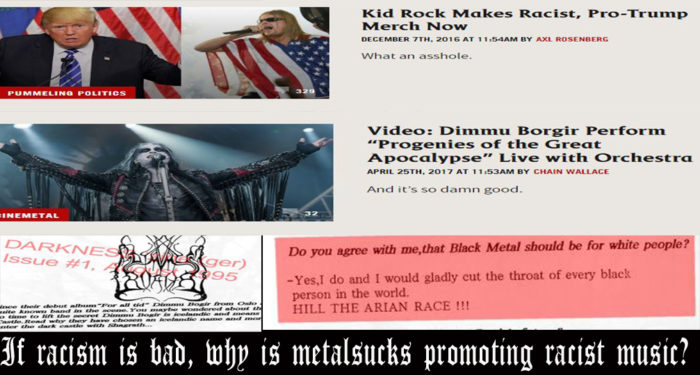 In an age where the culture war has reached all corners of American life it is essential to understand the immense significance of the extreme metal frontier. As a liberal movement on the brink of extinction adapts a full blown communist agenda and wages totalitarian warfare against all beneficiaries of natural selection and individual freedom it is mandatory for the iron willed men and women of metal to defend the most liberated of all musical genres. By defeating these dystopian LARPers on the battlefield of metal culture we will accelerate their complete evisceration and ultimately emancipate the underground metal genre from it's stagnant state. Therefore we must understand the enemy to swiftly and decisively destroy it.
Refer to the above image- a red pill, metal style, from yours truly. The liberal metal media's most well funded sites- namely Metalsucks and Metal Injection- are a mirror image of the American mainstream media's enslavement to money and advertisers, dishonesty about the truth, and demonization of outspoken conservatives. What made Kid Rock's merch allegedly "racist" was simply the made up word "dumbfuckistan." It did not contain the dehumanizing racist slur used by Shagrath- the man Metalsucks depicted on their cover page. It did not explicitly advocate Kid Rock's music being only for whites, as Shagrath did for Dimmu Borgir in the above interview. It did not threaten violence against an entire race of people, as the artists that grace the cover pages of Metalsucks and Metal Injection apparently do.
We can see here that the leftist metal media's "anti racist agenda" is a complete and utter fabrication. The leftist "anti racist agenda" is to appease their liberal advertisers as is their anti conservative stance. They are attacking Kid Rock because he is openly conservative. They showing where to buy racist Dimmu Borgir's album because they are signed to one of the largest and most financially influential record labels in all of metal. Think about it… the site's advertisers certainly would not want a PR nightmare with Nuclear Blast, who is paying them to advertise, would they?
Metalsucks and Metal Injection, like mainstream media, put on the front that they have a moral agenda. But just like the mainstream media, they are ultimately ruled by the dollar.
Any of the attacks made by Metalsucks on metal artists or metal musicians can now be lobbied directly back at Metalsucks. By giving a link to buy this band's album, Metalsucks is doing PR for racists. Metalsucks is doing PR for white supremacists. Metalsucks is doing PR for a band who released an album on the same "Neo-Nazi label" as Inquisition (whom they branded as Nazis, in part, for releasing music on that label). Metalsucks is doing PR because they are ruled by the dollar.
Article 5 of the Metalsucks Manifesto (below) states with absolute clarity "Artists who espouse our values will continue to get preferential coverage." I'm glad that we now understand exactly what those values are.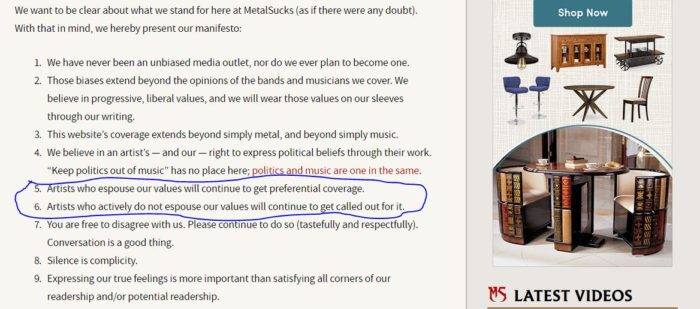 Tags: antifa, antifascist, antifascists, communists, dimmu borgir, hypocrisy, Inquisition, mainstream, mainstream metal, metal injection, metalgate, MetalSucks, racism, shills, sjws, social justice warriors, socialists