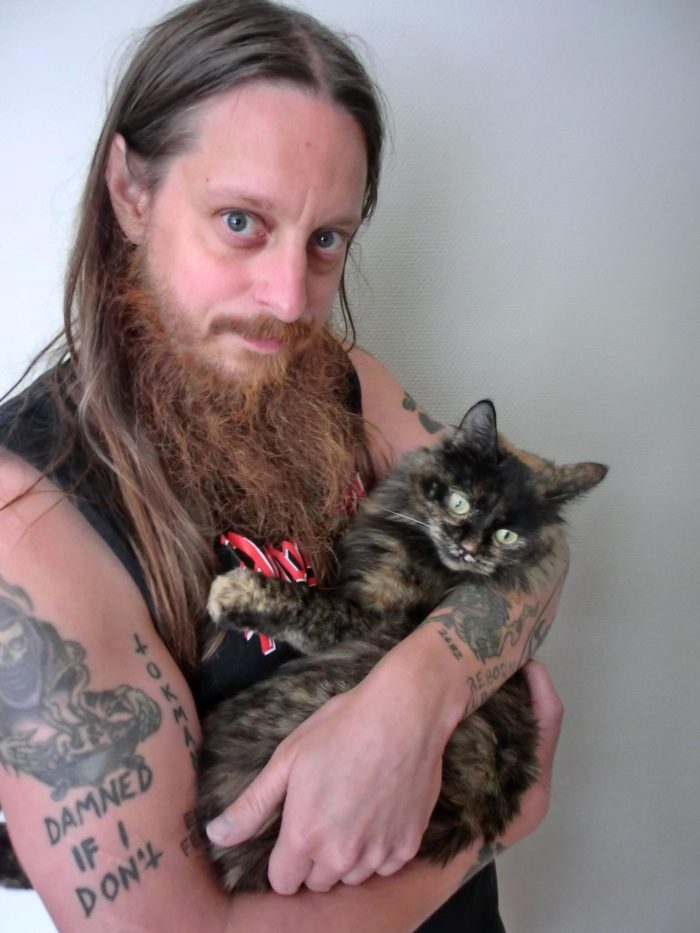 Fenriz has been in the mainstream news lately for winning an election to his local town council by circulating a photo of him holding his stray cat Nugatti. He won election for a four year term as the second back up councilor who steps in when the first replacement is unavailable.
On the Darkthrone Funbook page, Fenriz claims that he will attempt to perform his duties as much as time permits. Fenriz famously works almost full-time in the Norwegian post office, where he listens to the promotional material he receives to create his Radio Fenriz online radio show posted on Soundcloud. Radio Fenriz mostly consists of disposable, c-list rehash metal that makes Manilla Road sound like Morbid Visions; the type of label ponzi scheme crap that if you were actually naive enough to buy it on CD, would get played thrice in the car before you lose it under the seat and return to ploughing through traffic in your Volvo solid steel battle tank station wagon (or white rapist van if you're in a band) while blasting A Blaze in the Northern Sky and Onward to Golgotha.
The quality of Darkthrone's output appears to be directly correlated with the quality of music Darkthrone are actually listening to. Fenriz could easily spend five minutes each instead of an hour with the vast majority of these releases, pick out the two tracks out of fifteen that have decent riffs in unrefined riff rock songs, and stick them into a playlist with quality but relatively unheard metal of the past or stick the "greatest hits" of rehash metal together to show how little musical worth and content these releases actually have. Instead Fenriz willingly allows third rate Agent Steel and Autopsy clones to pollute his grey matter.
Since Transilvanian Hunger over two decades ago, Darkthrone have left their material unrefined and organized. 1995's Panzerfaust started a trend of open worship of pasts greats (Celtic Frost – Morbid Tales / Emperor's Return) and self-plagiaristic punk rock. How could Fenriz and Nocturno Culto have gone from making elitist "Norsk Arisk Black Metal" to being mainstream media punk darlings gazed upon like a set of Scandinavian Henry Rollins? Given Fenriz's felinophelia, there is one obvious answer: Toxoplasmosis. Yes, the disease the causes those cysts that pathologists find in the brains of neurotic, crazy cat ladies and Frenchmen at the morgue. Continual reinfection with toxoplasma gondii from cleaning out little Nugatti's litter box is the sole logical explanation for Fenriz's odd shifts in taste and behavior.
Tags: cats, darkthrone, fenriz, mainstream, politics, toxoplasmosis, trends mosh core fun