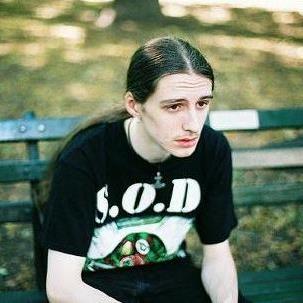 The Talk:
Every metal musician needs to have "The Talk" at some point or another and for some of you, this will be that moment.  In the world of metal, "The Talk" is the soul crashing, dream obliterating conversation where one learns the valuable lesson that you can't get rich playing extreme metal.  It's heartbreaking and defeating but better learned sooner than later.  And since a young ambitious musician isn't necessarily considering the logistics, lifestyle goals, etc. of their future before they drill on that pentagram neck tattoo, I want to make sure readers of DMU are abundantly clear on what to expect on the financial front when engaging in life as a touring musician.

I was fortunate to be given "the talk" at the ambitious age of 17, when the vocalist of a melodic death metal band called Beyond the Flesh- popular in our suburban New Jersey hometown but relatively unheard of anywhere else- explained to me that almost every single death and black metal band ever has a shitty day job.
"But what about Mayhem, Carcass, I mean they're huge right?  They're super famous in the metal world!" I responded, unable to accept the heinous truth bestowed upon me.
"No, all of them work.  Morbid Angel might not (they produced the highest selling death metal album, Covenant), Deicide might not, maybe Cannibal Corpse (who tour an unbelievable amount of days) but that's about it."  I was in shock… I saw all the documentaries on Motley Crue and Guns N' Roses and assumed it was the same for all metal.  But in reality, that was a time of peak income for metal and those heights have never and will never be reached again.
The Truth is Spreading:
Many in the youngest generation of metalheads got a taste of this truth about two years ago, when the singer of uber-popular deathcore flavor-of-the-week band Thy Art is Murder quit over the lack of finances.  In a bold and brutally honest
statement, he admitted the truth about his band's financial struggles:
With a mix of both negative and positive emotions, I inform you all that I have parted ways with my band Thy Art Is Murder… My reasons for leaving: I spend too much time away from my fiancé , family and friends, touring has taken a massive mental, emotional and physical toll on me. One of the biggest reasons is money, I / we have been broke for years and being 32 years old I can't live like this anymore. I am getting married next year and plan on having a family, these things cost money, to put the finances into perspective for you I /we have earned between $16k-$18k each over 6-7 years, I feel there is something massively wrong with this, I will not live like this anymore.
In America, 2017's poverty line is $12,000.  But keep in mind, Thy Art is Murder has over 500,000 Facebook likes (an unfortunate but mostly accurate means of measuring an underground band's popularity).  That's more than Cryptopsy, At the Gates, Mayhem, Watain, Gorgoroth, Dark Tranquility, Necrophagist, and Immolation- meaning all of those bands likely earn significantly less.   Now, let's assume this to be an accurate metric (which, in reality may or may not be accurate, though I would place my chips on accurate), and assume that members of bands with a million followers like Behemoth, Cannibal Corpse, Cradle of Filth, Children of Bodom, and Whitechapel make double that- about $32,000 per member per year.
Now keep in mind- most of those bands listed are the most untrue sell outs for as far as sell outs will get you in death/black/hardcore metal.  Therefore, any band making good/true/innovative/honest material is earning significantly less- a pale fraction of that.  Anyway, at a $32,000 salary, you're looking at about $450 per week.  Though there are no taxes coming out, this is adjusted to meet the lump sum you'll be forced to pay during tax season.  This does not factor health insurance, which you're unlikely to find or be able to afford (this killed Death's Chuck Schuldiner and will kill you just as quickly).  With almost half of your paycheck going to rent you can afford a 1 bedroom apartment in a dangerous, high crime city like Newark NJ for $850 a month.  There are other, more safe regions with that metric as well- but will you be able to survive in rural America without a car?  Because you won't have much left over to insure it.  It would be a pretty tough sell if you have to walk an hour and a half each way to the grocery store.  Now again keep in mind- these are the trendiest, most sell out, most un metal bands labled "death metal" or "black metal" and they're limited to 1 bedroom apartments in dangerous cites, or rural areas where they can't afford a car insurance payment.  Perhaps "selling out" is a misleading term, as selling out doesn't quite give you luxury or riches.
Another thing to keep in mind is that all of those bands will often tour 10 months out of the year.  Without consistent touring, there isn't much else the money could possibly come from.  Album sales are down and will likely go mostly towards the cost of the recording.  Furthermore, both record labels and venues- stuck with higher rents and dwindling interest in guitar-based music- are now taking profits from the band's merch sales through the genocidal 360 deal.  They will count the number of shirts, CDs etc you walk in with each night and the number you walk out with at the end of the show.  These profits once kept bands afloat, but are now being pocketed by everyone else involved in the music business.
Competition Does Not Favor You
Take a look at the bands headlining the stages in that Hellfest bill, and take a look at the list of those bands I mentioned in the 1 million Facebook likes list.  Do you know what almost every single one of them has in common?  Almost ever single one was formed in the 90s or earlier, when the amount of money in metal peaked.  This is an ugly truth, a dark truth, but an honest truth.  You will never make as much as a band that was formed in the 90's, no matter how popular you are with a younger generation.  This is because record labels, promoters, and venues made more in the 90s- the peak of the music economy- than they ever made or could possibly make again.
Now let's take a quick look at two of the bands from the most popular recent wave of music posing as black/death metal (which would be post black metal)… Liturgy and Krallice.  Do you know what these bands have in common?  Mom and dad are wealthy, and per my anonymous sources, mom and dad are paying the rent of at least one member in each of these bands.  That's right- you're going up against trust fund kids with an unlimited bankroll to run pay-for-play with festival promoters and labels.   Today's young metal scene is full of these types, who look and smell like working class metalheads but somehow have nicer apartments.  There is little to-no-chance that a working class band will be able to stay in competition with a growing number of bands with a healthy revenue stream behind them.  This is because some big festivals and tours will charge openers to play them.  Think your retro death/thrash metal band can outbid skippy mctrustfund to get on that bill?  I'm sorry to tell you this, but this is the reality you will be facing.
Conclusion:
Do you want to own a house?  Do you want to have a good looking wife who doesn't have STDs or drug addictions?  Do you want to have children you will see more than 2 months per year?  Do you want to own a car made in the last ten years?  Do you want the opportunity to treat an unexpected terminal illness without bankrupting your family?
If you answered "yes" to any of these questions, you will have to have a working job.  You will not be able to achieve a single one of these goals as a full time metal musician.  And in turn, you will never reach the level of fame or popularity that has been achieved by any musician or band you love.
But is this a bad thing?  Do you need to pamper your ego, do you need fame to feel like you matter, do you need to offer your self-worth to such meaningless measures?  Do you need to copy the lives of your idols, who gave everything to metal and got little in return?
Don't get suckered into the rock n roll lie- you won't get rich playing metal.  Don't let the "hold my beer" types trick you into thinking you can "make it," or live a life of luxury, wealth, meaningless sex, etc.  Any art that pays the bills isn't really art.  Give up the rockstar dream, but don't give up the craft.  There is a great need for good, quality metal whether or not its creators gets the credit they deserve for it.  And to those bands and musicians who are more popular than you- don't show jealousy, bitterness, or envy.  They're paying a steep price for their "successes."
Tomorrow's metal will have it's innovators and pioneers, but if they try to make metal their full time job, they will doom themselves to a life of poverty.
Tags: At the Gates, Black Metal, cannibal corpse, children of bodom, cradle of filth, dark tranquility, death metal, economics, gorgoroth, immolation, mayhem, metal, motorhead, music business, music industry, necrophagist, poverty, Thy Art is Murder, truth, watain, wealth, whitechapel