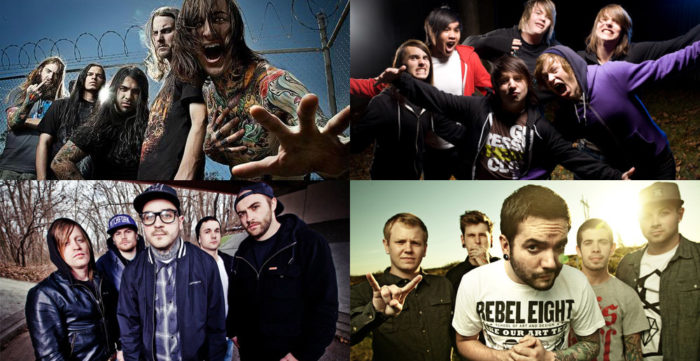 Some bands perfectly encapsulate a sound and an era through the appropriation and development of an existing idea. Van Halen fascinated the mainstream with his take on tapping and his twist on virtuosity which had existed for centuries on various string instruments. Iron maiden took the harmonies from Thin Lizzy and adapted them for their long narrative epics. Suffocation took the slow thrash metal staccato riff and completely changed its use by using them as breakdowns. While those three bands are heavily associated with their respective techniques that have been used by all sorts of bands, Suffocation has spawned multiple subgenres that are all terrible and are completely eluded by the original intention.
There are a myriad of great harmonies in metal that have very little to do with Iron Maiden's idea yet take their root from them, the same is easily said for a lot of guitarists.  But when Hessians associate the word breakdown with death metal, the worst tends to come out.  The NYDM bands all used different forms of breakdowns but each had their individual twist towards it. Barring Gorgut's The Erosion of Sanity and Cryptopsy's earliest work no band has been effectively to continue Suffocation's tradition.
Slam took the emerging brutal death metal style from Cannibal Corpse's simple arrangements and gore stupidity, Mortician's simple yet effective melodies and merged the all with a combination Suffocation's percussive approach and gore focused grind. Repetitive slams which are pretty much based on that Liege of Inveracity riff without any of the factors of what made the song so great and that breakdown rewarding.  These slams are separated by transparent yet fast tremolo picked riffs. The drums pretty much maintain a monotone blast beat or follow the groovy riffs. There is no focus on songwriting at all, just an obsession with brutality through groove designed to make people bounce their heads. Lyrics are famously noted for straightforward gore without any nuance or actual narrative. Frank Mullen never shied away from gore when it was appropriate but it was never gratuitous and always transmitted a message. Thrones of Blood describes the protagonist killing a woman and hacking at her remains to distance himself from society's mold by committing what society considers to be the greatest crime: murder. Devourment's babykiller is just one scene that was imagined under the influence of cannabis that deals with killing an unborn child for no reason but to shock. Mullen's harsh throaty deep growls were expelled from his lungs as loud as possible and retained slight clarity from the open mouth position he kept. Slam vocalists inhale to create the low tones with as little volume and effort as possible and then stick their mouths in to the microphone. A parody of actual death metal singing as inhales require very little technique can be held for long periods and sound pathetic without good mixing. Slam took the brutality and the intensity of Suffocation while removing what made them truly great to make a Macdonalds formula of what that powerful percussive style achieved.
Deathcore is not the bastard son of death metal and hardcore like people repeat but instead metalcore with a death metal aesthetic.  The deathcore formula mostly involves the third rate Slaughter of The Soul riffs coupled with simplified slams in the form of of one note breakdowns and the occasional dissonant, higher pitched melodies of post hardcore. Reducing the percussive Suffocation riff to no more than three power chords and adding the Pantera bounce allowed many prepubescent boys to jump around in their bedrooms without the slightest feeling of actual danger since the melodies communicated nothing. In essence this is just dance music played by competent musicians as we see crystal clear production correct the drums and transform them into clicks.  The vocals are a mix of weak screams processed into complete castration, gutteral vocals become inhaled whispers that are pitch shifted as the music never develops, and all that complemented by sweep exercises and incessant metronome noises. Terrance Hobbes's vision has been repossessed by corporate America in a tasteless paste destined to be packaged all over the world as the same product.
Let us look at the first breakdown in Thrones of Blood to examine how the percussive riffs must be used. The first two ideas of the song combine to create a third melody which has added a tremolo section containing the same notes as the subsequent breakdown. As both riffs are chromatic and composed of the same notes, the transition is seamless as the initial part of the breakdown alternates between a five beat bar and a three beat bar. The simple pulsing rhythm never loses momentum as the tremolo riffs complete these pulses alternating with long minor scale rhythms. The second part of the breakdown changes slightly the rhythm by breaking down the third note in two and by introducing a new note to add syncopation until it ends naturally on a long run of power chords signaling its exit and allowing the song to continue. Suffocation never announce their breakdowns and let them come and go naturally in their riff mazes.
Brutal death metal has become a portmanteau for all modern death metal influenced metal. Modern death metal has completely lost its touch with each of these deviations based on Suffocation's fully developed and integrated breakdowns. As metal grows sicker and bands resort to gimmicks, a strong band ready to reclaim the percussive thrash riff in the same way Deeds of Flesh has attempted, will surely help revitalize a dying genre.
Tags: Brutal Death Metal, cryptopsy, death metal, deathcore, frank mullen, hessians, iron maiden, metalcore, nydm, slam, suffocation