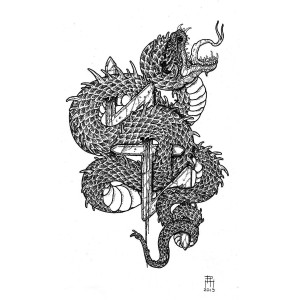 An eruption has occurred within death metal over the past years where bands have been attracted to the linear phrasal riffing of old Incantation, Demoncy and Havohej and have hybridized it with the ripping war metal of Angelcorpse, Conqueror and Perdition Temple, producing a sound like the roar of battle from within a cavern.
Leading this charge is New Zealand's Heresiarch, whose Hammer of Intransigence introduced a stunned world to this new assault two years ago. Currently, the band prepares to release its Waelwulf EP and embark on a new series of combative adventures to further saturate the world in its violence.
With this in mind, we pitched NH of Heresiarch a few questions about the band, its direction, and the volatile ferment of motivic forces that provide a warlike impetus that is able to avoid destroying itself. His answers, which demonstrate the raw visceral approach of both this style and its existential attitude, follow.
What made you choose to make the style of metal that you did?
It was the sound that resonated most with me and reflected what I wanted to present effectively.
Why was your US tour recently canceled?
Line-up issues have plagued the progress and possibilities of Heresiarch since the beginning and this was no exception.
The main priority currently is completing the album writing and then preparation for recording, touring will be re-addressed when it's pertinent to.
You say that Heresiarch is "esoteric leaning." What does that mean?
Heresiarch takes influence from several esoteric paths, the most noticeable being from Indo-European branches; the upcoming Waelwulf EP is heavily influenced by Anglo-Saxon and Germanic literature, warfare, symbolism and worldviews with my own interpretations.
How do you compose?
Central to Heresiarch are visions of war, death and victory, on a grand apocalyptic scale with the aim to reflect the dread, violence and atmosphere attributed to such themes.
There is minimal melodic motivation behind any of the writing and writing generally consists of bludgeoning the guitar to the aforementioned themes, from there the songs and riffs are refined and eventually materializes the atmosphere I aim to convey. If the song or the riffs do not reflect this they are discarded.
Do you write on guitar, bass or vocals?
Composition is primarily done with guitar but always with an idea of how everything else should go with it; drums, bass and both guitars are written close together to compliment and reinforce each other.
Vocals and lyrics are generally the last thing to come since the content is already decided on within the writing process.
Will you be recording more material as Heresiarch?
The Waelwulf EP has been recorded, I am yet to finish the vocals but it should be done in its entirety by the end of October.
I have been working on a full length which will be released by Dark Descent records; around 25 minutes of the album is written to date. The theme, composition and the general layout have been completed and it will be the most "complete" release from us.
In your view, what are the bands today to watch in the underground, meaning the people who produce interesting music (who cares if it's "commercially successful")?
Besides the obvious ones there is IMPETUOUS RITUAL and GRAVE UPHEAVAL (some of our closest allies) from Australia.
SABBATIC GOAT, SINISTROUS DIABOLUS, VASSAFOR are all worth listening to from New Zealand. VESICANT is a new band I am drumming in; there will be recordings of that in the next year. Also TREPANATION are a relatively new band taking an interesting direction with what I've heard of their new material and BLOOD OF THE MOON from NZ now have a lineup again.
Also check out PAROXSIHZEM and ADVERSARIAL from Canada, IMPOSER from Italy and GENOCIDE SHRINES from Sri Lanka.
Will you tell us which musical works were your biggest influences in creating Heresiarch?
CONQUEROR – War Cult Supremacy is the most essential album of this style in my opinion.
Besides that: Realm of Chaos by BOLT THROWER, Fallen Angel of Doom by BLASPHEMY as well as some classical such as Lizst, Wagner and Holst.
Your newest track, "Endethraest," sounds familiar but I can't place it. It's highly rhythmic and military, like a real war being prepared. What influenced this?
The initial influence for the track originally stemmed from Gustav Holst's "Mars Bringer of War." It's a good indication of the new direction Heresiarch is heading, with less regard for speed like on Hammer of Intransigence and a focus towards creating a dark, martial atmosphere.
Rumor has it that Heresiarch uses some members from Diocletian and Witchrist as session musicians. These bands are apparently part of a 'Doom Cult' which is trying to brand itself as a certain type of metal. Are you part of that movement, or heading in a different direction?
Heresiarch has no members of Diocletian or Witchrist present in the current line-up and we never have been a member of Doom Cult.
What's next for Heresiarch?
The aforementioned album is intended to be released by Dark Descent Records in 2014. All further intentions will be announced when suitable.
You say the band is based around war, death and victory. Why do you choose these topics? What do you hope to express? Do you intend to create change in the world?
There is no "hope" to express anything, the music does the talking and is the expression itself.
Do you think war metal carries with it a big of a stigma in that so many bands are seen as humorless and self-important?
Yes.
Do you think most people accept war as necessary, or think of it as an evil to be purged? Why or why not?
I don't care what most people think or believe in.
Extreme ends always attract extreme people, usually regardless of goal, doctrine or outcome.
It looks like the old school metal has lost out to the metalcore/indie-metal types. Is there any hope of rolling back the clock and getting to the days of better music? How important is it when the majority takes over a genre or a country and turns it into the same old stuff?
It's not important. The "majority" as you say will always manifest their interests in trivial activities, beliefs and art in one way or another.
I guess the next logical question is, if you have no notion or desire for changing the world, what is your purpose in creating the music of Heresiarch?
I lost interest in all facets of politics and society a long time ago and from a logical perspective, a Black/Death Metal band is the least likely candidate to rally the masses towards changing the world.
In some respects that attitude is militarized in Heresiarch as an expression of contempt and disgust for all morality, faith and social structures which is a valid view for one to hold in today's world… Essentially Heresiarch exists because it needs to and when that need ceases, so will the band.
If you could change the world, in what direction would you take it?
It'd look like the gatefold of Hammer of Intransigence.
Tags: death metal, heresiarch, War Metal