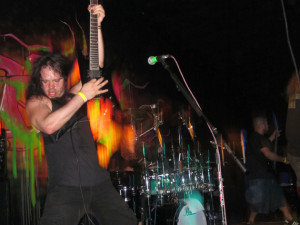 Originating from Kansas in 1998, Origin contrive unprecedented mastery of musicianship and merge cosmic and horror concepts to differentiate themselves from the slew of other technical death metal bands.
Their debut album Origin established a well-rounded sound that would cater to casual death metal listeners, as well as those who approach the genre looking for the most technically proficient of brutal wizardry. Since then, Origin have released four more albums and are in the process writing the next one.
We are fortunate to have virtuosic guitarist Paul Ryan reveal the happenings of Origin.
You're currently writing material for your next album. What do you hope to accomplish with your next release? Will there be new elements that Origin hasn't expressed yet?
A continuation in the development in the sound of the band. I guess that the thing for me is that I am a old metalhead who enjoys a lot of different styles of metal which in the early days of the band I only presented a more straight-forward stylistic approach… I am using a couple of ideas from the past in technique and in dynamics to not present the same album again… I hope to keep both old and new listeners entertained by something fresh on every Origin album… During our live shows while playing I kept asking myself what can we bring to our live set that we don't have yet… I feel that is what influenced my writing the most!
You've been ranked as one of the best guitarists in metal by several publications. Do you have any advice for guitar players that hope to advance their technical abilities?
Well I must say it comes with practice, practice, practice. There wasn't Youtube or professional lessons online when I was growing up & now there are so many resources out there today to assist a young emerging guitarist to get very good, very fast. Something that I've noticed in today's generation is that it isn't always about composition on a computer, but being in the garage with other musicians brainstorming ideas & grinding it out (some of the funnest moments as a musician I've ever had). I spent many days of my life going to shows/practices just learning about how other bands worked as well.
A lot of Origin's lyrics and titles encompass how small and minuscule our existence is. Is there a philosophical standpoint behind the band or is this something that's derived from general contemplation?
Prior to Origin I played Death metal with typical Death Metal lyrics. Once I realized that I wasn't going to kill anyone (unfortunately a few friends of mine did), I wanted to find something to write about that wasn't so singularly based. Sci-fi & Horror always entertained me & Music took me away from the hell that I heard in my head. It was a positive release of negative energy. I was just looking for something that was endless that could be written about… The unknown.
So, Origin's listeners can assume that you desire to reach a more broad scope to what the band wants to convey? Not just about blasphemy, blood and guts, but about a more meaningful or challenging way to look at life as a whole? Something that each individual ponders about, but may have a different take on?
When i'm listening to music & reading the lyrics I want to go on a Cerebral Journey. I hope that in some way my music can take someone out of the moment of their own personal life & just sit back & listen to music. I dunno if there is personal enlightenment in our message other than I hope we are conveying some new topics to think about.
What bands have inspired you over the years? Which are your favorites? Can you pinpoint any musicians that have had a profound influence on you?
Well in the very beginning of my playing it was Slayer, Celtic Frost, Cryptic Slaughter, & Yngwie Malmsteen. These bands influenced my early playing style & eventually crafted what I am today. Death, Napalm Death, Suffocation, Early Carcass, Early Deicide, and Bolt Thrower had a lot to do with it as well.
What are your hobbies outside of music?
Music is my life. I work in a music store. Other than playing music I enjoy exercise & spending time with my girl, going to shows & MORE GUITAR!
Origin has extensively toured over the years and has succeeded in reaching a very broad metalhead fanbase. Which shows have been the most memorable?
Oh man there are too many to name… You always remember your first & last I guess… Every show has HAD ITS MOMENTS OF INSANITY!!! Always playing a new venue, city, or country is a pleasure. My mentality has been this..
Every show. Every Fan. Every City. Every State. Every Country. Every Time…
I try to give it my all every time. I want people to enjoy a show they paid for no matter the turnout whether its a 100 or a 1000.
You've enlisted Lonegoat from Goatcraft to aid with some synthesizer work for the next album. How did this come to be?
Basically as a musician on the road you get guys handed cds by many other musicians… I try to listen to everything that I get…. Once you get something good you don't forget it. One night of driving all night to the next gig I popped in a cd that took me on a journey!!! I listened to the album all night on repeat!!! Basically I just contacted him directly & said I really enjoy your work & I have a piece of music that fits what you do perfectly!!! Hopefully we can put something else together as well!!!
Many guitarists treasure their gear and guitars. What's your current setup like? What will you use on the next album?
I use a Jackson Warrior w Emgs
Mesa Boogie Stereo 100 power amp
RecPre Dbx166xl compressor-limiter-noise-gate
a bbe Sonic Maximizer 882e
Mesa Boogie cabs
Monster Cables
Do you think your sound is evolving? If so, from what and to what?
Yeah to the outside world. I am very private & most of my music isn't ever heard by Origin fans…I have literally hundreds of riffs that didn't make it to a Origin album that I enjoy playing; it's just that the Death Metal scene is very singular in what they want to hear on a album. I think I have learned a lot about the guitar since the beginning of this band & feel that most fans only enjoy what they hear first from a band… To say that my earlier work is stronger than my latter is comical as a musician.
What genre is Origin's music? What are the primary influences on that genre as a whole?
DeathShred!!!
I hear a lot Origin's influence in the Death/Grind/Core scene today… I am very humbled by that.
A lot of your earlier music had themes to it. Are you going to continue along that direction, or relax a little and get more down-to-earth?
Well we are still in the writing process for the next album, so I can't give you a correct answer to that. We are very excited to see & hear what this lineup can bring with Jason Keyser contributing to this album vocally & lyricaly… It will be Origin, but even in just the new demoing of the material Jason has a different approach which I feel will add another dimension to the music!!
Entering the studio for the next album in January so expect a spring/summer release on Nuclear Blast Records in 2014
Also in the mix is re-releasing A Coming Into Existence with Bonus material of the bands I was in before Origin & the DVD is slowly becoming a reality!!!
Thanks for the interview!!!
Visit Origin's facebook page here.
Tags: death metal, Origin, Paul Ryan, Technical Death Metal, tek-deth