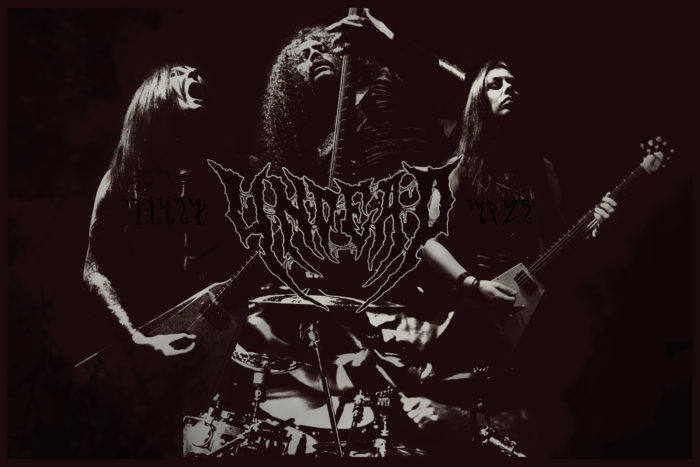 We recently reviewed the 2015 EP from Undead entitled Blood Enemy. This underground metal release combines the best of late 1980s speed metal with the architectural song transitions of Swedish death metal. Fortunately, the band were on hand to answer our questions about their music, approach and the art of death metal.
When did Undead form, and what inspired you to take on old school death metal as a style?
The idea of creating a band with the concept of Undead was in my mind for years, and V. Repulse (vocals/guitar) and I were talking about playing something old school practically since we've met, but it became "alive" in 2013.
Are you planning a followup release to "Blood Enemy"? When approximately do you think that will appear?
We've been recording this summer, so there will be an EP with four new songs coming out this October
What are your influences, and how do they appear in your work?
I guess every music I like has an influence in what I compose in a way or another. It's all a big mixture of 70's bands (Black Sabbath is for me, the source of wisdom) the speed from the thrash metal bands I love since I was a teen, and the putrefaction from the Swedish death metal bands, which I think they may be our biggest influence, and even the darkness from black metal or doom metal.
Why did you choose not to compose in contemporary death metal styles like deathcore, tek-deth, or blackgaze?
I'm very picky with the music, and those modern genres…It's not how I conceive this music. I couldn't play those styles of death metal because I don't think they have the…let's call it "soul"…With all the respect to those bands and their listeners, but, for example, all this non-sense technicity bores me to death…I can see the point, but after a minute is like I've already listened everything… I find other styles more rewarding to play, something more violent and powerful.
Where did you record this EP, and what techniques did you use?
Blood Enemy was recorded between our awesome drummer's studio (Your Sound Recording studio) where he recorded the drums and the mastering took place, and bass, guitars and voice were recorded in our home studio, which is basically an iMac with Pro Tools and a couple of gadgets, a 5150 and a few mics, with few resources and nothing fancy.
Why did you choose to record an EP as your debut, instead of a full-length? Was there a demo before it?
No, we never released a demo, but I think this EP works like one. These were the first two songs we ever made, and we though they were a good representation of Undead, and a good first punch. I think it would be pointless to release a full-length right now, since we're a new band and nobody knows a shit about us. Our priority right now it's to get to the audience, and I think that's easier, and I won't lie, also less expensive, if we focus on promotion with EP's. Eventually the full-lenght will come.
Your songs seem to use a very 1980s speed/death approach, except in their transitional and culminating moments, which remind me more of early Entombed and Unleashed. How do these two styles complement each other?
I think both styles work great together, the speed and violence with the more epic-doom old school parts. That's basically a mixture of what I like the most, and when we started, it all came out very naturally.
What, in your mind, makes a death metal band great as opposed to good?
I wish I had the formula, but I can't tell you exactly what it is. I'm led by emotions when I listen to music, so I could say I measure the greatness of a band with the effect it makes on me. If I press the play button and suddenly want to get up and break a chair or flip a table, then I've found a great band… the rest are just good haha
How do you compose songs? Do you start with an idea, an image, a story or just a riff? How do you make the song evolve, and how do you know when it is done?
It usually starts with a riff, or a melody. V. and I sit together with our guitars, and record all the ideas, then we define the story or what we want to say with every song, so the rest comes out spontaneously, sometimes is a fast and easy process, and sometimes is a pain in the ass…but when the song starts to get shape, the pieces fall into place.
For readers who want to stay abreast of what you are doing, where do they go for information and news about the band?
Our official Undead website and our Facebook page.
Tags: death metal, Speed Metal, Undead