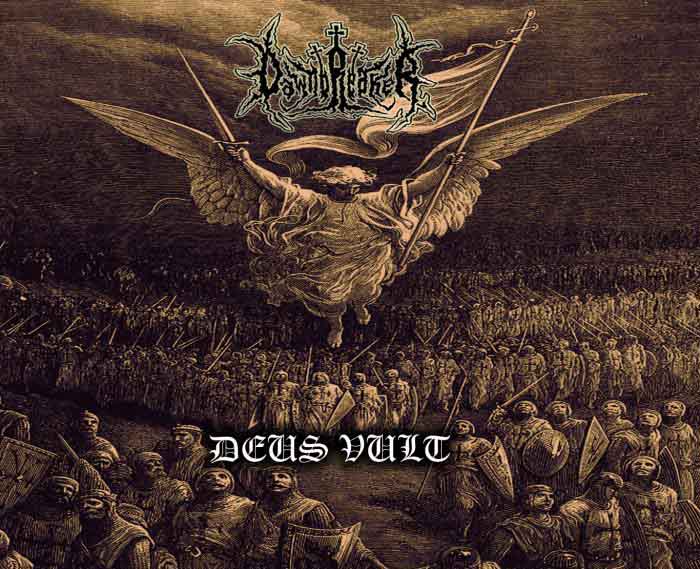 By Cullen Toner
Many have expressed emotions of extreme shock and awe after discovering the explicitly Christian lyrics and aesthetics of my newest album, Deus Vult. How could I, the former singer/songwriter of New Jersey's most popular Satanic band, find God and religion after 15 years of playing in bands with misanthropic, anti-Christian themes? What would cause a complete 180 degree change in lifestyle, a complete about-face in world view? And why would I recklessly proclaim such a change in heart to a world of black and death metal that would so surely respond in confusion, mockery, and utter malice?
To even consider the answers requires a great deal of courage and intellect, as most in the world of extreme metal have extensively conditioned themselves to the idea that metal, in all of its rebelliousness, is the antithesis to Christianity. But since the spirit of metal is one that has historically challenged authority and convention in a quest for deeper truth, those who truly understand its foundation will not cower from the mere suggestion of radical thought. And to those to I can assure that a long quest for logic and wisdom has unexpectedly led me at the foot of the upright cross. Not only did this provide happiness and fulfillment for the first time, but the foundation for meaning and purpose that many metalheads are currently in a vast search for.
In an attempt to explain as objectively as I can, this is how I came to embrace Christianity as my faith, and what it meant for my relationship with metal music.
Failed by the Narrative
I was born the late in 80's in the liberal bubble of a safe suburban neighborhood. As an introvert most interested in Nintendo 64, Star Wars novels, pro wrestling and other escapism, a love for metal was as a given. When depression (or possibly just uncertainty) came along, my parents like many opted to take me to a psychiatrist rather than a pastor or priest. And like most teenagers, this led to Adderral and anti-depressant prescriptions that made everything worse… ultimately leading to the subsequent loss of all meaning and hope for the future that such things tend to bring.
When times were at their worst, I found comfort in the lyrics, music, and stories of Norway's most infamous black metal musicians, particularly Dead and Maniac of Mayhem and Varg Vikernes of Burzum. I had exchanged God for the metal gods, and metalhead became my sole meaning, purpose, and identity. Eventually Dissection became my favorite band, and Storm of the Light's bane my favorite album, as the dark melancholic melodies reflected my experience and world view better than anything else. Primarily a guitar player, the technique of Jon Nodtveidt became the foundation of my own style to the point of near replication (I would grow deeply saddened by his suicide in 2006).
At the time I considered an existence without God and his morality as the ultimate liberation. I never considered long term consequences for anything and lived only for the pursuit of short term pleasures. Furthermore, most of the TV pundits and educational leaders seemed to support this school of thought, and that Christianity was some 2000 year old nonsense by unscientific men. Because of all of this, I thought I was so much smarter than people who had things such as community religion. "Those sheep, in their weakness" I thought. But ultimately, I was being fooled. And I would later spend many years trying to untangle all of these fatalist tendencies so I could actually join society and not live in the basement of my parents my whole life. I did not know it at the time, but this was ultimately a philosophical outlook called Volunteerism:
Voluntarism is the theory that God or the ultimate nature of reality is to be conceived as some form of will (or conation). This theory is contrasted to intellectualism, which gives primacy to God's reason. The voluntarism/intellectualism distinction was intimately tied to medieval and modern theories of natural law; if we grant that moral or physical laws issue from God, it next needs to be answered whether they issue from God's will or God's reason.
For a time this way of living worked. But the older I got, the more one problem seemed to keep coming back as one troubling truth: I was never happy, never fulfilled, never could find my place. There was no ultimate meaning, no greater goal or purpose. Being in a metal band, being a fan of metal, it wasn't enough. And if you're reading the countless, countless, countless articles on mental illness in metal, you'll know that this is an issue facing many metalheads and musicians in the world today.
The Quest for Knoweledge
Like many liberal college kids, I tested every school of thought imaginable in my young adult life. This lead to wanderings into philosophy, new age, and various left hand path spiritual practices. I was willing to gamble on them because why not? All of the authorities were failing my generation and myself, so what did they know? Again, it felt like wisdom, but ultimately was foolishness.
A common theme arose no matter which of these paths I chose: everyone who lives this way seems to be miserable. From the people I know, to the people writing these works, to the people pushing this music. This is not only true within metal and most authors, but even in pop culture celebrities, journalists, and everyone pushing liberalism, leftism, and atheism. All of them seemed smart, seemed wise, and seemed well educated. But ultimately, the entirety of their happiness was built upon materialism: be it success, popularity, mortal beings, or simply the need to feel like they mattered.
Tired of Losing
After 10 years of wandering through mental and spiritual gymnastics, I got sick of losing. I got sick of following the teachings of life failures and thinking I was so superior because of independence or intellect. And at this time, a voice inside asked a simple question:
"You've tried everything else. Why not try faith in Jesus?"
And that's where it started, just as a practical question from within. Why not? I was living at home at 26, making barely above minimum wage, in shitloads of college debt, no woman in my life, I was barely above NEET status. Nothing that was supposed to work worked. What did I have to lose? Why not gamble on surrender?
It was a long and hard path from here, to untangle the web of lies I had woven. Lies such as "individualism and independence was all that mattered" and "you're better off being your own God." Men are shitty gods, materialism is a shitty idol, and judging your self-worth by your social media persona is a horrible way to live. But through prayer, faith, and most importantly patience, I broke the chains one by one and was able to finally entertain a perspective that had always eluded me.
It was still a challenge to come to terms with the idea that community and actually going to church could be a good thing. Isolation can be a great short term comfort, but the long term it's a prison. But little by little there were practical, logical confirmations that I was on the right path. For example, the creator of string theory, Michio Kaku, offers a very scientific answer on creationism after many years of intense research:
"I have concluded that we are in a world made by rules created by an intelligence, not unlike a favorite computer game, but of course, more complex and unthinkable," he said.

"By analyzing the behavior of matter at the subatomic scale affected by the semi tachyon pitch radius, what we call chance no longer makes sense, because we are in a universe governed by established rules and not determined by universal chances plane.

"This means that, in all probability, there is an unknown force that governs everything," he noted.
This goes against everything you will ever learn about in school or see shown in movies or liberal media outlets. Growing up in this world closes your mind even to possibilities. But are these "intellectuals" really smarter than a celebrated astrophysicist who has researched it extensively?
Moving the Anchor
There were many important lessons in my beginnings with the faith, and one I specifically recall as a great starting point to the new wisdom: Humanity cannot survive without anchoring their heart and existence in something. For some people, it's their career. For others, it's their band or their music scene. Sometimes people anchor their existence in popularity, sex partners, drugs, social media followers, Pitchfork reviews, or being noticed by famous people. But since all of these things come and go, there is ultimately doom and depression when whatever they are anchored to is no longer there.
In metal, we are several decades past an apex in creativity. You can't "make it" as a metal band anymore, and will never get the capital investment that your metal idols saw. You'll never be as big or influential as those 80's death metal bands or 90's black metal bands. To put it simply, metal is dying and may soon be over. This leaves many metalheads to depression since their anchor is in some micro metal scene or the overall culture of metal. Now we commonly see some who are moving their anchor over to hard-left politics, communism, and anarchy but this too will all lead to misery. Others will reject their natural humanity to the point of suicide or simply give up on their future and cling to their past in as many ways as possible.
But the apostle Paul, who also spent much of his life persecuting Christianity (and actually murdering Christians) only to find the light, offers a more practical solution in Hebrews 6:
"…we who have taken refuge would have strong encouragement to take hold of the hope set before us. This hope we have as an anchor of the soul"
When you're anchored in God/Faith, you'll remain grounded through any situation the world throws at you. Scenes change, governments change, companies collapse, houses foreclose, people die. But no matter what's happening on the exterior, you'll maintain stability in being anchored what is eternal, what is timeless, what is forever.
Once I had become anchored in the word, in the Holy Spirit of God, and in my faith that God would use whatever troubles to guide me to my purpose, only then was I able to unwind everything else. All of the lies of the modern world, the destructive materialism of social media, the miserable world view of modern culture. From there everything changed – political outlook, values, purpose, lifestyle. Many things became the opposite of what they were because I had never truly opened up to the possibilities before.
Ironically it was here where my life finally got to where I wanted it to be for so long.  I rapidly leap frogged up the corporate latter to executive management, found a good looking but wholesome trad girl, and moved into a nice Manhattan apartment in the Upper East Side. I was finally succeeding.  And I was finally satisfied
But the most important change in my life was that I, now as a child of the almighty God, stopped seeking meaning and value in empty, worldly things. In obedience to his way, I know I'll achieve my purpose, no matter what trouble or change befalls me through the rest of my days. I might end up losing everything I have, but I know I'll be okay, because I have the spirit and the word and a heart anchored in my faith.
Lost Metal Wisdom
There is a lot to say about my Christian growth terms of theology and spirituality, but I'll save that for elsewhere in favor of a question many must be asking – how did this affect my relationship with my favorite music?
I was surprised to find how many Christians were in metal that I never noticed. Most fans never realize that musicians from their favorite bands – some considered the most anti Christian bands in existence – are actually practicing Christians to varying degrees. Black Sabbath, whom I believe to be the first heavy metal band, were entirely composed of Christians. In fact, the entire reason they use the cross in so much of their artwork and imagery was to identify themselves as such due to fans mistaking them as Satansists. So right from the get go, the first band in all of heavy metal was Christian. When the 80's rolled around, the new wave of metal was also riddled with Christian musicians – James Hatfield of Metallica, Dave Mustaine of Megadeth, even Tom Araya, OF SLAYER, is a Christian. Yes Slayer… the band most consider to be the definition of metal – has a Christian vocalist. In death metal? Pete of Morbid Angel was a Christian (Trey pulled most of their inspiration from the Jewish Kaballah). And though I cannot provide a source of confirmation, I have been told by friends who have toured with Mayhem that Hellhammer is a very devout Christian who says a prayer before each of their shows. What I do know is that he played drums for the Christian band Antestor on their 2004 album The Forsaken. His interviews past and present also seem to confirm this possibility.
Due to the fierce societal rebellions that occurred in death metal and black metal, many fans of these genres old and young came to view metal itself as incompatible with Christianity. Much of this stems from the classic black metal age, whose explicit rejection of the church in Lutheran Norway was the entire foundation and purpose of the genre. The fierce Satanism of the musicians was shocking to the world at the time and the alleged main driving force. However, the book Lords of Chaos observes that the musicians of Norwegian black metal were mostly children of Atheist parents, whom were surely outcasted from their communities. In a way, I believe these young people were fighting the battles of their parents, having carried their bitterness. In any event, all of them have retrospectively admitted that "nobody was ever really Satanist." It was all a lie from the beginning. Some still argue that this energy was harvested from a darker force, while others view all music as a celebration of creation and ultimately, the creator.
If we are to define metal, some of us would consider it "the attempt to capture, replicate, and understand what is timeless, eternal… logic, order, traditionalism, the desire to know what is not known." I agree with this assessment, but I have a single world for all of those things: God.
Conclusion
Like Tom Araya and Hellhammer, I too continued recording albums with dark, destructive themes for a few years. But I eventually deiced that I was not going to be "that type of Christian" and ended that path for good. The more I got into theology, the less it mattered to me to stick with tropes and get positive feedback. I stopped caring about the outside world and started listening to what was inside (but in fairness, they are career musicians and I am not, so I can't judge them for continuing to do what feeds their families).
My outlook on why I did music and what I wanted to get out of being a musician changed completely. It didn't matter anymore if my band was signed, if my albums sold, if my music was popular, if I got reviews in metal blogs. Instead, I make music about what matters most to me, which is my faith. The faith, the spirit of truth, that which I sought out in all corner's of conscious thought despite it being within all along. That which drives me, inspires me. It no longer matters to me what men think of my music. What matters is what God thinks, and God wants to be worshiped, and so my music is now worship of God.
So what does this music sound like? Did I wimp out, get emo, get weak? Well, dear reader, I'll let you decide for yourself below.
Beau-Séant!
Tags: Antestor, christianity, Dawnbreaker, Deus Vult, faith, god, hellhammer, metal, Michio Kaku, Norwegian Black Metal, Religion, spirituality