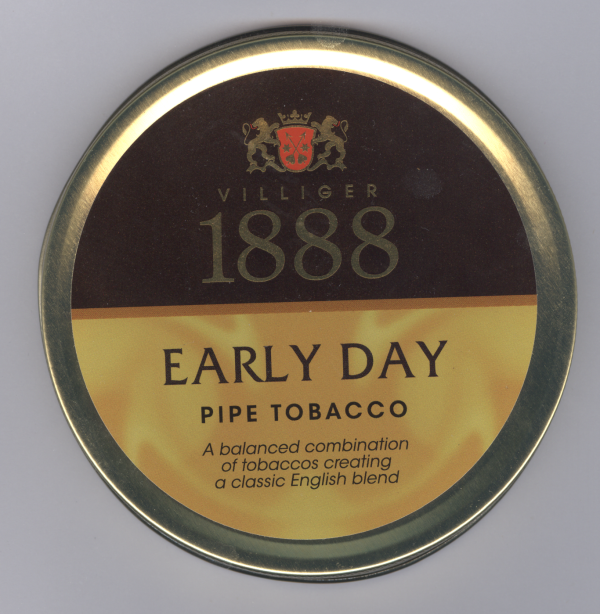 This one came to me as a hand-me-down. A friend wrote it off as a clone of Dunhill London Mixture. Being an intrepid sort, I shoveled it into the pipe and lit up, expecting nothing. Surprise awaited instead: Villiger 1888 Early Day is a Danish take on English tobacco that calms its extremes and leaves a deeply satisfying flavor.
Generally, when we think of "English tobacco," something like the Dunhill London Mixture comes to mind. But really, English tobacco is a state of mind. It is distinguished from the Danish interpretation of it by its appreciation of the clash of flavors. The Dunhill mixes are spicy, sweet and full-bodied all at once; the Danish interpretation balances the three, so that it is full-bodied with hints of flavor from the spice and sweet without overwhelming. In my inner self, I find this to be a better approach, as it reduces a riotous clash of flavors to a comforting taste that deepens the more it is smoked.
Open opening, the tin emits a thick earthy smell like mulch breathing alongside rich earth. When smoked, the characteristic tang of English tobacco appears at first but muted, then fades to a rich dark chocolate taste tinged with the taste of the air from the deep woods. It burns thoroughly, with thick smoke, and avoids becoming the greasy mess that many English tobaccos become after the initial taste. A satisfying aftertaste remains; it can be smoked either fast, or slowly, but burns roughly the same. A sense of balance pervades this entire blend.
While Villiger will never make headlines — in part for the unfortunate name which sounds like "villager," a term in English that conveys simplicity and mundanity — this tobacco remains undervalued for those who want a quiet smoke that continually rewards the peripatetic puffer with muted flavor and an absence of the extremities that render trendier pipe tobaccos annoying. This would be a good all-day smoke, on a boat or in a living room, for someone who has worked through the need to define themselves with the radical extremes of external objects, and instead intends only to savor the bounty of life itself.
Tags: danish blend, english blend, pipe tobacco, tobacco, villiger