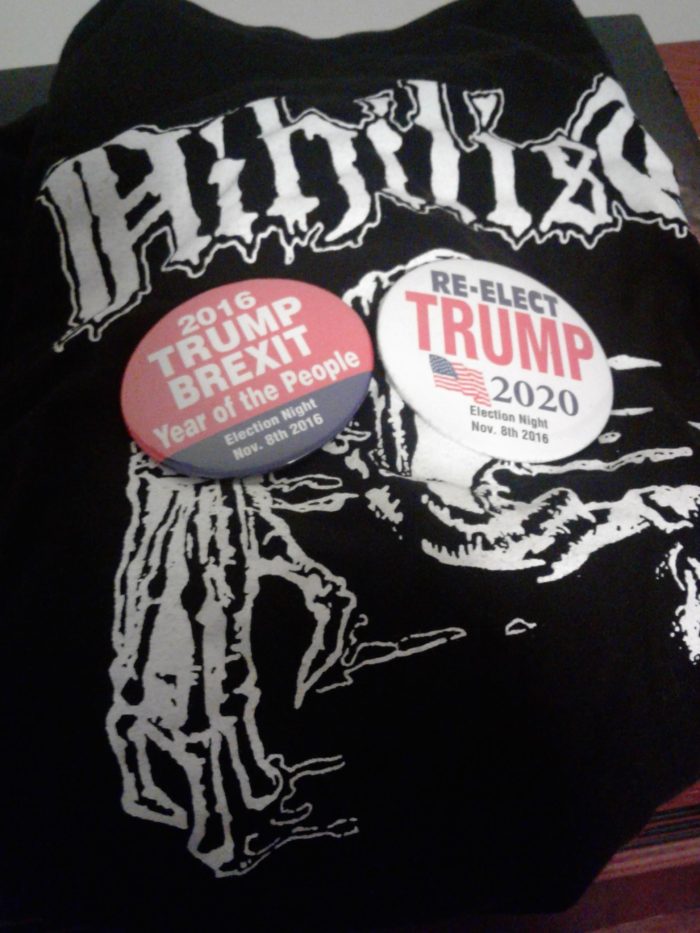 November 8th, 2016.  Manhattan, NY.  Election night.  I was there.
Wading back and forth between a crowd of suits and red hats gathered outside the Fox News building on 6th ave and a similar group gathered a few blocks north outside the Hilton hotel where the soon-to-be President-Elect was present, I celebrated ecstatically as electoral college results came in showing my favorite politician on the cusp of capturing the presidency.  All of us were over the moon with excitement and bliss, particularly because New York City had seldom presented a place where support of the man the media branded as Hitler 2.0 could be expressed openly.
While walking home and passing virtually every media truck parked for a mile along the road where America's next President prepared his victory speech, a young NPR reporter excitedly rushed over to me with her microphone and cameraman after seeing the ridiculous "Trump 2020" pins on my shirt.  I agreed to her request for interview and explained why I thought Trump's non-interventionist foreign policy and realist economic objectives would benefit the country's middle and working classes.  Admitting her surprise to learn that I was a compliance director working near Wall St. and not the basic redneck Trump voter the media had branded us as, she asked if I was excited about the likelihood of supporting Trump being more socially acceptable now that he was president.  "Yeah" I said "It finally won't be taboo now!"
We could not have been more wrong.

Mining the salt of those liberal tears in this most liberal city that week was joyful, but something happened that (perhaps through naivety) I did not expect:  Nearly every heavy metal site, journalist, and personality was in sheer panic and hysteria over the election of the less-corrupt candidate.  Sure, I knew (and expected) that the nu-male MetalSucks journalists had been openly campaigning for Hillary and that many of the "Hollywood Metal" personalities like Kerry King and Kirk Hammet were shilling just as hard.  But blogs and musicians I believed to be pretty apolitical like Invisible Oranges and even Neil "Imperial" Jameson of Krieg (who I knew to be involved with NSBM circles) menstruating verbal rivers against the allegedly most imperial president was unexpected.  I was shocked and enraged.  I couldn't imagine what it must be like for younger Republican metalheads who were much more involved in the metal culture than I was at the time.
No Clean Singing, ClvtNation, Decibel Magazine, one by one the numbers took the mainstream path of "resistance."  What was supposed to be the most rebellions, outsider form of music was directly in sync and in step with the clowns of America's pop culture personalities and media.  Some- many even- claimed to be death metal and black metal.  I'll never forget one article that had something along the lines of "Okay, I know we've all been playing music about war and Armageddon and darkness but seriously, the Trump thing is too far!"  I couldn't believe the irony.  Perhaps I was ignorant, just not paying attention, but it was at this moment that I realized just how fake nearly all the personalities involved in metal really where.
And in this embarrassing moment for metal journalism, this dark age of being a conservative metalhead, this terrible season for humanity's most adversarial music genre, there was one high traffic metal site- anchored by one savage, sadistic, take no prisoners walking gulag- that took the opposing stance.  That site was DEATH METAL UNDERGROUND and that infamous editor was none other than DANIEL MAARAT.
Aided by Brett Stevens and briefly by our current editor, Maarat waged the most sadistic warfare ever seen in the history of music journalism.  Surpassed in extremity and brutality only by Andrew Anglin, Maarat broke metal liberals, ended metal journalism careers, and made many of these sites and personalities afraid to ever write about politics again.  Entire podcasts were dedicated to him, NWN forum users feared him, Reddit revered him.  Relentless and ultimately invincible, Maarat led the right-wing into battle for metal's soul at the height of the American culture wars.
Though I had been a fan of Brett's writings since the anus.com days, it was Daniel Maarat's writings that inspired me to become a part of this writing team.  I had no reason to get into metal journalism or any kind of journalism-life in Manhattan's finance district was vicious and nihilistic enough- but the one sided narrative on virtually all metal sites left me no choice.  It was time to get involved and push back, because all of the virgin beta-male values being pushed by the nu males of liberal journalism were the exact opposite of what heavy metal is about.  War was inevitable.
2017 was tough for Republicans and must have been especially tough for the younger Republican metalheads.  Trump derangement syndrome was a plague on the population and even more so in counter culture movements like heavy metal.  The Charlottesville drama was especially brutal as the media unanimously declared all Republicans to be racist and, for a time, most of the nation agreed.  Antifa was protesting metal shows, threatening metal promoters, and attacking innocent metal concertgoers male and female.
But, over time, the left began imploding.  They cannibalized their own, through their own methods.  Many of their leaders were sacrificed through sexual harassment scandals.  The American Antifa abruptly imploded in November.  Now, evidence is clear that it was not Trump who was the treasonous Russian collaborator but instead his deep state adversaries such as Hillary Clinton, Adam Schiff, and Barrack Obama.  The truth is spreading, the narrative advancing, and more of us are getting our first "Trump checks" and seeing that things really are getting better here economically.
For Republican metalheads, the stillness demonstrated through the storm of 2017 is paying off.  Liberalism is dying, and the old generation of metalheads is retiring.  They say Gen-Z is the most conservative generation in decades.  It is them who will inherit the future of metal.  And ultimately, the "right side of history" will honor those who stood stood against the blitzkrieg of the deep state and MSM liberals through the relentless assault to demonize even the most moderate of Republicans.
To the young Republican, conservative, and centerist metalheads: hang in there.  The storm is almost over.  Your day of reckoning approaches.
And to Daniel Maarat, the war hero of death metal:  Get your Baltic ass the fuck back here and do our Sadistic Metal Reviews.  Are you really going to make war with the entire internet and just disappear?
Tags: brett stevens, Brock Dorsey, conservative, daniel maarat, death metal, death metal underground, Decibel Magazine, donald trump, Editor, Editorial, Heavy Metal, imperial, Invisible Oranges, lifestyle, MetalSucks, new media, politics, Republican, right-wing, Trump