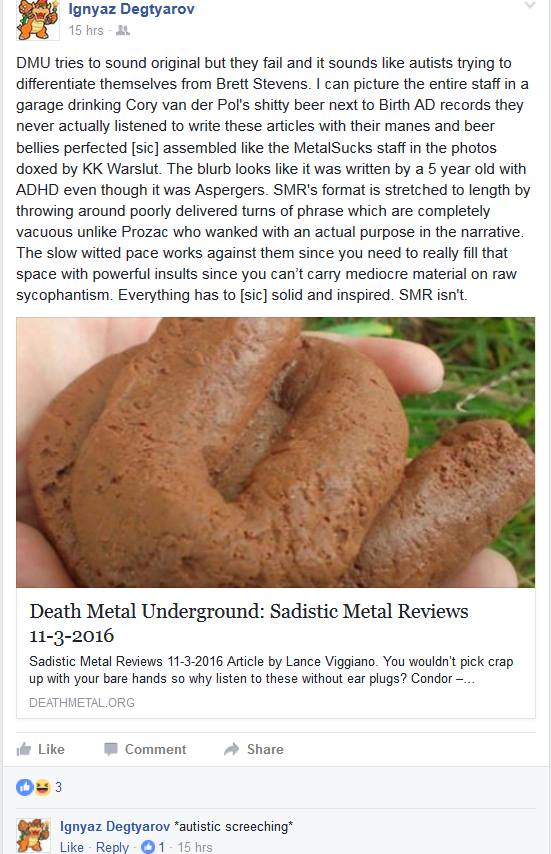 Ignyaz Degtyarov of "flowing black metal" and folk "metal" website and zine Black Ivory Tower slammed and parodied Death Metal Underground for Lance Viggiano's negative Sadistic Metal Review of Condor's recently released inferior third album, Sangreal. Apparently reviews of metal records evaluating the actual music behind the recording when compared to the works of past greats is autistic to Degtyarov, who only judges metal by how well it conforms to his Slavic nationalist Weltanschauung. Lance Viggiano speculating that a Black Ivory Tower contributor writing an ultimately boring upon repeated listening album due to chugging wine coolers and wearing The Rocky Horror Picture Show makeup like Sentence of Death era Destruction wounded what appears to be quite a fragile ego.
Accusations of autism from an individual sporting such a juvenile avatar hold as much worth as cries of sexism from former members and Demonic Christ-shirted shills of Anal Cunt. Attempting to asininely conceal past and present youthful fascination with emasculated Japanese pop culture by latching onto a relatively local to the "wartore hellshit of Serbia"1 blackened heavy metal movement is ludicrous. With Black Ivory Tower's "melodic black metal" rapidly regressing into rock resembling Mercyful Fate attempting to copy Metallica's self-titled Metallica "Black Album" in the early 90s instead of merely repeating themselves, Degtyarov feels the need to lash out at Death Metal Underground's negative reviews of a work from a band we have previously praised merely as he cherishes his association with that group as one of his scenester security blankets.
Ignyaz Degtyarov should retreat to his childhood bedroom in a decrepit pre-fabricated brutalist apartment block. Only there may the "nerd idiot crouching on carpet screaming in his socks"2 throw tantrums that only his parents, neighbors, and eventually the local police can hear.
1Thanks gromcrom!
2Nuclear War Now! forum troll gromcrom's broken English continues to inspire.
Tags: autism, bedshitter, black ivory tower, condor, hipster invasion, ignyaz degtyarov, lance viggiano, scenester