Condor again present a wholesale blending of death metal, classical guitar, folk, and progressive rock influences into epic heavy metal songs rather than pretending instrumental masturbation is intelligent like Dream Theater or that alternative rock with power chord chugging and a couple angular or dissonant riffs is metal like Bolzer. On Sangreal attempt to convey the romanticism behind the Arthurian legend, particularly the grail cycle concerning Percival or Galahad restoring fruit and flower to the desolate Waste Land rendered infertile by the sins of the maimed and emasculated Fisher King.
Sangreal's main problem, the same as Ride the Lightning, Left Hand Path and Storm of the Light's Bane, is with the actual structure of the album itself. Sangreal is heavily top weighted; the epic title and first track is the best one. "Sangreal" furthermore is the only track that manages to convey the feeling of an epic, cyclical nature of a medieval romance that arose from primeval, pagan myth. None of the other songs on Sangreal convey the mythic atmosphere and sacred connection to the land in the Grail myth illustrated in Weston's From Ritual to Romance.
Unlike "Left Hand Path", "Sangreal" is exhausting; listening to the rest of the album actually is a slog through a wasteland and how deep one sinks into the mud says more about how many songwriting sins you can put up with before getting bored or disillusioned than how intriguing the rest of the music is. Condor return to the approach of Nadia, stuffing Sangreal's otherwise effective heavy metal with compositionally incongruent, irritatingly offkey, and pointless bluesy choruses, solos, bridges, and interludes. These problems were rectified on the band's superior second album, Duin, but most disappointingly return here. Furthermore, many of the riffs give prior fans the feeling the band has begun to repeat itself.
Condor lacks the metallic virtue that Dismember termed "the overwhelming power" on "Override the Overture". Never on Sangreal do Condor even threaten to sonically manifest their spiritualist romantic tension into violent catharsis; the band expresses zero desire to "see the Pope on the end of a rope" and trample and mangle their enemies into giblets and dust. A boring, staid record invoking the Arthurian legend without providing any hope of Arthur shoving the sword of power through his unfilial son's throat is a mistake. Perhaps Sangreal could have worked as a 45 rpm EP but as an LP, instead of flashbacks to the gritty bombast of Boorman's Excalibur, Condor project Bresson's disaffected Lancelot du Lac. Listening to the entirety of Sangreal is like listening to flies pick through the remains of your lunch in the trashcan for an hour.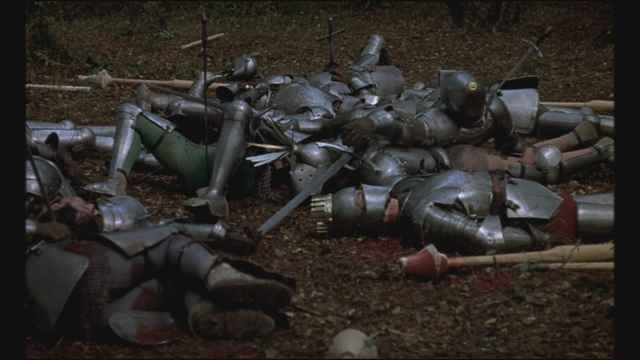 Tags: Colombia, condor, death metal, Heavy Metal, progressive rock, review, Sangreal