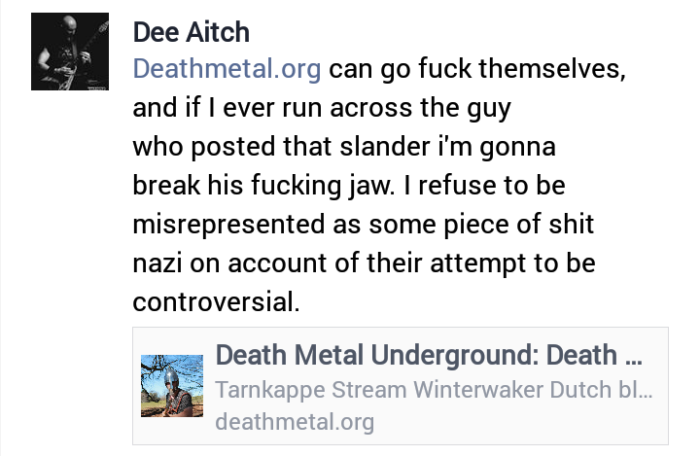 Loyal Death Metal Underground readers submitted various Imprecation members' responses to David Herrera's call for action against Antifa criminals who, aided by the actions of the Montreal police, shut down Messe des Morts and the Antifa Seven Hills cell of Richmond, Virginia slandering Imprecation. One of the guitarists threatened to break my jaw for posting how Antifascists Communists and their leftist supporters actually operate: violently silence anyone who doesn't shout their slogans in the street.
Perhaps Dee Aitch is a communist sympathizer, who while against Antifa shutting down festivals, still supports the leftist ideal of achieving a utopia of mediocrity through violence. Perhaps he is simply a drunken beer metal thug who if not in a black metal band, would be in a hardcore band and looking to chuck Molotov cocktails at the homes and businesses of anyone who may or may not disagree with him. Perhaps he's just drunk and angry that Death Metal Underground does not and never has adhered to the leftist social narrative.
Nevertheless, vocalist David Herrera stated that Imprecation is an apolitical band who do not support censorship in any form and that Antifa are cowards for not even daring to attack skinhead RAC shows.
Imprecation appear to be weekend warrior beer metallers who somehow put together a successful demo anthology and comeback album. Perhaps they are bitter that they were unable or unwilling to cash in on their past underground cult fame. Death Metal Underground still hopes to see a worthy and improved followup to Satane Tenebris Infinita despite the guitarist's threat of assault.
Tags: antifa, antifascist, censorship, daniel maarat, imprecation, metalgate