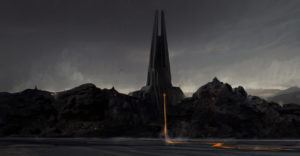 As an insanely vicious and memorable chapter of metal's oldest website comes to a chaotic climax, a new order now dawns upon us.  Contrary to the leftist hysteria over the net-neutrality laws passed last week, the internet is still alive, and therefore Death Metal Underground continues its quest to conquer its cyber niche and restore prestige to a genre fallen from grace.  Once again, Death Metal Underground will undergo a vast metamorphosis in lieu of the changing times while still remaining true to its purpose in the metal information sphere.
Although the music industry has collapsed, the money has disappeared, a fierce culture war continues, the heavy music media has been corrupted, and metal remains stuck in the longest creative rut since its inception 47 years ago, a new team of leaders and young writers emerges to reap the oncoming storm.  We will continue to document the decline of metal and decisively strike down what perverts its core being.  But we will also maintain a bold, innovative, and optimistic outlook for the future of metal, working diligently toward discovering and cultivating the next great era of the genre.
It is highly likely that I will become the most hated editor this site has ever known.   But I can assure you that, under my tenure, we will present you with the darkest and ugliest truths of metal's pasts and present, challenge all conventions that have become tired or trendy, provide thoughtful, honest, well cultured coverage of ALL heavy music, and wage cultural warfare against the forces of ad-slaved indie metal.  Much like our political system and mainstream media- the metal underground music industry is a swamp.  Therefore it must be drained and destroyed, and must be done so with logic and reason.  To do so effectively, this requires a bold foray into the mainstream of heavy music- one that is undesired, but necessary to survive in the harsh climate of this age.
But that's not all that's to come- beyond the writers and chief editor, a new aristocracy of DMU overlords has also risen in the shadows in the form of managers and content editors.  This has supremacy has been established to restore order to this once proud space and tighten our grip on the flow of metal information.  There most certainly is room for those who are worthy, but such worth must be proven, as deception is abound and few are able to survive.  We will reward the strong, and discard the weak, and reward the uppermost echelons to those who succeed.
So if you're a writer who has started (or is thinking of starting) a small metal blog/site, I implore you- contact us and write articles in a place where people are actually going to see them. If you are a die hard metal head with a superior IQ, strong organization skills, and a loyalty to this site and its principles- there is a place for you should you contact us.  For everyone else: death is only the beginning.
Tags: Black Metal, death metal, Heavy Metal, metal, news