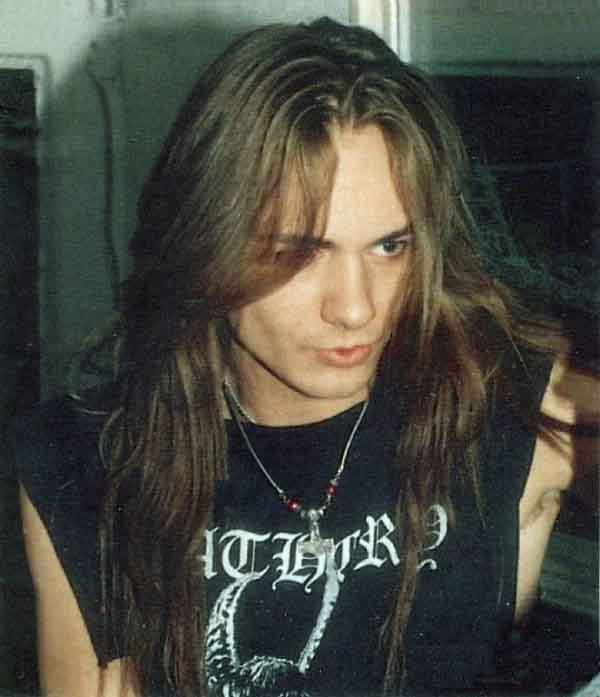 Before there were names for styles like death metal and black metal, and before anyone beyond a handful of people knew of these genres, pioneers created the groundwork for both genres and influences on several others. They had little at their disposal besides primitive recording and photocopied zines, but somehow these founders established the basis of new styles.
The media eventually adopted the term "extreme metal" but originally this music went by the appellation "underground metal" because you could not find it in stores, magazines, on TV or in academia. Eventually the genres within underground metal gained recognition and you could find them in record stores starting in 1997 when the distribution model changed.
But years before that the groundwork was laid by a few dissident artists. Let us look at the albums that set up the groundwork for both styles of underground metal, death metal and black metal: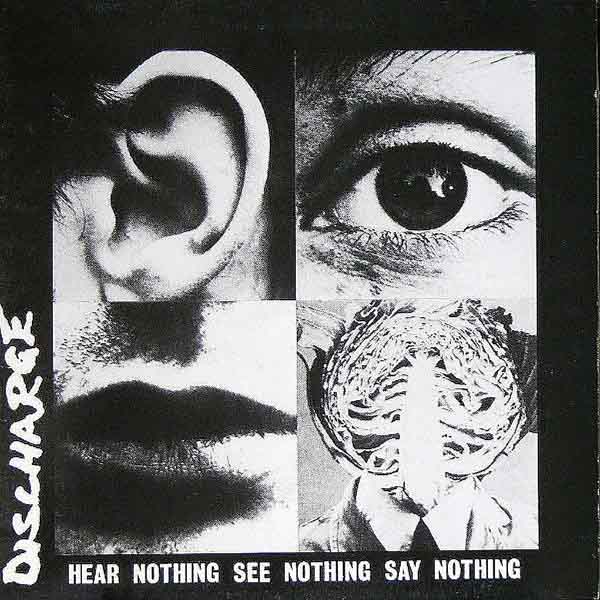 1. Discharge – Hear Nothing See Nothing Say Nothing
By the time Discharge emerged, punk and metal both had large followings. Discharge birthed itself from within the movement called "hardcore punk" that assembled itself when punk fans felt like their music had been co-opted by the very radio industry it hoped to alienate. Hardcore punk bands lived in squats, recorded with whatever was handy, and promoted themselves with zines and 45 RPM singles (the origin of today's 7″ records). They made their music deliberately abrasive and their themes beyond anarchistic into pure nihilism and rejection of all social thinking so that radio could not co-opt them. For the most part, they were successful, but then the genre became inundated with imitators who saw the simplicity of the music and the power of the social scene and entered for their own purposes, like marketers and advertisers would do years later. Discharge struck back with the ultimate anti-rock album. Drums did not coordinate with guitars, instead keeping time while streams of power chords flowed over them and changed at will. Vocals repeated short cryptic koans that entirely rejected the idea of society itself. Taking a cue from Motorhead, Discharge also added organic distortion to the vocals, creating a sound like an unearthly howl from a place collapsing into hell. Released in 1982, Hear Nothing See Nothing Say Nothing launched a wave of others who used these techniques, including all of underground metal.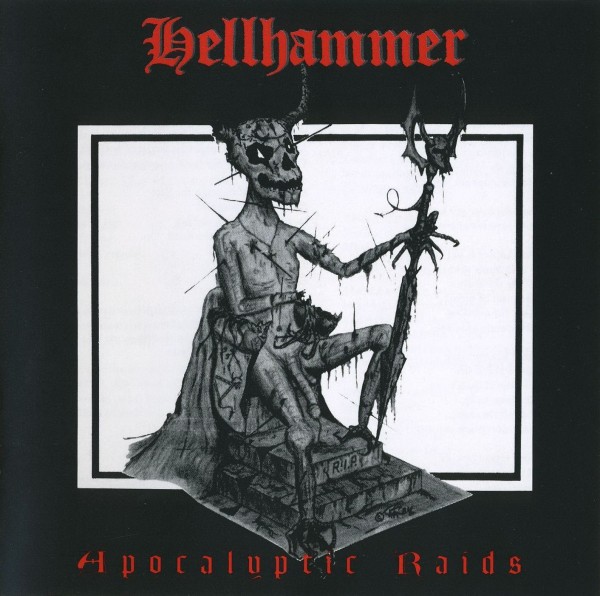 2. Hellhammer – Apocalyptic Raids
In sunny, peaceful and socially engineered to perfection Switzerland, discontent arose with this occult and anti-social release. Turning up the intensity on distorted vocals, drawing influence from both Venom and Motorhead, Hellhammer wrote slower riffs than Discharge but added in the sense of dark finality that bands like Black Sabbath successfully captured a decade before. In addition, Hellhammer contributed a style of songwriting that probably derived from progressive rock records, who themselves borrowed it from classical: song structure followed the content of the song and not a standard song format. This caused the band to spend a great deal of energy matching up riffs so that they "talked" to one another with a type of internal dialogue. Heard best on the epic 9-minute "Triumph of Death," this technique allowed Hellhammer to fuse the alienation of punk with the dramatic theological imagery of Black Sabbath into a mini-Wagnerian opus. These techniques came to live on in radically different forms in both the rising death metal and black metal genres.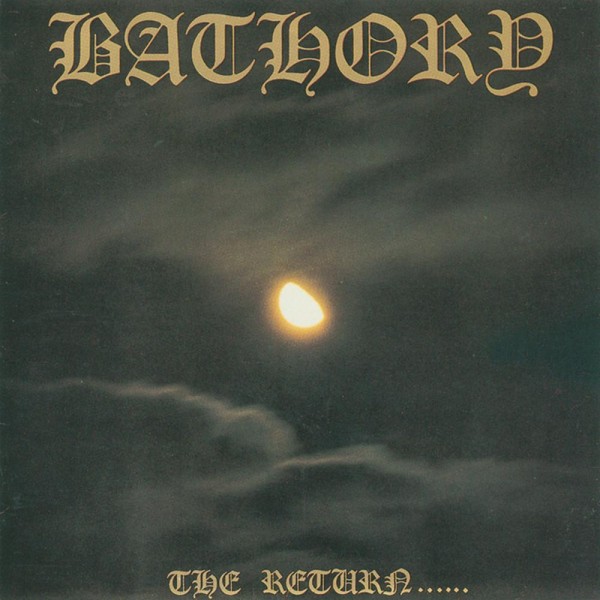 3. Bathory – The Return…
An entirely homebrew project, Bathory took what metal bands were doing to its logical conclusion and starting in 1984 recorded a series of albums using heavy distortion, occult themes, distorted vocals and fast chromatic riffs. While much of this material stuck closer to standard song format, quite a bit deviated with inventive songwriting that suggested a power of theater in the presentation of metal riffs. "The Return Of Darkness and Evil," the title track from the second Bathory LP, demonstrated this power with its soundtrack-like thematic composition. Although this band derived no influence from Venom, its distorted vocals took a higher path toward a harsh shriek like one might find in a horror movie soundtrack. As a result, not only death metal but all black metal bands derived influence from this founding act.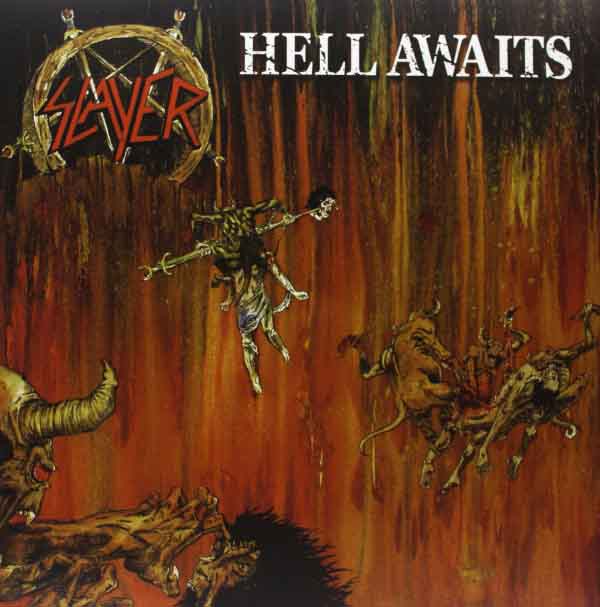 4. Slayer – Hell Awaits
Starting the year after the release of the Discharge album, Slayer crafted a new kind of heavy metal using the chaotic rhythms and chromatic composition of hardcore punk but the elegant and theatrical structures of heavy metal. The result shifted from social awareness lyrics to mythology that revealed a dark future for humanity, and stitched together songs of multiple contrasting riffs which shifted to support content instead of content supporting song form as most pop bands did. This created albums in which listeners could lose themselves entirely and made Slayer one of the biggest and most respected metal bands in history. The tremolo-picking used to create fast flowing riffs that kept energy high, unlike the muted-picking used by most speed metal bands of the time, formed the basis of the technique used by all death metal and black metal bands since. If a band falls within the underground umbrella, it undoubtedly takes influence from the first four Slayer records and most likely has at least one die-hard Slayer fan among its members.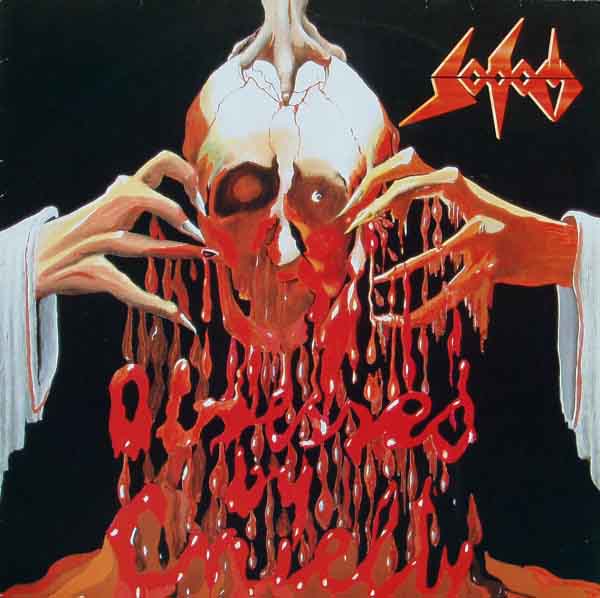 5. Sodom – Obsessed by Cruelty
Inspired by Venom, Sodom combined the energy of hardcore punk and the new techniques of Slayer and speed metal bands to come up with its own primitive version of this new style. These shorter songs resembled the thrash which was rising as a style at the time but instead picked dark and morbid occult topics. Despite the basic instrumentation, Sodom gave its songs serious themes and pulled off epic melodies which fit an archetypal pattern much like those of horror soundtracks do. The resulting concentrated bursts of fury gave rise to much of the viciousness of underground metal as well as its twilight atmosphere and fiery sense of destruction for all that occupied positions of social acceptance. While many of these songs fit standard song format, Sodom interrupted that to present concluding material in a style like that of Black Sabbath. As time went on, this band verged closer to death metal but kept the searing emptiness which lived on in black metal.
Tags: Bathory, Black Metal, death metal, discharge, hellhammer, slayer, sodom, underground metal