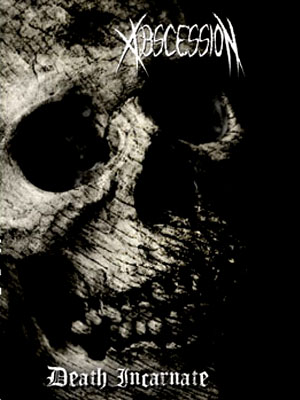 If you approached Slaughter of the Soul with the stylistic outlook of Left Hand Path, you would follow the path that Abscession travel on Death Incarnate. These are short, melodic songs that understand the dramatic nature of successful Swedish death metal.
Easily imitated, Swedish death metal is hard to master. The basics are simple: play d-beat drums under riffs adapted from the vocal melodies of 1970s horror film music and American guitar rock bands, then stack those against faster Black Sabbath-styled chromatic rhythm riffs. Is there really such a void between "Symptom of the Universe" and "Crawl," or the soundtrack to Carnival of Souls and Clandestine? Not if you listen to them side-by-side.
Thus, by combining Discharge and heavy metal with horror soundtracks, the Swedes invented a new style and kicked it into high-gear with that buzzsaw dimed-Boss distortion. But while qualification in this style is easy, it quickly becomes generic. That is because to take riffs out of context, one must build up a next dramatic context to give them framing, such that the change in riff (and tempo) is symbolically and aesthetically significant to the listener.
Abscession kick off this mini-album (EP) with a lengthy intro that, while funny at a first listen as it reveals death metal obliterating the music of normals, probably isn't going to be fun past the first couple of listens. After that, it's into what they do best: buzz-saw rhythm riffs which give way to lengthier melodic riffs which are played in power chords instead of single-string-picked like the first At the Gates.
The result captures much of the mood from Clandestine with big bristly clouds of buzzing distortion cushioning us as a melody emerges from within, like flying through clouds and seeing the moon emerge above. Once we've settled into the feel of the fully mature song, Abscession give it a kick or otherwise challenge it with a dramatic transition, which requires guitarwork to wrangle the song back toward its final state of affirming order.
What makes this release stand out is how well-composed the melodies are and how the band is able to arrange riffs in a meaningful manner, even if a simple "meaning" like the sensation of a walk through a dangerous forest at night and a confrontation with mortality as the blade of a foe emerges. Riffcraft is good and focuses on the longer melodies that distinguish the professionals from the "Garage Band" weekend activists in metal at this point, and all musicianship is good, but it is the content and composition of these songs that sets Abscession ahead of the Swe-death pack.
Tags: abscession, d-beat, death metal, horror movie soundtracks, Swedish Death Metal