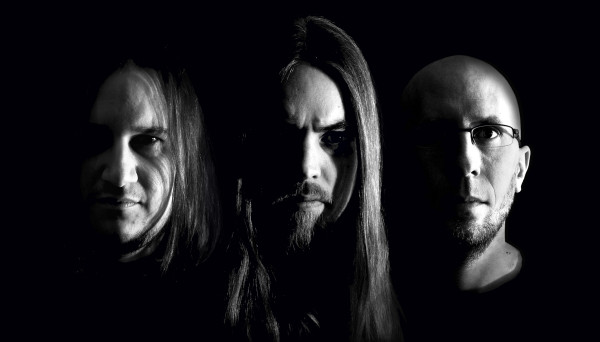 We have kept our eye on Swedish death metal style band Abscession who make a somewhat modern version of the classic sound of bands like Entombed and Cemetary. Their first album Grave Offerings touches down early in 2015, and has already generated interest and criticism in the metal community. We were fortunate to be able to chat with the two active members of Abscession, Thomas and Skaldir, about the band and its music.
When did Abscession form? Why did you choose the name that you did?
Skaldir: We formed in 2009 and it was important to us to choose a one word band name. Since almost every word is taken by some metal band by now, it wasn't easy. The name also should have a classy feel. Brutal and concise. We all had bands before. Personally I had my first band in 1992, which played some kind of melodic Doom never heard before and after. I started playing piano and then later also tried guitar.
Thomas: I've been in various bands since the mid nineties both as a guitarist and as a vocalist. I'm a pretty lousy guitar player though so nowadays I tend to focus on the vocals. I'm also active in blackened death act Throne of Heresy, and have been in Zombie Destrüktion since 2002 together with Markus Porsklev who also plays the drums on Grave Offerings.
Your style runs the gamut from old school heavy metal through 1990s Swedish death metal and perhaps beyond. What are your current influences? Have these changed over time?
Skaldir: For me there are always some records that never get old. The first stuff I liked as a teenager, like DEATH, HELLOWEEN, EDGE OF SANITY. But I listen to a lot of different music from AOR, Progressive Rock to Death metal. And even if I have a lot of favs from the early 90s, there are happily also some new albums that can excite me from time to time.
Thomas: Well, I find it interesting to mix things up a bit and I like lots of different music. My death metal influences are mainly from Swedish style death like EDGE OF SANITY, BLOODBATH etc but I also enjoy more progressive stuff like OPETH. I always like stuff that has hooks in it but which also grows on you with every listen. I think maybe that's where our death 'n roll-style influences come from, since I really like that kind of stuff when it's done in moderation. But then there's a whole range of bands outside the realm of death metal that influence me in different ways. Everything from classic IRON MAIDEN to FIELDS OF THE NEPHILIM have had a huge impact on the way I write lyrics for example.
Where did you record Grave Offerings and how did you achieve the sound you did? Was it to your satisfaction? Would you do anything differently next time?
Skaldir: Since I am a sound engineer most of the recording was done at Studio Kalthallen.
Thomas recorded his vocals himself, and everything was mixed in my studio in the end. We decided to let Dan Swanö do the mastering.
It is a classic BOSS HM-2 guitar sound. That is a distortion pedal a lot of people will know from ENTOMBED. Actually I used two and combined two different stages of distortion and mic'ed the cabinet with three microphones. I am pretty happy with the sound, but I think next time I will rather mix a "normal" distortion" in to a HM-2 distortion.
Are the members of Abscession full-time musicians, or is this a "spare time" project?
Thomas: We've all got other jobs outside of the music since it's not something we can really live on (yet…). But we're all dedicated to this art form and see it as something more than a part time project — it's been a part of all our lives for many years and makes us who we are.
Why, do you think, is Swedish metal 1985-1995 so legendary? Even though that was two decades ago?
Skaldir: I think it was a good time for metal in general. People just did what they liked and a lot of new genres were founded. Those old bands didn't exactly play perfectly and the sound also wasn't perfect at all. But it was unique and it was something never heard before. Doing something new these days isn't so easy.
Thomas: Sweden has been a big music nation for decades with everything from ABBA to Europe paving the way. A lot of people growing up back then learned to play instruments in school and of course it all helped to pave the way for successful metal bands. Even if they didn't play perfectly there was something experimental and organic over the music from that time which also made it interesting to listen to.
Did you ever consider composing in a newer style of metal, like metalcore or "melodic metal"? What do you think is different between those styles and the classic underground Swedish metal sound?
Skaldir: I would say we are a rather melodic Death Metal band. The style we play at the moment is exactly what we want to play, and maybe the only thing we are good at. It's not like we want to copy the old bands, but it is just our thing to sound that way. We will develop within the sound.
Thomas: Well, I think it's always difficult and often unnecessary to brand everything within preconceived genres. I can't remember a single discussion over the years where we've said "we're gonna play within this or this genre." We've written the songs we'd like to hear ourselves within our own capacity and it's some kind of death metal. So no, we never sat down and considered writing metalcore or melodic death, even though our songs ended up having some melodies in them. I still wouldn't brand it melodeath since we're nowhere in the vicinity of IN FLAMES or other melodic death bands.
How do you compose songs? Do you start with a melody, a riff, an idea, a visual concept or something else?
Skaldir: I wrote a lot of riffs on my classical guitar here when I felt like writing riffs. Then later I thought about which riffs to combine. Normally you start with one riff and the rest just happens and you just know what has to come next and how you arrange it. At least that is how it is for me.
Later Thomas will listen to the song, and the mood of the song will inspire him to write lyrics.
Thomas: Yeah, Skaldir's music sort of paves the way for the lyrics. I often have themes or ideas in my head that I wanna write about, but I never really know where to start. But usually after a few listens to a song I find a lyric rhythm and just start putting words in there that fit with the theme I want for the song. Sometimes it becomes clear very quickly but other times the lyrics takes on a life of their own.
For example The song "Plague Bearer" on Grave Offerings was supposed to be a really rotten track about a plague victim but ended up being an allegorical and anti-religious text instead. And to be honest, it's a much better text now than it would have been if I had stuck to the original idea.
Where do you feel your demo "Death Incarnate" and Grave Offerings differ?
Skaldir: I think having a more technical drummer on Grave Offerings is the biggest difference to the demo. The songwriting is still pretty simple with the same trademarks the demo has.
Thomas: I think we've sort of found our path. A three track cassette like Death Incarnate can't show the full range of a band's sound as well as an album. And Skaldir has worked a lot with the overall production so it all sounds fucking great!
Grave Offerings is your first signing to a label. How is that working out? What do you plan for the future? Is there a tour in the works?
Skaldir: Well the demo tape was also released by a label. Suffer Productions is a small underground label though. Final Gate is a bit bigger, but still underground. We just signed for one album and will see what will happens next. So far we are pretty happy.
Thomas: Even though the current deal is for one album only I feel confident our next release will be a label release as well. We're actually already working on the next album so no matter if there's a label or not, ABSCESSION will go on. As far as tours go we're not planning anything yet, even though we'd like to at some point in the future.
If people like what they hear, where should they go to learn more about Abscession? Are the demos still available? Do you think you'll ever tour UK or USA?
Thomas: I actually don't know if there are any demo tapes left, maybe Suffer Productions have a few but I doubt it. There are probably some underground metal webshops that would consider trading or selling it if you look hard enough.
But it's also available as a digital release on our bandcamp. In this digital world we're of course also present on facebook/abscession.
That's probably the best way to learn more about us. As for touring the UK or the US, who knows… I guess we'll have to wait and see how big the demand is once the album is released in early 2015!
No Comments
Tags: abscession, death metal, Swedish Death Metal