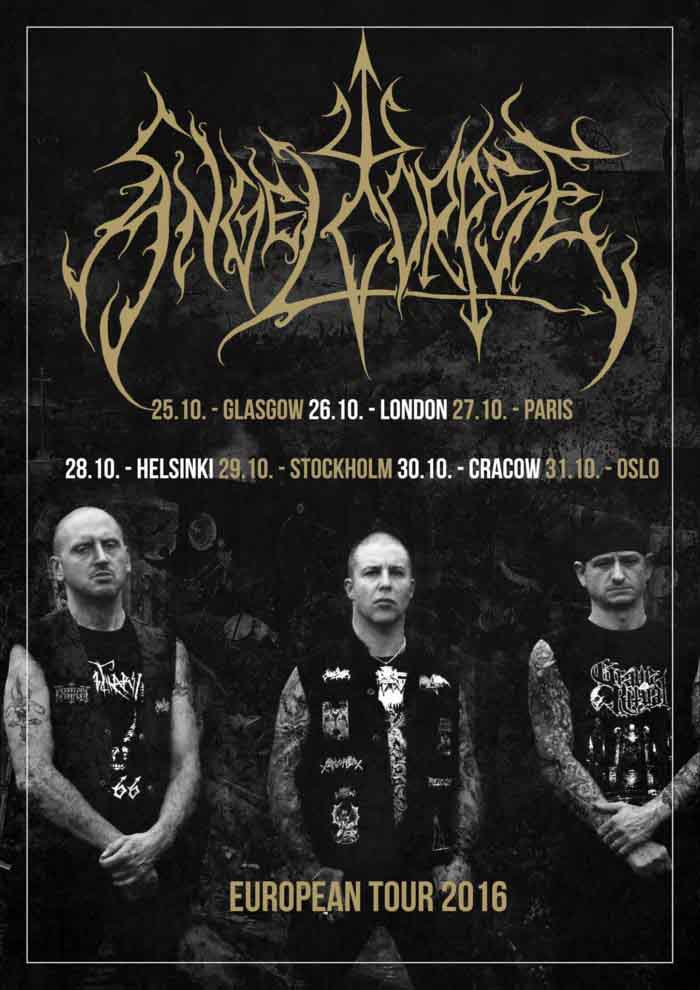 Bestial blackdeath metallers Angelcorpse are coming to Europe this week for a short, seven date tour. European headbangers can chug pints and liters of cheap beer while bashing their brain cells out!
Recently reunited death metal act Angelcorpse are returning to Europe this week to perform seven dates. The influential band comprised of Pete Helmkamp, Gene Palubicki and session drummer Andrea Janko, will begin its visit to the old continent with two stops in the UK (Glasgow & London); a performance in Paris, France; three dates in Scandinavia (Finland & Norway) and only one gig in Central Europe: Cracow, Poland. Full listing of the tour dates are below.

Each concert will also see the band perform with different acts, which include: Destroyer 666, Stillborn, Ragehammer, Aosoth, Malthusian and Sheol.

Tour dates:
25.10. – Glasgow (w/ Sheol, Vacivus)
26.10. – London (w/ Malthusian, Scythian, Spearhead)
27.10. – Paris (w/ Hell Militia, Aosoth)
28.10. – Helsinki (w/ Mörbid Vomit, Lie in Ruins, Gorephilia & more)
29.10. – Stockholm (w/ Destroyer 666, Root, Nifelheim & more)
30.10. – Cracow (w/ Voidhanger, Ragehammer, Stillborn)
31.10. – Oslo (w/ Diskord)

Angelcorpse is synonymous with everything extreme metal. Established in 1995 from the ashes of Order From Chaos, Angelcorpse are the living definition of death metal. Their blasphemous themes and the sound of unbridled violence repeatedly challenged the biggest icons of the genre, with Deicide and Morbid Angel at the helm. The chaotic style of composing with Helmkamp's lyrics about hatred and contempt for weakness shouted to the rhythm of a constant hurricane are the elements with which the American act painted their landscapes of destruction. Re-listening to their albums it is still difficult to imagine a worthy opponent for Angelcorpse; whether it is their debut, Hammer of Gods (1996), the bestial Exterminate (1998) or The Inexorable (1999). Their last studio effort, Of Lucifer and Lightning, was released in 2007 and shortly after the band was put on hold to concentrate on other projects: Palubicki brought to life Blasphemic Cruelty and Perdition Temple, while Helmkamp recorded with such acts as Revenge and Kerasphorous.

To celebrate the 20th anniversary of the band's debut album, Angelcorpse have decided to reunite and attack the world once again. Their recent appearance at Netherlands Deathfest in Tilburg demonstrated that these guys still want to spread death, spit in the faces of gods and crush anything holy. They will not retreat even one step.
Tags: angelcorpse, Black Metal, death metal, Europe, tour, tour dates