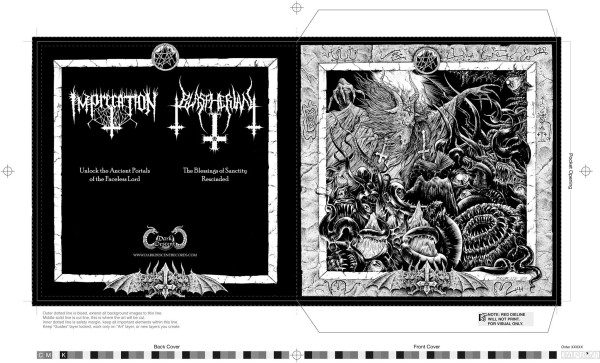 Dark Descent records unleashed the cover art for the upcoming Blaspherian/Imprecation split 7″ recording. This will combine the power of the two bands, including Blaspherian vocalist Daniel Shaw who drew the intricate and necrotic cover.

Expect copious apostate blasphemy as both of these bands, coming from the religious yet contrarian abyss of Texas, Houston, have nursed an inculcated dislike of all things holy since an early age. Both bands have a root in the original incarnation of Imprecation who released a Morbid Angel/Revenant-ish compilation of demos in 1995.
Since that time, Blaspherian has emerged as the vehicle of songwriter Wes Weaver to express cavernous thunder of old school death metal austere rage and epic historical-mythological minimization of humanity and emotion, while Imprecation has merged melodic doom metal with old school death metal to create a new form of unholy ritual metal.
As these two new legends prepare to holocaust humanity with their acerbic ire and irreverent heresy, the underground awaits with growing anticipation. The underground death metal revival that began in 2009 with Beherit Engram gains momentum as it overcomes inertial barriers and defines this ancient style for a new age.
Tags: blasphemy, blaspherian, dark descent records, death metal, imprecation, Occultism, Old School Death Metal