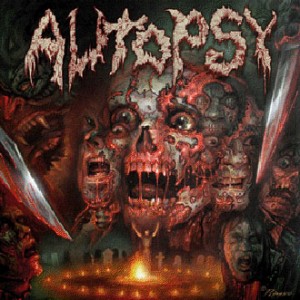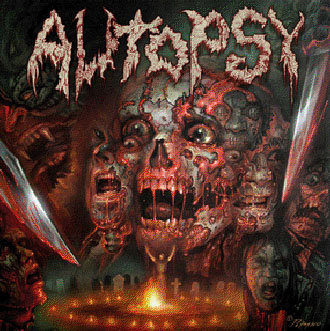 Autopsy returns to death metal on July 2, 2013, with a new full-length album entitled The Headless Ritual.
Famed for their contributions to late-1980s death metal and its continued guidance through the 1990s, Autopsy arose as a band playing a chaotic, filthy, organic sounding form of death metal, which was in contrast to the more rigidly technical "Morbid Angel" inspired bands of the day. In many ways, Autopsy was a bridge between the more structured death metal and the more chaotic but more melodic bands from the grindcore world like Carcass and Bolt Thrower.
Fresh from the studio, Chris Reifert (drums) was able to give us a few words on the nature of the new album, its style and the future for Autopsy.
You're in the process of recording The Headless Ritual. How do you see this album as continuing and differing from your previous works?
Actually it's complete and we're just waiting for it to come out at this point. Musically and lyrically it's pretty much Autopsy. No major changes, but no rehashing of old ideas either. It's a big nasty chunk of death metal, simply put.
Will you be using the same production as previous albums for The Headless Ritual? Can you tell us how it sounds so far? Will it be more punk-influenced, or more metal-influenced, than Macabre Eternal?
We went with the same method of recording as we always have, but this one sounds a bit bigger than Macabre Eternal, I dare say. And again, it sounds like Autopsy. There's fast stuff, slow stuff and all the weird stuff in between.
Thanks, Chris!
At deathmetal.org, we're naturally looking forward to the new Autopsy. Not only is it another of metal's legends come back to life in the post-2009 old school metal revival, but it's also a personal favorite that we believe has potential to revive the intensity of death metal.
Furthermore, this album also promises to bring back the thoughtful and the odd that defined the genre so much during its early days. It was a frontier then and the frontier may be re-opening now. As Chris says, "There's fast stuff, slow stuff and all the weird stuff in between." This is a welcome break from the all-ahead-go clones that have made death metal seem one dimensional.
The Headless Ritual will show us Autopsy at the peak of their ability and returning in fine form and fine spirits, as these answers show us. Thanks to Brian Rocha at Fresno Media for his help with this mini-interview!
Tags: autopsy, death metal