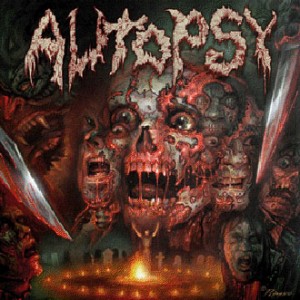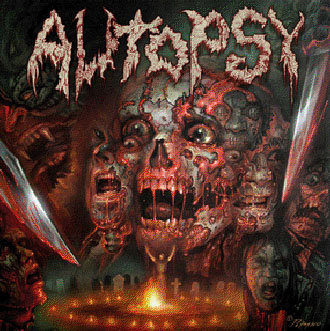 Wander over to the pre-order page for Autopsy's The Headless Ritual, where the new album recorded this summer can be ordered in advance of its release, so that you get it as soon as possible after it slips off the presses and zooms through the mails, smelling of new plastic and old gore, into your sweaty little hands.
Two weeks ago, Chris Reifert answered a mini-interview from us about the new album, in which he revealed that this album may be taking more of a faithful return to Autopsy's older style without parroting the older material. Cover art and tracklist look promising as well.
At that point, our editorial statement emerged as follows:
During the early days of death metal, Autopsy were distinct because of their ability to use multiple tempi per song, to employ harmony and theme, and to use seemingly sloppy, grotesque, overflowing riffs to convey themes of death, suffering and disease. Their career arguably peaked with 1991′s Mental Funeral, an album of many varied songs of different lengths and song structures, presenting a strange landscape for the listener to navigate.

Last year's Macabre Eternal showed Autopsy returning to the sound of old school death metal and the abrasive aesthetics that came with it, but not quite entering the realm of the weird where obscure song structures and riffs contribute to mood as much as they did on older Autopsy releases. Although that album showed promise, its somewhat consistent approach created a uniform intensity which resulted in much of the content getting lost on some ears.
Macabre Eternal showed Autopsy returning to their older style in a faithful and stalwart form. Let's hope for The Headless Ritual not only returning to form, but resurrecting the type of content and artistic attention to detail and purpose that made older Autopsy stand head and shoulders above the crowd.
Tags: autopsy, death metal