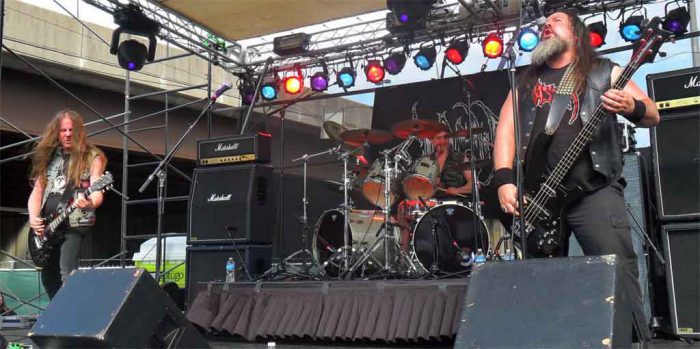 After having hidden in obscurity for a short while, Chicago death/grind band Cianide returns with some of its darkest material to date. The track kicks off with an Autopsy-styled introduction, then detours into Deathstrike-style Motorhead-influenced riding rhythms before venturing into Celtic Frost territory.
Some have criticized the "modern" feel of this track in that its pre-chorus riff involves a certain amount of groove and rhythmic expectation on the offbeat, which can interfere with the "underground metal" feel of flattening out and making rigid all of the jaunty, sociable, and somewhat vapid inheritance from rock music.
"The Serpents Wake" comes to us off of the forthcoming Cianide album, Unhumanized, to be released by Hells Headbangers in November 2019.
However, this particular usage feels more like later classic Darkthrone and an attempt to focus on duration and achieve a drone effect. The best argument for that comes later when the band goes back into Master/Hellhammer territory, updated with an Autopsy-style layering.
In the view of this particular review, "The Serpents Wake" shows us a better vision of Cianide in that all the parts are more tightly integrated so that the track focuses on what Cianide does well, which is crushingly reductive riffs given careful context by more energetic parts to the songs.
As alert readers may recall, the first Cianide album was often described as doom metal, grindcore, and death metal alternately because it incorporated all of these elements before the term "death-doom" was really in any kind of normal conversational use. This shows the band returning to its roots and exploring its future with a stronger, more confident voice.
Tags: cianide, death metal, doom-death, Grindcore