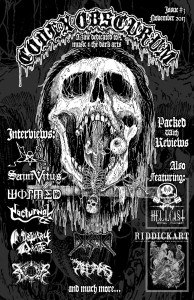 The third issue of Codex Obscurum zine is going to print and will be shipping in mid-November.
Currently, Codex Obscurum issue #3 is ready for order. All zines will come with a free sticker. You may remember our interview with the editor and our review of issue #2 of Codex Obscurum.
As zines return to importance because the internet has overburdened us with facts and options, but depleted our share of sensible opinions about them, more people are returning to reading zines and buying CDs and vinyl as opposed to a download-happy culture that floods their lives with mediocre music and leaves them with few lasting impressions. Codex Obscurum is part of the wave re-vitalizing the metal zine community.
Tags: codex obscurum, zines