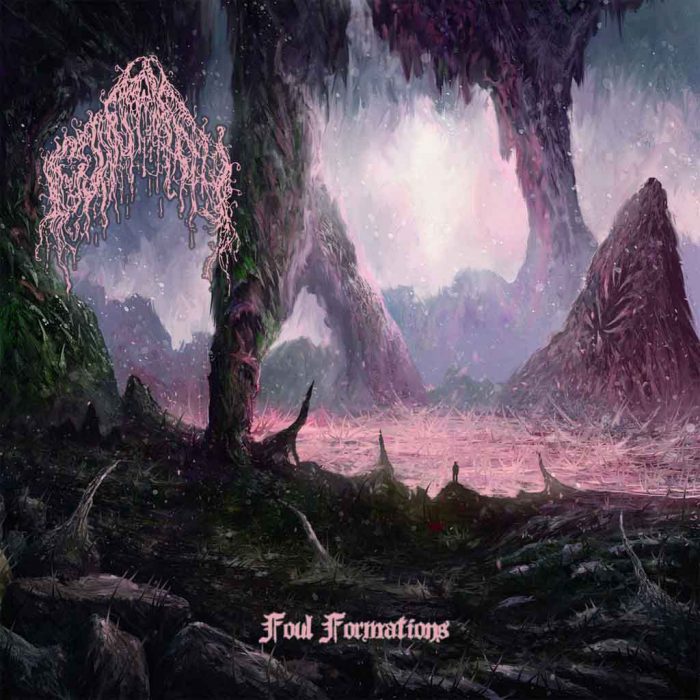 Conjureth, a project of Decrepitaph personnel, released its new EP Foul Formations on February 15, 2020, featuring more of its hybrid between Incantation and Immolation style mid-paced trudging death metal. Each song builds its main riff out of a central theme, then creates a staggered counterphrase for the chorus, and features a more thorough and basic elucidation of the theme as a transition, but otherwise for the most part is riff-chorus metal.
Record reviews fit on a standard distribution like anything else. Unless an album is amazing or horrible, they tend to follow the same pattern: this is competently-executed but inspired little. For this reviewer, knowing that 1992 is come and gone and that the bar was raised by the originals, this seems a bit too formulaic and without direction other than to write in its pattern.
Others may feel differently, especially if classic OSDM is new to them, and all can appreciate how this is free from idiotic influences, modern or older. In many ways, it sounds like Venom covering an Immolation album with more influences from midwestern death metal. Chaotic lead solos add icing to the cake.
Tracklist
The Void Caressed (3:16)
At The Foot Of Kneeling Worlds (3:36)
Clotted Scripture (3:16)
Ghost Infinity (2:44)
Tags: conjureth, death metal, decrepitaph, OSDM