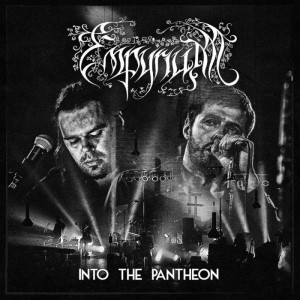 Cult doom metal/goth band Empyrium plan to release their new DVD, Into the Pantheon, on September 24, 2013 through Prophecy Productions. At the same time, the band will release a documentary on the making of Into the Pantheon.
Following in the footsteps of Paradise Lost and My Dying Bride but at a pace more familiar to funeral doom fans, Empyrium have gained a cult following through their melodic doom metal that uses tropes from Gothic music as well as extensive clean vocals and orchestral instruments like violin and cello.
On Into the Pantheon, you will see the band present an hour and a half of live material featuring live musicians playing those orchestral instruments alongside guitars, keyboards, bass, vocals and drums in the traditional metal style. While this is slower-paced and more elegant than much of metal, it preserves the doom metal atmosphere of melancholic and bereft moribund moods.
In addition, the band will release an hour-long documentary about the making of the live show and the band and its attitudes toward life, death and everything in-between, which will answer many of the questions of the die-hard fan. This band is highly secretive, and does not give interviews, so even a concert was a rare event. This DVD chronicles the band's first live concert ever.
Some have described Empyrium as taking a power metal attitude to doom metal, and much of what you see here will fit that description. Musicianship is excellent, professional standards are upheld, and the music while emotional and dark is also quite accessible. For more information, see the label page.