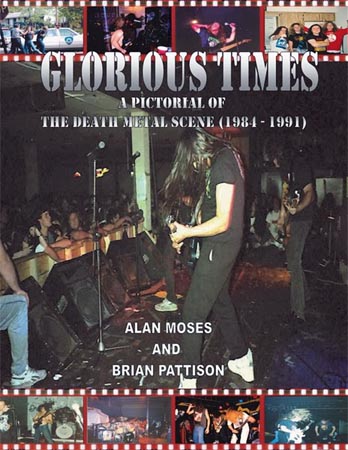 Glorious Times: A Pictorial of the Death Metal Scene (1984-1991) presents a retrospective of the early death metal scene, written by the bands themselves, and edited by Alan Moses (Buttface Zine) and Brian Pattison (Chainsaw Abortions Zine). If you want to see what the early bands were thinking, doing and how they helped invent death metal, this original book gives you a window into the past and future of death metal.
Here's my original review of the book from August 6, 2010:
When Kontinual lent me his copy of this great book, I had no idea what I was in for. It's not a retrospective and not so much a nostalgia swipe as an attempt to preserve the past of the death metal genre through the words of the musicians who created it.

Outside of an introduction by Laurent Ramadier, the book is entirely composed of short retrospectives written by the bands themselves. Some are apologetic and wistful, others charging ahead full of verve, and still others factual or like the odd literary piece by Revenant's Henry Veggian, insights into the mentality of those days.

It doesn't make sense to group this book in with other death metal books like Choosing Death or Lords of Chaos, which attempt to analyze and formulate a coherent single narrative for the evolution of the genre. Instead, this is primary research material, with each essay providing approximately a short interview's worth of primary source material for the growth of the death metal underground.

Compiled by Alan Moses (BUTTFACE 'zine) and Brian Pattison (CHAINSAW ABORTIONS 'zine), this half-folio tome brings out the best in death metal, including introductions to a veritable treasure trove of early partial evolutions of death metal. If you want a shopping list for the most obscure neo-death out there, get a pad and paper before you read this.

Printed in an initial run of 150 copies, the book will be heading back for a reprint soon. In the meantime, here's the list of bands who contributed material:

Autopsy
Paineater
Deicide
Baphomet/Banished
Groovy Aardvark
Sepultura
Prime Evil
Brutality
Master/Abomination/Death Strike
Nuclear Death
Hellwitch
Malevolent Creation
Vomit
Death
Derketa
Cannibal Corpse
Deceased
Massacre
Insanity
Disharmonic Orchestra
Possessed
Incubus/Opprobrium
Revenant
Massappeal
Unseen Terror
Lethal Aggression
Incantation
Tirant Sin
Morbid Angel
Hideous Mangleus
Dream Death
Nocturnus
Ripping Corpse
Soothsayer
Acheron
Where's The Pope?
Napalm Death

It will be great to see this book hit the racks for the long term, because it's chock full of raw material for anyone curious as to the birth of death metal, the underground, and the related genres that spawned from the raw ferment of metallic anguish in that era.

For more information, consult the blog about the book, or its myspace.
Tags: alan moses, book, brian pattison, death metal, glorious times, zine