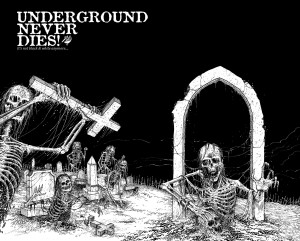 Recently the word got out about a new book that's going to explain the metal underground. This book, called Underground Never Dies, is edited by Andrés Padilla, the longstanding publisher and chief writer of Grinder Magazine.
Like several underground books before it, Underground Never Dies does not attempt to summarize the underground from a single point of view. Rather, it lets many different voices speak and, like harmonization in song, a truth emerges.
Cover art by Mark Riddick graces the entrance to this all-star production of underground metal analysis and opinion. In these pages, you will find people that you know of, or will want to know of, who helped build the underground into what it is.
We were lucky to get a chat in with Andrés as he prepares to launch this challenging work. Thanks to Andrés Padilla, Grinder Magazine and Doomentia Records for helping us secure this interview.
Click here for the full interview.
Tags: andres padilla, Black Metal, book, death metal, extreme metal, grinder magazine, underground metal, underground never dies, zine