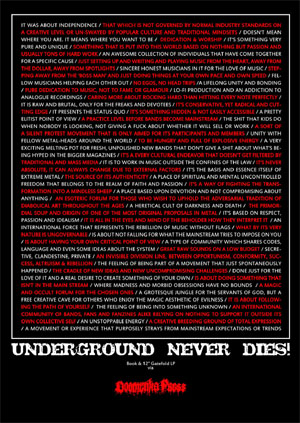 Underground Never Dies!, a book about the underground metal explosion of the 1990s, will address the complex interweaving of bands, fans, zines, promoters, DJs, artists and labels that fostered the underground metal movement and allowed it to expand with maximum flexibility.
The book will include tons of fanzines from all over the world, plus a huge selection of underground flyers, so the book will be not only a narrative of the history of underground metal, but also a massive and interesting menu of diverse viewpoints for all those Death Metal devotes.
Doomentia Press will release/publish/distribute Underground Never Dies!, which will be released with a compilation 12″LP including some of the finest acts exhumed from the 80s, such as Slaughter Lord (Aus), Mutilated (Fra), Incubus (Florida, US), Poison (Ger), Exmortis (US), Fatal (US), Armoros (Can), Mental Decay (Dk), Funeral Nation (US) and Insanity (US) among others. Gatefold format ! Limited to 500 copies. CD + Tape version will include bonus tracks.
The cover art will be done by Mark Riddick. Introductions come from by Ian Christe (Bazillion Points), Chris Reifert (Autopsy), Erik Danielsson (Watain) and Alan Moses (Glorious Times). This celebration of the underground will attempt to make sense of the fertile but chaotic years of its origins.
Tags: academia, andres padilla, book, extreme metal, grinder magazine, underground metal, underground never dies