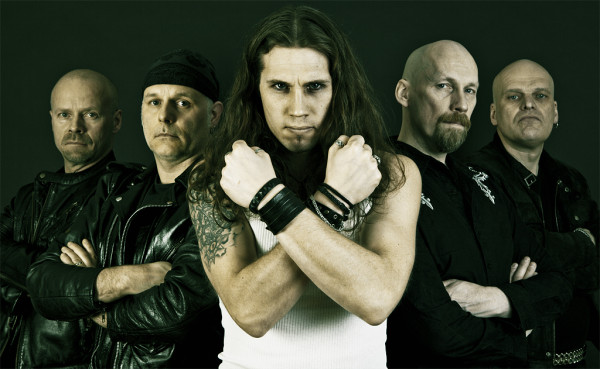 As far as books about metal go, there's nothing more hardcore than an encyclopedic reference because by nature these attempt to include everything. Janne Stark wrote The Heaviest Encyclopedia of Swedish Hard Rock and Heavy Metal Ever! to keep track of the Swedish hard rock / heavy rock / metal scene, but we found it even harder to keep track of him.
For example, Stark is listed as participating in three dozens, including Overdrive, Overheat, Faith, M.O.B., Flash, TNT, Alyson Avenue, Sir Lord Baltimore, Thalamus, Chris Catena, Audiovision, Vii Gates, Narnia, Grand Design, Blinded Colony, Spearfish, Audiovision, Tower Of Stone, Teenage Rampage, From Behind, Planet Alliance, Balls, Constancia, Locomotive Breath, Mountain Of Power, Zello, Nicky Moore Blues Corporation. This is only a small slice of his participation in music, however, as he's also a music journalist and author.
Stark was good enough to give us the time for a mid-length interview, which was conducted over coffee in the fashionable Swedish borough of Östermalm. Err… we wish. Stark was good enough to conduct this interview through old-fashioned 7-bit email, but we got some interesting answers.
Sweden has fewer people than the city I live in, yet produces more quality heavy rock, hard rock and metal bands. Is there something in the Swedish outlook that is responsible for this disparity?
I've had that question a lot of times. I think it has to do with several different things. Music has always been important in Sweden, folk music, singing in choirs etc. ABBA came along in the seventies showing Swedish musicians it was actually possible to break through on a big scale outside of our borders. We also have a really good (and cheap/free) tradition of music schools and the ability to learn an instrument in school. We also have the possibility to start a study circle, within a band, where you can get free/cheap rehearsal space, the possibility to record and even arrange gigs. I also think Swedish bands in general are about the music and learning to play, that getting an image and just pose.
Sweden may have partially invented death metal and black metal through Bathory. Are there are other contributions on the road towards death metal that you found interesting?
Yes, Bathory were definitely the forefathers of primitive sounding early black metal in Sweden. Later on there's of course also the Gothenburg sound and bands like In Flames, Dark Tranquillity and At The Gates, where they started mixing more melodic and traditional metal influences with the traditional death metal sound. Swedish bands have always looked to the UK or US for influences, but I think a lot of the bands have managed to put a slightly different twist on it. Take for instance progressive bands like A.C.T or Pain Of Salvation, and then you have classic heavy metal bands like Hammerfall and Wolf who have mixed the German and UK styles of metal with a Swedish twist to it.
There's something about the way Swedish bands write music that seems to lend itself to heavy metal, and it's broader than the legendary Swedish melodic sense. Do you get the feeling such a thing exists?
I think it's basically that we borrow a lot of influences from outside and blend it with the quite traditional Swedish folk touch that is in our mothers milk, whether we know/like it or not. On another note, it's also quite interesting how several Swedish hard rock/metal musicians have become very successful in writing for pop and dance acts. People like Thomas G:son (Masquerade), Peter Carlsson (Bedlam), Anders Wickström (Treat) and not least Max Martin (It's Alive) and Johan "Shellback" Schüster (Blinded Colony) have all become highly acclaimed pop composers who have written hits for N'Sync, Britney Spears, Pink, Lady Gaga etc.
You refer to this book as "the heaviest" encyclopedia of Swedish heavy rock and metal, and it definitely is heavy in two senses, both content and the physical weight of the book. How long did it take you to compile this monster?
It's the heaviest in many senses. It's definitely the heaviest when it comes to its sheer weight, 3.7 kilos (8.5 lbs) and the amount of bands featured in it (3,600), but it was also the heaviest one to get out of my system, to decide when it was time to wrap it up and get it out. When the second book was released in 2002, I simply continued compiling information. Not detailed information, but more like making notes to check this band out, check this site out, I made continuous notes of special releases and such. Then, a little more than three and a half years ago I decided ­ Now it's time. Then I started following up all the leads, compiling all info of the bands, took all the info from the first two books, updated and corrected and all the stuff I had noted about these bands. I made one document for each letter and just started all over again, from A to Z (well, actually the last letter is Ö in the Swedish alphabet). When I felt I was finished I started doing layout, but waited with the band pics etc until last as I was still adding last minute information and bands. I then had three people proof read it, an Englishman and a music nerd friend, plus my wife (also a hard rock nerd). In September 2013, I sent in the final PDF files to the publisher and it was off to the printers, and nothing more I could do. Sheer agony at that point!
What kind of research resources were available to you? Is there much printed information on rock music in Sweden, or did you have to spend most of your time interviewing people?
When I did the first book in 1996, there was no Internet and it was all phone calls, contacting bands, music clubs, record stores etc. Now the information is all over the place, the problem is to collect, find and sort out what is the CORRECT information. Anybody can write anything on sites like Wikipedia etc. and suddenly it's the truth. It's been as much about checking and double-checking this time around. I've listed the sources I've used in the book, but it's anything from www.metal-archives.com, www.musikon.se and www.rockdetector.com, to Ebay, Tradera, Discogs and bands/labels sites to find all catalogue numbers, different pressings etc. There's a couple of metal magazines and webzines here as well, plus books and websites covering local scenes, where I've found some additional information. I've also contacted a lot of people through Facebook etc. I've tried to get in touch with as many bands as possible.
From the looks of this massive book, you got every heavy band that Sweden has ever produced. Did you miss any? How did you find out?
I'm sure I've missed some, even though I do think I've covered 95% this time. There's always going to be the local metal band that printed 250 copies of a single, sold it to some friends, tucked the remaining copies away in an attic and went on with life. These things pop up now and then, still! Plus some bands, especially when it comes to black metal, are intentionally secretive and only sell their limited vinyl release to "true" fans. But, that's the beauty of it. Trying to find those hidden gems!
Swedish death metal won me over the minute I heard it. Do you normally listen to death metal? Did the sounds of Swedish death metal tempt you to go over to "the dark side"?
The thing is, when I wrote the previous books I wasn't into death or black metal at all. But, for this book I've listened to ALL bands in it, and there's a LOT of death and black metal. As a result I've actually come to like a lot of these bands, the more melodic stuff like Soilwork, The Haunted, Sterbhaus, In Flames and Unleashed, but also stuff like Watain I've come to like. My first choice of music is however still seventies influenced heavy rock/metal and bands like Spiritual Beggars, Mojobone, Grand Magus etc.
Can you tell us about your background as a writer and in music? This obviously isn't your first project.
I got into music very early on and started playing guitar around the age of nine, made my first demo with the band TNT back in 1977, recorded my first single with the band Paradize in 1979 and formed Overdrive in 1980, with whom I've made a bunch of records. I also started doing some reviews for a local zine in 1982-83. My writing got more serious in 1989, when I started writing and reviewing for Backstage Magazine and since then I've written for a lot of magazines such as Hard Roxx, Kool Kat News, Sweden Rock Magazine, FUZZ Magazine etc. I did my first encyclopedia in 1996 and the second one in 2002. At the same time I've also made records with bands like Locomotive Breath, Mountain Of Power, Zello, Planet Alliance, Constancia etc. I still play in Overdrive, Constancia and Grand Design.
How did you get the confidence to tackle such a massive work? (It can't all come from the writer's famous "courage in a can" — coffee — itself, can it?)
Well, to be honest, it's a combination of sincere interest for Swedish metal, being a music nerd and, yes, lots of strong, fine Swedish coffee. Besides beer and booze, it's the only "drug" I've ever touched!
If you had to select five heavy and/or metal acts from Sweden to convince a newcomer that this scene is vital and worth investigating, what would they be?
As there are such a variety of styles within the Swedish scene I'd pick accordingly, so to check out the melodic death metal scene go for Soilwork, get some classic heavy metal with Grand Magus, some high class AOR with Eclipse, doom with Avatarium and progressive rock with A.C.T. To start with.
What's next for you? Will you continue music journalism? Where do readers go to find out more about your work?
I still write and review for FUZZ, Metal Central and Metal Covenant when time allows it. I also have my own reviews blog and I'm now working on my next book entitled The History of Swedish Hard Rock and Heavy Metal, which will be as the title says, a more history-based book on the Swedish metal scene from the late 60s and until today with stories, interviews with prominent Swedish bands etc. Not sure when it will be finished, but I'm working on it. I'm currently also working on two new albums by Constancia and Grand Design for release in 2014. We've got lots of gigs booked for Grand Design as well as Overdrive. High Roller Records are also re-issuing the first Overdrive album on vinyl with an entire bonus LP of demos. No rest for the wicked!
http://www.youtube.com/watch?v=y4avfZnEDyQ
Tags: Black Metal, death metal, hard rock, Heavy Metal, janne stark, Sweden