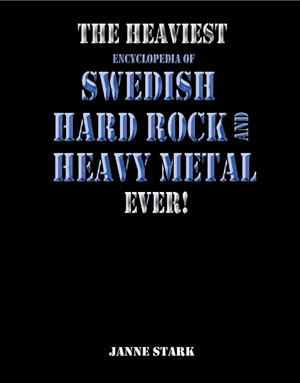 Since the popularization age of search engines began, some have wondered if this spelled the impending doom of paper encyclopedias. If heavy metal is any indication, traditional methods of distributing information are still enduring.
Newly released tome from Premium Publishing, entitled The Heaviest Encyclopedia of Swedish Hard Rock and Heavy Metal Ever!, compiles information on the Swedish scene from the early 70s through the present day. Written by Janne Stark, the book lists releases from 3600 bands with short biographical information for each, notably a format reference for each album, in addition to a index searchable by both area and name. There is also a section on visual history, featuring album art and unpublished band photos.
Packaged with an accompanying CD, the book weighs in at 8.5 lbs. and 912 pages and can be picked up for $79 via the Premium Publishing webstore or $73 at Amazon. In addition, you can preview the book online.
The book contains a bonus CD of rare or never before issued tracks.
Tracklist:
AMBUSH – Don´t Stop (Let Them Burn)
EDDY MALM BAND – Turn In Down
HELLACOASTER – Mani Jack
ICE AGE – General Alert
MASTER MASSIVE – Time Out Of Mind
MACBETH – Sounds Of A Hurricane
THE HIDDEN – For Gods Ache
VOLTERGEIST – Desperate Highway
PAINKILLAZ – Lost My Religion
ZOOM CLUB – Walking On Stilts
RAWBURT – Psycho Man
MONICA MAZE BAND – Eyes Of The Living
STRAITJACKETS – Stripped To The Bone
Tags: Black Metal, death metal, hard rock, Heavy Metal, Sweden, Swedish Black Metal, Swedish Death Metal, swedish heavy metal