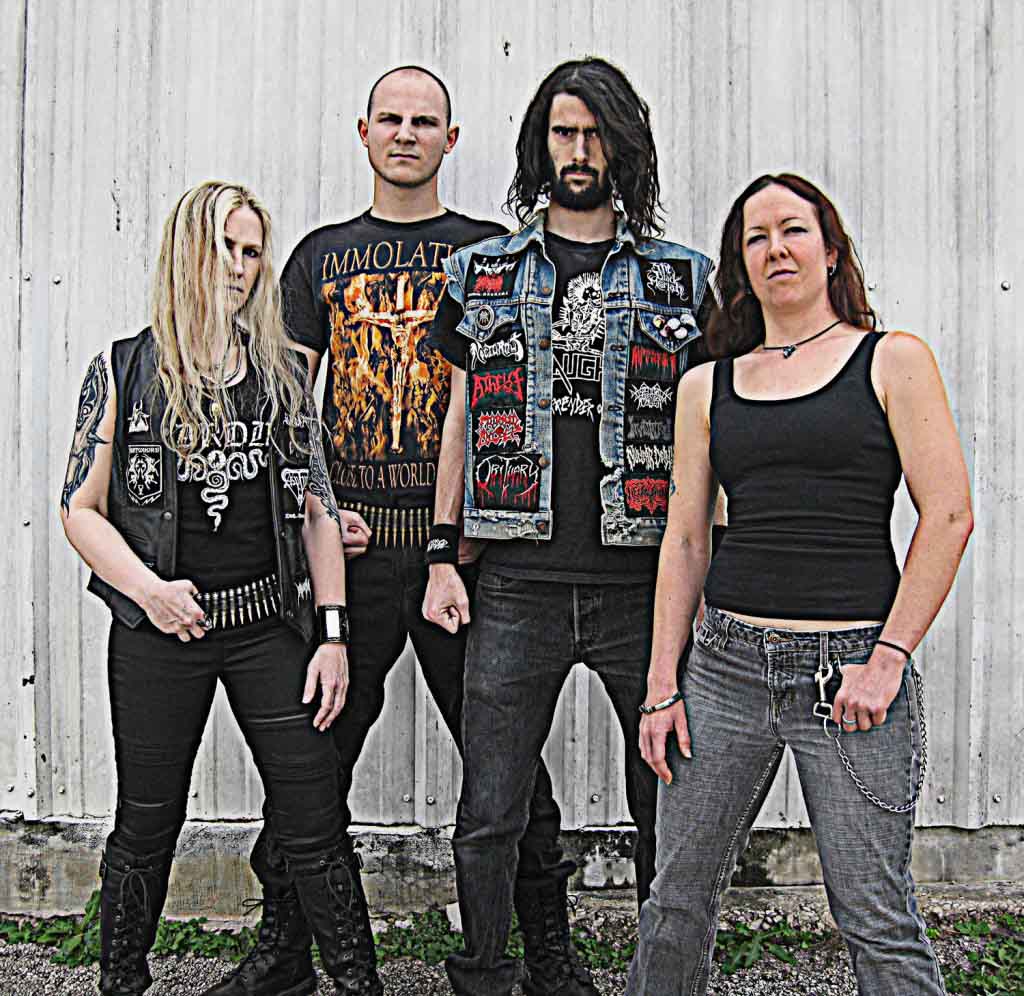 Morgengrau rose from the ashes of underground metal and resurrected the ancient ways of old school death metal, hailing back to the 1980s and its fertile ferment of fusion between speed metal, death metal and the various hybrids. Sounding in part like a late 1980s speed/death album and in part like a crushing death metal venture from 1992, Morgengrau carry on the tradition of death metal and give it their own unique stamp.
Extrinsic Pathway is the band's first full-length release and hits the stores on April 2, 2013. This album features all of what you might expect from older death metal, but also keeps true to its own vision of what the future and the past should hold in common. We were fortunate enough to get a chance to speak to Erika, Morgengrau's guitarist/vocalist, about the nature of death metal and where Morgengrau fits into this complex formula.
What made you enjoy death metal, and want to be in a death metal band?
The ferocity of death metal has had me since I first heard bands like Possessed, Malevolent Creation and Cannibal Corpse. While I've drifted in and out of enjoying other genres, death metal has been a constant. It speaks to me at a deep, intrinsic level more so than any other musical form. I think it's natural for humans to create more of the things they love. This is certainly my story. I'm not looking to reinvent the genre or forge brave new paths into the realms of extreme music. Morgengrau is about writing songs springing from the dark places inside us, songs we identify with and enjoy hearing and playing.
Can you tell us a bit about the musical history of the band members? Who plays what and where are they from?
We're all lifer metalheads, with some of us farther along the road than the others. Multigenerational, shall we say. I'm the oldest with the most bands and experience under my belt. I'm also the only non-native Texan in the band. For those who don't know, I started out in 1995 up in the Boston, MA area singing for neoclassic group Autumn Tears. Kind of a bizarre beginning, now that I look back on it. Since then I've worked my way through progressively heavier projects: Ignitor, Bracaglia, sessioning for Vesperian Sorrow and regularly playing in Drifter, an Iron Maiden tribute. In Morgengrau, I've finally created the right band for me where I have full creative control and leadership. This is the first band in which I've done more than vocals. Learning to play guitar and sing has been quite the learning experience for me.
The others have had shorter but more focused careers. Reba drummed for a technical death metal band called Manifestation for about 5 years; Jake played bass with avant garde black metallers Humut Tabal and now plays in Plutonian Shore, a very traditional black metal band based in San Antonio. Morgengrau is Nick's first band.
You list Asphyx, Pestilence and Immolation as influences for at least how you want the album to sound. But there's a lot more influence in there, ranging all over the place. Can you tell us what else influences you?
I'm terrible at describing my own music; I use what others say they hear to describe it. A number of reviews so far have mentioned it as having "progressive" elements which is a shock — I don't like progressive metal and certainly wasn't aiming for that. Simply proves how everyone experiences music a different way. For me, it is what it is. I listen to a lot of Immolation and Finnish death metal like Torture Killer, Winterwolf and Demigod. That definitely lends a flavor, however, I'm acutely aware of avoiding becoming a clone. Morgengrau needs to stand on its own. When I write, I think about what attracts me to certain songs verses what repels me. What works, what doesn't work. Why do I go back to certain songs time and again? What makes the hair stand up on the back of my neck?
How long has Morgengrau been around? How did you all find each other? Is it hard to find people who want to be in old school bands, as opposed to the new school styled ones?
Morgengrau officially formed in July 2010. Reba and I had been jamming cover tunes for a while and asked Jake to join us in the summer. Very quickly, we realized we made a good a unit. I've known Reba since '04 when I met her at an Ignitor show. I prefer to hang out with guys, but when I saw Reba banging her head like a maniac, I knew we'd be friends. I met Nick in 2009 at a Belphegor show, and Jake shortly after. They were both going to school in San Antonio at that time. The whole process of coming together was inspiring, as it seemed ridiculous at first for a 40 year old to be asking 20 year olds to join a band, yet it worked amazingly well. There's a whole group of young kids in Texas who are into old school metal for all the right reasons. Unlike when I lived up Northeast, down here I'm surrounded by musicians with whom I can connect and trust. I'm very particular about who I'll have in my band. No drama or critical life dysfunctions. I've been in bands with that and it's the worst. No thanks.
Extrinsic Pathway suggests someone reaching out, or finding a way through life that's outside of the internal dialogue of a human being. Is this a concept song or album? Can you tell us what it's about?
The inspiration came from Reba, who mentioned the phrase after hearing it in class. It's a medical term — part of the blood clotting process triggered by outside damage to a vessel. I realized it could be used to describe walking the Left Hand Path. Most of us who walk it have been damaged or driven to the dark side in some way. It's our way of protecting and defending against that unwanted outside insult. We're all hurtling towards our own personal armageddon. You must ask yourself – "When the time comes, will I go standing and proud, or mewling and crawling on my belly like most everyone else?" Walking the Left is my way of embracing and preparing for that ending, however it comes. That awareness gives me incredible focus and strength. My bandmates feel similarly, in their own ways. The concept should ring true with other listeners, I imagine.
The cover of Sepultura "Inner Self" is phenomenal. You've also covered Pestilence and Asphyx. Why these three? Why did you pick "Inner Self"? Is it a "message thing"?
Thanks for the compliment. Before we started writing original material, like most bands we jammed a lot of cover tunes. Asphyx's music is simple, catchy and easy to play. I'd not played guitar for almost 20 years so when I picked it back up in 2009, I needed something fun with which to brush off the dust.
Pestilence is my favorite death metal band of all time. Consuming Impulse will be forever timeless. Sepultura wasn't on the roster until Jake, Nick and Reba started banging out "Inner Self" at the end of practices just for fun. We weren't planning to make part of our repertoire but it quickly stuck. The song means a lot to Jake, as more than any of us, he's experienced a coalescence of self over the last few years. When we first met, he was unsure of his path, figuratively dipping his toe into the Acheron, while still clinging to old beliefs. We've watched him shed his weak skin for a more confident hide, to begin living a life beholden to none but him. What a pleasure it has been, watching his transformation. It's one of the reasons why he handles vocals on "Inner Self" — that is his song, in many ways.
The first half of Extrinsic Pathway shows what seems to me is an affinity for mid- to late-1980s speed metal type stuff, which Sepultura and Slayer overlap, since they're sort of half-death/half-speed. What do you think it is about that time period that's so appealing, both to Morgengrau and the rest of us out here?
It's a time of life thing. The late 80s were when I, as a teenager, truly found who I wanted to be as a musician. The riffs and sounds of that time are permanently imprinted in my psyche. This was the Buffalo scene at its heyday, so everything was about Slayer, Sepultura, Death, Deicide, Morbid Angel, Cannibal Corpse and Obituary. That time was truly magic. The ferocity of this new music was withering. I remember going with my boyfriend to Mark "Psycho" Abrams' house to get a copy of Deicide's debut album which we'd won from his radioshow. We sat in the car after getting it, holding it, mute, afraid of it. Same thing with Morbid Angel's Altars of Madness. Music of such incredible intensity, that went straight to my core, ripped my soul out then fed it back to me, bloody and shredded. If I can capture even an nth of that feeling in my songs, I'll consider myself successful. I want a young person to hear Morgengrau and feel something of that same, frothing insanity which marked all our days back then. There will never be another time like it.
It sounds like a conscious effort was made to vary up song structure and offer different conclusions to riffs so that each song grows a bit. What appeals to you about this idea?
That's just good songwriting. It's easy to write a bunch of singular riffs and stitch them together like a patchwork quilt. Some people love that kind of music but personally, I hate it. It feels like a epileptic fit. Songs have to flow. The transitions need to make sense. Dynamic is critical, otherwise the ear goes numb. Let's not forget the importance of the concept of "hook." If you can't keep the main riff in your head after the song is over, it might as well not even exist. Bands get all wrapped up writing these complex, super fast, theory-based riffs to prove their musicianmanship. That does not a good song make — those tunes never sound like anything other than WHOMP WHOMP WHOMP WHOMP in the typical shitty live setting. All I want is for the interested to get our music on first listen, so they come back for more.
Can you tell us where you produced this album, and how was your first time as a band in a studio? What techniques did you use to get that nice thick early 1990s sound?
Two words about studio time: fucking hell.
To elaborate: We recorded at Amplitude Media here in Austin. It was close and flexible, which in the end was fortunate as we didn't move along nearly as fast as expected. I'd never recorded anything from the ground up. Reba had one demo under her belt. Nick and Jake – no experience to speak of. We got the click track going and off we went… into the sterile land of first album territory where the fan reaction is, "What the fuck happened? The demo was so ferocious!" I instantly understood how that happens — you think the "right way" is to record to a click and you've NEVER EVER used one in practice, so that click sucks all the life out of the songs. So… no click. Sure there's some timing stuff here and there, but the songs sound alive, and that's the key.
Four rhythm tracks with my Mesa cabinet double miked got us that fat sound. We used a Rectifier Roadster and a custom Brugera for amplification. All those tracks took a long time. It was very taxing — I'm certainly not a one take kind of player.
Everyone had their own personal freakout moment during recording. Rather unifying, in the end. The day I had mine it was hot (it was a good 108º outside, probably 90º in the studio), I'd had a long, shitty day at work and had received some rather horrible personal news a few days before. I sat down with the guitar to start on rhythm track 3 for "Antithetical," sweat was pouring down the back of my neck and my arms and an ant was walking up the neck of my guitar. I just about started screaming. I wanted nothing more than to quit. But how could I? I had three other people believing that I could do it, that this would happen. So I shoved the panic down, ignored the ant and the sweat, and got it done.
Once we got to vocals, things smoothed out. Reba floored us with her backing tracks. She has a hell of a voice! On "Extrinsic Pathway," "Antithetical," and "Polymorphic", that really deep roar under mine is her. The day she cut her tracks will forever remain one of my fondest memories. There she was in the isolation room, all 5'4″ of her, never having recorded vocals before, and suddenly this enormous demonic roar coming pouring out of the monitors and knocks us all off the couch. Jake was just open-mouthed. At that point, I started laughing and could not stop. It was such an amazing moment. What a hidden talent she has.
We mixed and mastered with Devo Andersson and Endarker Studio. Devo's a friend whose work I hold in high regard. Mixing from a distance was challenging but worth it. There was no way I was going to let everyone's blood, sweat, and almost-tears be wasted by cheaping out on the final stages. We finished the album late, vastly overbudget, way stressed out and exhausted… and it was worth every penny, minute, and ounce of energy.
What's next for Morgengrau? I know that most of your team have other projects, both musical and otherwise. Are you going to tour? Gig around Austin, TX, which I believe is your homebase? Sacrifice goats to the Dark Lord Ba'al and His Legions of Necrocaprous Antagonists?
Hipster abuse. Shameless self promotion. Spamming teh Interwebz. Cat memes — ok, just kidding. We're going to play as many strategically important shows as possible. There are gigs in San Antonio and Houston booked, then we're heading to NYC to play Martyrdoom in June. I have to give thanks to Vinny and Signature Riff for such an amazing opportunity — we are so excited! Touring is definitely on the wish list, but with our various job schedules, might be tough. Never say never, though. One thing I will avoid is overplaying — we see that so much in TX. There's always that one band that's on every goddamned bill. After six months, nobody cares. It's important to keep anticipation up. New material is in the works, and we continue to work on stage presentation. If you're going to do it, do it big and do right, and with passion.
Do you think old school death metal is returning? Other than technique, what makes OSDM different from "modern" death metal, metalcore, deathcore, indie-metal, post-metal and bounce metal?
You forgot crabcore. I'll tell you, the day someone sent me that Attack Attack video at work I nearly had to go into the bathroom and drown myself in the toilet. That's METAL? And those are MEN? I've got more testosterone in my wizened left ovary than all five of them combined. WHAT HAPPENED?
I think old school DM is already back. Bands like Funebrarum, Disma, Cruciamentum and War Master are merely a few of the great examples of new death metal done the right way. It helps the old greats are still around with more enthusiasm than ever — last night, I saw Imprecation, Master and Incantation — that's about 100 years of death metal experience rolled up into one show. Immolation's new album sounds like it's going to be killer.
What makes it different? Shit, where to begin? Good songwriting. No jerking off on the fretboard. Solos that complement the music, even if they're only five notes. Lyrical focus on destruction, the occult, anti-Christian sentiments, war, suffering, darkness. Musicians who would sooner kill themselves than get on stage wearing a white belt. Long hair or no hair, nothing in between. Pointy guitars. Blood, our own or yours, we don't care. Steaks and hamburgers, none of that vegan shit. Going on stage blind because you'd sooner die than play wearing your glasses. Songs that generate circle pits. Self-knowledge. Willingness to sacrifice all. Passion without drama. Lifetime commitment. Honesty.
I could talk your ear off, but you probably need that ear for the next album. I appreciate the time you put into this and know our readers will as well.
I've always got an ear for DeathMetal.org. Thank you, Brett and your readers, for the support. Come walk the Extrinsic Pathway with us… Hail Metal, hail Death!
Tags: death metal, interview, morgengrau