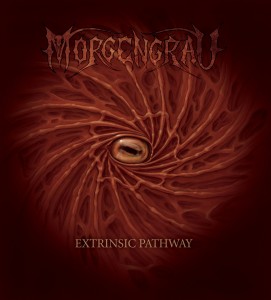 Morgengrau unleash an album described as classic death metal, while in actuality it sounds more like 1980s metal merged with progressive death metal from a decade later. Despite being a relatively new band, Morgengrau includes several experienced players alongside enthusiastic new blood, and the result shows on this thoroughly professional album.
With detuned guitars, death vocals and cluster-munition drumming, Morgengrau tears into songs like a death metal band. However, songs are structured more around vocal/guitar cadences and lengthy fills in the style of later Exodus, augmented with progressive touches that are reminiscent of later 1990s Death. This makes them easier to listen to than riff salad and gives them more of a compelling groove.
Extrinsic Pathway features the hooky rhythms you might expect from a classic 1980s speed metal album with the more elaborate atmosphere of a progressive metal band, without the noodly flights of fancy of prog metal. Lead guitars are elegant and yet obscure, and rhythm guitar is rigid with enough swing to give it a groove of its own. In this, it's reminiscent of Death's The Sound of Perseverance.
A cover of Sepultura's "Inner Self" finds a home in the middle of the album and complements the other tracks, which pick up in intensity from the mid-paced death metal model to more of a ripping death metal pace as the album goes on. On the whole, this is a good first effort as this band finds its voice in the raging chaos of extreme metal.
Tags: death metal, morgengrau, Speed Metal