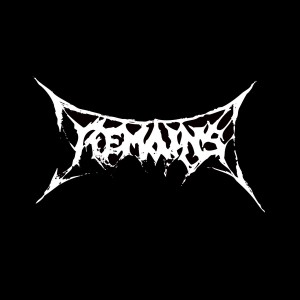 A promising recent entry into the old school death metal world is a new band from Mexico named Remains.
We recently had a chance to hear and review their most recent EP, …Of Death, which is available for free download on the band's Facebook homepage.
Burly, basic, and uncompromisingly fit together like ancient stonework in the war room of occult martial artists, the old school death metal of Remains is casually minimalistic but smoothly fit together into a series of visions of dark passages through life. Instrumentalism is good, composition is promising, and we'd like to hear more from this band.
Luckily, we were able to catch these up-and-coming metal wizards for a brief interview…
Hail Remains!
First of all, thank you to the support to our band; we are very happy to know that the EP has been well received.
Now, the questions…
Can you give us a brief history of the band? How did you start, how did you meet, how long have you been a band and what other projects do you have?
Miguel, Emmanuel and Leonardo knew each other because they are studying at the same university. On the other hand, Edoardo and Miguel know each other because they were in an old project some time ago.
Remains was originally proposed by Miguel and the project was born at the beginning of 2011 with a different line-up, but it wasn't until of the middle of 2012 that it stopped being a project and became a band. With the present lineup Remains recorded the demo "The True Essence" and then in 2013 the EP …Of Death.
About other projects… Leonardo and Miguel have a melodic death metal project called "Fractal Entropy." Emmanuel plays in two more bands which are "Sinister Mind" (black metal) and "The Light Of Dark" (brutal death metal) and Edoardo has a black metal project named "Fog of Chasm."
This is a two-part question: (a) what bands influenced you most in your composition and songwriting; and (b) what bands do you think you sound like, even if you think you sound a little bit like more than one band?
a – Death Metal in general, bands like: Grave, Carnage, Dismember, Autopsy, Edge Of Sanity, Vomitory, etc.
b – Maybe something of Grave and Edge of Sanity, you know… old school bands, someone said that Remains sounds a little bit like Master.
Why did you decide to make old school death metal in a time when most of metal has gone on to newer styles, or just given up and become nu-metal?
The principal idea has been never been fashion; we don't try to follow every new tendency. In my own opinion (Miguel) I grew listening to death metal because of my father (Miguel Angeles – Darkcreed, Pyphomhertum, Foeticide) I mean … death metal is my forte.
So… Remains was born as a tribute to the bands that gave origin to the Death Metal.
Do you think there is a metal "sound" for Mexico? How do you think of yourselves in the lineage of bands such as Cenotaph, Transmetal, Mortuary, Toxodeth and Xibalba?
Maybe there are features which distinguish a Mexican band from others, but is difficult to say that there's a pure Mexican sound. Those bands are the best we have had in Mexico and we would like to continue that lineage and not lose it with the birth of new bands and styles.
We believe we can do something so the scene grows and doesn't forget with the passage of time.
You decided to release your first EP, "…Of Death," online as MP3 files in a downloadable zip archive. What made you decide to do this? How do you think it will help you? Are you worried that people will just pirate the MP3s and not buy the EP? Do you think musicians can make money even if they give away their MP3s? Does it matter?
The idea of the band has never been to get money. When we put out the EP we decided that it would be in the free MP3 format because someone who really likes what he hears will go looking for the CD or tape. (Now we do not have a label) If you want to buy or download our music… whatever, you are listening us and… that's good for us.
What's next on your agenda? Are you going to write more material, go on tour, or do something else?
Right now we are working in our first LP and we hope it will be ready in September of this year (of course, when we finish it, we would like that you listen to it).
These songs (on "…Of Death") are well put-together, where every riff has its place and they fit together well. How did you compose these songs? Did you spend a lot of time after you wrote them, going over them to get the details right and make sure all the riffs fit together?
Every song came to its moment. When Miguel composes a song he always has a clear idea of what he is looking for in every riff and the way to adjust and mix them; then, every member of the group put their personal stamp on Miguel's composition. We don't spend too much time in details; if something doesn't work, it stays out.
What do you think are the origins of death metal? Is it still relevant as a style of music today? What do you think motivates people to want to enjoy and eventually create death metal?
Since the metal was born, the trend always has been to be more aggressive. Bands like Possessed or Mantas gave us the guideline for this style; it continues being relevant since more bands of Death Metal are born every day, maybe what motivates people to listen to it is the aggression, the force that has death metal's song as well as the theme of the lyrics of every band or the technique that is necessary to make it possible.
If someone wanted to hear some death metal bands from 2013, what newer bands would you recommend to them?
From México you have to listen to "Demonic Manifestation" and "Elemental Extinction".
Maybe not bands but releases of Lie in ruins, Corpsessed, Massacre, Entrails, Hail Of bullets, Necronomicon and/or Carcass.
"…Of Death" has a very professional sound. How did you record this album, and how long did it take from songwriting to finished product?
It was recorded in MAT STUDIO under Miguel's production, trying to respect the sound of the old school keeping the essence of the aforetime recordings. It took us approximately 4 or 5 months in total.
Remains
Miguel Angel – Voice & Guitars
Leonardo Valdez – Guitars
Emmanuel Guerrero – Bass
Edoardo Gascon – Drums
Thanks for the support, Death Metal!!!
Tags: death metal, remains