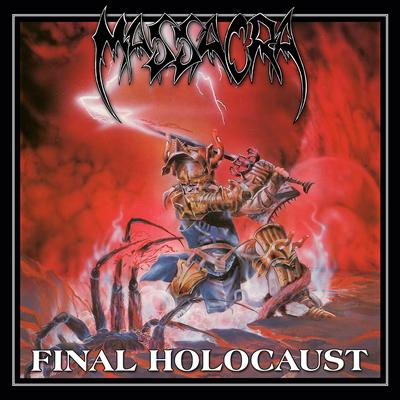 Classic band Massacra remains legendary for its ripping acerbic metal that maintained a playful spirit of destruction. The band's second LP, Enjoy the Violence, was recently featured in our list of eternal death metal albums. Now it seems that Century Media Records will be releasing the first three albums — Final Holocaust, Enjoy the Violence and Signs of the Decline — on June 2 in Europe and the following day in North America.
Guitarist Jean-Marc Tristani had this to say: "Massacra are proud to present you the official re-issues of the first three albums, Final Holocaust (1990), Enjoy the Violence (1991) and Signs Of The Decline (1992). Century Media worked hard to add extra value to these releases. The packaging is really nice and you can find lots of extra stuff in there: detailed interviews, tons of rare photos, etc! We also wanted to make as much as possible visible of Formosa's excellent artworks, so we scanned the original LPs and came up with designs that fit to the spirit of last year's Day Of The Massacra demo compilation. On the CDs you will find some pretty interesting bonus material, like an unreleased live show from 1990 from my personal archive, some bootleg tracks, plus a rehearsal recording that was previously published with very bad sound and disguised as live tracks with no track-listing. That rehearsal also includes a song ('Cyclone') that has never been re-recorded afterwards. A lot of the material we used was provided by real diehard collectors out there, so a special thanks to them for supporting this project!"
Remastered by Patrick W. Engel at Temple of Disharmony (Asphyx, Darkthrone) the re-issues of these classic Massacra works come in 180gr vinyl with a 30x30cm 4-page booklet, or on CD with bonus tracks. This allows a new generation to own professional copies of some of the classics of the death metal genre.
Final Holocaust:
Black LP: 200 copies
Transparent blue LP: 400 copies
Clear LP: 400 copies
Enjoy The Violence:
Black LP: 200 copies
Solid white LP: 400 copies
Clear LP: 400 copies
Signs Of The Decline:
Black LP: 200 copies
Red LP: 400 copies
Clear LP: 400 copies
The CDs will feature extensive 24-page booklets and the following track-listings:
Final Holocaust (re-issue+bonus):
1. Apocalyptic Warriors
2. Researchers Of Tortures
3. Sentenced For Life
4. War Of Attrition
5. Nearer To Death
6. Final Holocaust
7. Eternal Hate
8. The Day Of Massacra
9. Trained To Kill
10. Beyond The Prophecy
11. Researchers Of Tortures (Live in France 1990)
12. War Of Attrition (Live in France 1990)
13. Sentenced For Life (Live in France 1990)
14. Final Holocaust (Live in France 1990)
15. Eternal Hate (Live in France 1990)
16. The Day Of Massacra (Live in France 1990)
Total playing time: 78+ min
Enjoy The Violence (re-issue+bonus):
1. Enjoy The Violence
2. Ultimate Antichrist
3. Gods Of Hate
4. Atrocious Crimes
5. Revealing Cruelty
6. Full Of Hatred
7. Seas Of Blood
8. Near Death Experience
9. Sublime Extermination
10. Agonizing World
11. Researchers Of Tortures (Rehearsal 1991)
12. Beyond The Prophecy (Rehearsal 1991)
13. Final Holocaust (Rehearsal 1991)
14. Cyclone (Rehearsal 1991)
15. Trained To Kill (Rehearsal 1991)
Total playing time: 57+ min
Signs Of The Decline (re-issue+bonus):
1. Evidence Of Abominations
2. Defying Man's Creation
3. Baptized In Decadence
4. Mortify Their Flesh
5. Traumatic Paralyzed Mind
6. Excruciating Commands
7. World Dies Screaming
8. Signs Of The Decline
9. Civilization In Regression
10. Full Frontal Assault
11. Gods Of Hate (Live in Germany 1991)
12. Full Of Hatred (Live in Germany 1991)
Total playing time: 47+ min
Last year's demo compilation, Day Of The Massacra, can still be purchased as a CD and LP here: http://www.cmdistro.com/Search/massacra
Tags: death metal, massacra