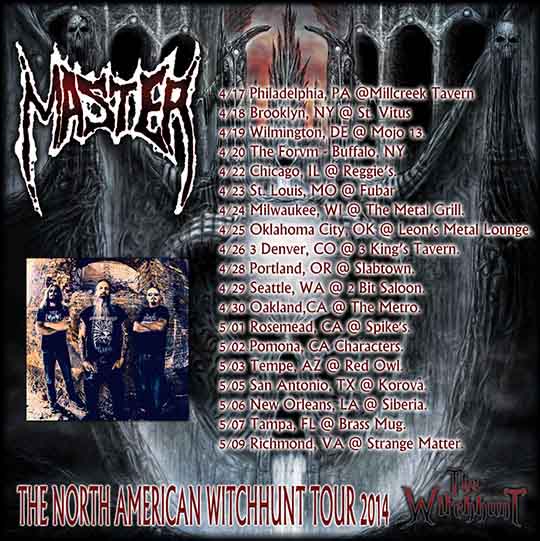 A band from before death metal had coalesced into a genre, Master will tour North America during April 2014 as part of their "North American Witchhunt Tour" which will showcase a new touring lineup.
During the three weeks that Master will rage across North American stages in support of their most recent album, The Witchhunt, the band will comprise Paul Speckmann on bass/vocals, Alex Bouks (formerly of Incantation) on guitars, VJS on guitars, and drummer Ruston Groose.
Master continues evolving. From its earliest days as a punk/metal hybrid, to a period of intense technicality, and now in an era of massive aggression, Master has grown with the style it helped invent and now brings the latest iteration to fans across North America.
Tour Dates:
4/17 Philadelphia, PA @Millcreek Tavern Inn
4/18 Brooklyn, NY @ St. Vitus
4/19 Wilmington, DE @ Mojo 13
4/20 The Forvm – Buffalo, NY
4/22 Chicago, IL @ Reggie's
4/23 St. Louis, MO @ Fubar
4/24 Milwaukee, WI @ The Metal Grill
4/25 Oklahoma City, OK @ Leon's Metal Lounge
4/26 3 Denver, CO @ 3 King's Tavern
4/28 Portland, OR @ Slabtown
4/29 Seattle, WA @ 2 Bit Saloon
4/30 Oakland,CA @ The Metro
5/01 Rosemead, CA @ Spike's
5/02 Pomona, CA Characters
5/03 Tempe, AZ @ Red Owl
5/05 San Antonio, TX @ Korova
5/06 New Orleans, LA @ Siberia
5/07 Tampa, FL @ Brass Mug
5/09 Richmond, VA @ Strange Matter
See also:
Tags: alex bouks, death metal, master, paul speckmann, tour