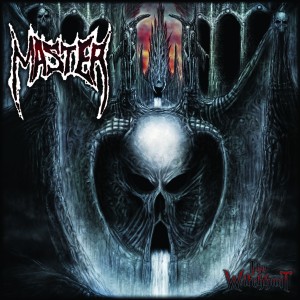 Until you succeed, you face a threat from competition. Once you succeed, you may face a worse threat, which is competition from yourself.
The history of Master may be divided into roughly two parts, those albums before …And On the Seventh Day God Created and after it. Before, Master was a proto-death metal with a punk and old school rock vibe; after, it was tight and rigid high intensity death metal.
The Witchhunt picks up on that style and adds a bit more melody and riffcraft, but returns to the classic punk-style open percussion that Master used on its earlier albums, but sped up. As a result, there's less stop-start and more raging fast lead-picked riffs.
Other than that, not much has changed. Speckmann is still the primary songwriter and builds songs around a vocal rhythm and bassline, which his band cohorts fill with guitar riffs and drum patterns. The current lineup seems to have effected positive change in his sense of tempo and change.
Intensely consistent, Master sound like themselves on this album and thanks to some modernization of sound are competitive with the more intense bands out there. What might be great is if they expanded to use more riffing and less verse-chorus construction such that the band fully moved into the death metal era.
Speckmann's vocals are both strained and emotional and gruff and functional at the same time, creating a type of voice of authority which channels the music between its extremities and coherence. Percussion is reminiscent of early Vader or Sinister.
While some will argue that this album offers nothing more than what Master has done in the past, The Witchhunt may surprise them. Songs are more distinctive in rhythm, riff and aesthetics, and the uptempo change has forced more efficiency in songwriting.
In other words, this is not "just another Master album," but a steady improvement that is consistent both with the second era of Master and the general direction of the first. This makes it a complement to the near present and distant past.
Tags: death metal, master, paul speckmann